Reviews
Interior. Leather Bar | Review
Exterior. The Heternormative: Franco & Matthews' Experimental Exercise Takes Temperatures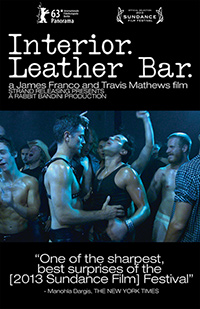 James Franco, already cementing a reputation as one of the most eclectic and noteworthy cinematic commodities as actor, writer and director, teams up with queer filmmaker Travis Matthews for what has to be one of the most excitingly experimental queer cinematic projects of recent memory, Interior. Leather Bar, a re-imagining of the lost 40 minutes from William Friedkin's infamous and controversial 1980 film, Cruising. Franco, an oddity for his ability to use fame and notoriety as a way to produce and finance challenging projects and bring them to the befuddled mainstream, manages to make this concoction with Matthews intriguing, but it's too bad that it ultimately feels like a footnote to a much greater discussion. Conversations and impressions reveal that while surface societal mores have undergone an inherent PC facelift, fear and discomfort with the queer community still runs deep.
Opening with information surrounding the infamous production and reception of 1980's Cruising, which was protested upon release by the LGBT community for it's dark and disturbing representation of a seedy, underground queer world, (where Al Pacino, goes undercover as a queer leather stud to find a serial killer), we also learn that the MPAA insisted that Friedkin cut 40 minutes from the film in order to secure an R rating. Filmmakers Travis Matthews and Franco decided to reimagine what was contained within this 40 minutes of film, which purportedly featured men engaging in various sexual acts. Leading up to the filming, we witness Franco and Matthews discuss their ideas, how there is an unspoken fear in the LGBT community that the eventual legalization of gay marriage also means an assimilation into straight culture, and, therefore, an erasing of queerness. While this is a rather binary, black and white outlook on a much more intricate issue, this project is both a way to recuperate queerness and operates as an exercise of owning and exploring one's sexual and artistic freedom. In Franco's words, sex is "who we are."
We're treated to the casting process in San Francisco, which includes the hiring of heterosexual actor Val Lauren to play Steve, Pacino's undercover character. Long time friend of Franco, who starred as the eponymous Sal Mineo in Franco's 2011 Sal, immediately announces his allegiance to Franco's mission, but then continually voices discomfort concerning the project at hand. It seems to be an obvious choice for Franco and Matthews to mirror the original discomfort Pacino had in the original film, so it's not entirely clear how much of Lauren's palpable discomfort may very well be an act, as the first half of the relatively short running time plays like an episode of some reality program on LOGO. Most of the gay cast members seem to be more concerned with the possibility of making out with Franco or deliberating how the queer community will react to the titillating project in social media forums.
Lauren continually questions Franco about the intentions of the project, claiming he doesn't get the point. "Why can't we leave something to the imagination?" he moans. Franco asks why Americans don't leave anything to the imagination concerning violence. Between doggedly questioning another straight cast mate about playing a drag queen and how he would react to having to kiss another man and a muffled phone conversation with a man adamantly damning Franco and his experimental butt sex film, Lauren's unanswered question is "What story are we telling?" He never seems to comprehend that the story being told is the fear and terror reflected at the thought of acting, performing, watching, or consuming queer projects, whether one is queer or not. There are "consequences." Lauren reveals himself to be clueless sycophant.
For such a terribly short film, clocking in at about an hour or so, there's a delightful amount of discussion that could be generated. It's too bad time was not made for more of them, leaving Franco's enlightened harangues to be the major highlights. Instead, Interior. Leather Bar says more with what it never explicitly vocalizes. While there's hardly 40 minutes of 'reimagined' footage, there are graphic sex acts portrayed, yet, Matthews and Franco still shy away from showing anything intensely explicit. This is an obscure recuperation, and not even Franco dares to champion Friedkin's failed film, citing that "whether he meant it or not" Friedkin made a film about a normal man going into a realm we're shown to be despicable and salacious. Franco asserts that now, we're showing a man going to a place that's "beautiful and attractive." Yet even if one could assert or speculate that the most worthwhile footage from Cruising was what had to be cut, no one bothers to mention that a decade before, Friedkin also helmed the landmark queer film The Boys In the Band. Which leads us to the unstated importance of Interior. Leather Bar as it highlights a difference in filmmaking eras, when notable names who had access to filmmaking AND visibility were not queer or were clueless about the queer community, and thus, were blind to ingrained and derogatory stereotyping.
While Matthews and Franco probably would have gotten more shocking and less contrived material from the yearly International Mister Leather ceremony that takes place annually in Chicago, in world of conservative and constrained expression, the importance of projects like this become ever more important in their ability to achieve visibility.
Reviewed on January 19 at the 2013 Sundance Film Festival – NEW FRONTIER FILM Programme.
60 Min.