Reviews
Andre Gregory: Before and After Dinner | Review
Family Portrait: Kleine' Uses Husband as Subject for Light Documentary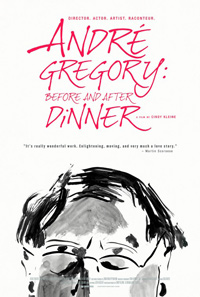 Fans of director and actor Andre Gregory should be excited, and, overall, pleased with director Cindy Kleine's documentary about her husband, Andre Gregory: Before and After Dinner, which gives us a rare glimpse of the artist in his personal environment. While he's perhaps best known to the general movie going public for odd supporting turns in several main stream motion pictures, Gregory is first and foremost an accomplished theater director, and he infamously rehearses one piece for years at a time. Those familiar with the film Vanya on 42nd Street should know exactly what his process entails. Unfortunately, those unfamiliar with Gregory and his work will most likely find Kleine's documentary aggravating and without any type of thrust beyond a compilation of shared familial memories.
Introduced to the cinema in Louis Malle's 1981 adaptation of his work, My Dinner With Andre, those hoping for a documentary that revisits the wonder of that film will be sorely disappointed. While Gregory and Wallace Shawn always stated they weren't really playing themselves in Dinner, we catch enough glimpses of Gregory in Klein's documentary to see some similarities. (An exaggerated memory of his audition for The Last Temptation of Christ, which Kleine makes a point to reveal as false, certainly sounds like something along the lines of that story about dancing in the woods with a bunch of Polish women from Dinner).
Kleine revisits Gregory's beginnings in the theater, and footage and production stills from his legendary production of Alice in Wonderland are certainly worth a look. Kleine less deftly handles issues pertaining to Gregory's family history, and a large portion of the film focuses on a possible family scandal. It turns out Gregory's Eastern European parents were actually Jewish…only they changed their name upon immigrating to the US and never bothered to tell their children of their heritage. And then a historian published an account that claims Gregory's father was actually a Nazi collaborator, which has so bothered Gregory that he has hired people to discover information to prove or disprove this in both France and Germany. To this day, it seems that concrete evidence has been erased, but there are enough suspicious details that seem to confirm, for Gregory at least, that this may very well have been true.
Now in his late 70s, and beginning to experience some health issues, a recent health scare is related by Kleine in a touching manner. No one doubts she cares deeply for her husband, even though she is only a couple years older than his own children, and their age difference is mentioned several times. However, Kleine spends way too much time on her own personal background prior to her life with Gregory, including an unnecessary montage of her past lovers and several other moments of information from her background that she seems to offer as evidence for why they make such a complimentary and fitting couple.
For a documentary that we assume is about the life of Andre Gregory, we sure get an awful lot of information about his wife's upbringing, which certainly would have been avoided had a more objective director decided to film him as a subject. Still doing what he does best, Before and After Dinner shows rehearsals of his latest endeavor, the decade long rehearsal of an Ibsen play, The Master Builder, which Wallace Shawn translated himself. It's saddening that there's not a figure like Louis Malle around who most certainly would have made this yet another wondrous project that needed to be caught on film.