Untaken Legacy: Stolzl's English Debut a Clunky, Derivate Actioneer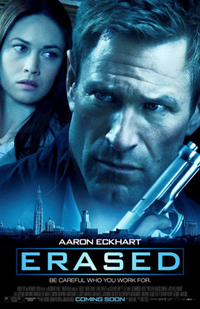 Originally titled The Expatriate, German director Philip Stolzl's English language debut gets the dumbed down title of Erased, which unfortunately only makes it an easy target for jokes concerning what the film does with your time. While the film manages to avoid being completely asinine, nicely packaged and more smartly written than your general fare in the Taken vein, Stolzl's film can never quite manage to feel like an original concept, instead feeling like a European tinged, anemic subset of the Jason Bourne franchise.
Ben Logan (Aaron Eckhart) is an expatriate American living in Belgium, trying to start his life over working for a multinational corporation specializing in high-tech security. Only recently, his 15 year old daughter Amy (Liana Liberato) has left the US to come live with him, and the two don't seem to know each other very well, causing understandable friction between them. One morning he goes into work and discovers that the entire corporation has been erased, literally disappearing into thin air. Quickly he learns that the business was a front, and when his former assistant, Floyd (Alexander Fehling) sees that Logan wasn't murdered like his co-workers, he tries to kill him. It is then that Logan must reveal to his daughter that he's an ex-CIA agent that used to be a trained assassin. As Amy tries to grapple with this as they're chased all over Brussels, Ben's ex-lover and CIA agent Anna (Olga Kurylenko) is on the hunt for him, because the fact that he remains alive means she cannot cover-up what exactly was going on with the fake company that had been employing Logan in Brussels.
While first time screenwriter Arash Amel at least does a better job writing a somewhat believable relationship concerning a father and estranged daughter, at least compared to the abysmal Maggie Grace role from the Taken films, virtually everything else about the film feels rote, derivative, and even convoluted. Eckhart doesn't quite seem comfortable in the action sequences, his ex-assassin as generically milquetoast as they come. Liberato perhaps fares the best here, as she actually looks like a real adolescent girl and is never forced to act as anything else but (perhaps she can stop being placed in dreck this like Joel Schumacher's Trespass, and while her performance may be the only noteworthy element of David Schwimmer's Trust, that title doesn't quite do her justice either).
But on the sidelines of Stolzl's generic endeavor is one defiantly goofball turn from the miscast Olga Kurylenko, who seems to have committed to playing one of the least subtle rogue agents on this side of Salt. Watch as she flails dramatically in public, coos wistfully after a daring shootout, and constantly delivering merciless exposition. Stolzl, who started out as a director of commercials and music videos for many a high profile artist (there was a hullaballoo over his video for Rammstein's "Stripped"), has had varied success as director, his most notable effort perhaps being 2008's North Face. He's often seen switching it up, navigating from treacherous rock climbing to a romantic drama concerning Goethe, and now, an action film laced with international espionage and intrigue. While his intentions are lofty, Erased is generic and forgettable, so let's hope his next film, The Physician, based on a popular novel, sees him working with material more worthy of his talents.