La Chimera | 2023 Cannes Film Festival Review
The Passionate Thief: Rohrwacher Finds Treasures Under the Tuscan Sun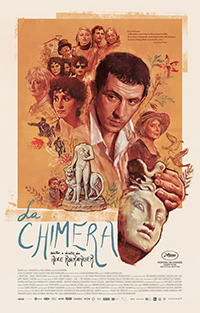 "The sun is following us," whispers a willowy blonde in the enigmatic opening moments of Alice Rohrwacher's fourth feature, La Chimera, the title a reference to the fire-breathing hybrid monster from Greek mythology. Set in 1980s Tuscany, an English aracheolgist-cum-graverobber chases artifacts from the past while mourning the disappearance of his lover, not realizing he's chasing her right down into Hades like the fated Orpheus. Like Rohrwacher's previous titles, she allows her characters to breathe in their environment while we orient ourselves to realities which are often mysterious and quite specific. Eventually, all the colors in the room even out for a finale quite literally cryptic and morosely romantic.
Recently released from an arrest, Arthur (Josh O'Connor), an Englishman who appears to be down and out in Tuscany, is reunited with Signora Flora (Isabella Rossellini), the mother of his missing girlfriend, Beniamina. Flora, who conducts disparate music lessons from her crumbling manor, assumes Arthur is searching for Beniamina, whose whereabouts are unknown, but this is not the case. Arthur, once pursuing archaeology, has become a grave robber of ancient Etruscan tombs with a team of similar minded bandits, selling their wares on the black market to a strange figure named Spartaco, who initially runs messages through various henchman, or her affable niece Melodie. Arthur's actions are highly illegal, but he has a psychic gift for locating these hidden, buried tombs, infamous as a dowser utilizing a divining rod. His way of life is suddenly complicated due a developing relationship with Italia (Carol Duarte), a single mother who is Flora's new student (but mostly performs servant duties), hiding her two children in the sprawling, mostly vacant home.
O'Connor proves to be an enticing entryway into this particular milieu, a stranger in a strange land who might have something of a death wish. Faint clues about his past and the absent Benaimina are extremely tertiary, touchy subjects by the few who truly know him, including his band of fellow marauders and a cloying signorina played with fantastically fussy aplomb by the legendary Isabella Rossellini. She appears to prefer the company of Arthur to her gaggle of cackling daughters, and by the time we have a grasp on how these characters fit together it's only due to drastic shifts in circumstance.
A pseudo-romance with the equally unmoored Italia seems to stir something in Arthur he'd left for dead, but a last minute change of conscience proves to be a fateful undoing. Carol Duarte, recently of Karim Ainouz's Invisible Life (2019), manages to make Italia feel like flesh and blood, though she's the outlier who is the most neglected by a script which sometimes treats her like a mere convenience. Alba Rohrwacher pops up as the infamous black marker arts dealer Spartaco, amusingly corrupt in her pair of sequences. Hélène Louvart is on hand as DP for Rohrwacher, once again, and there's a displaced, timeless energy to the film's visual palette (speeding up the frame, flipping it upside down), with only some style and costume design choices solidifying the period.
The script from Carmela Covino and Marco Pettenello takes some getting used to in how it wanders through its carnivalesque side characters and their dirty deeds done dirt cheap. The refrain of the film is a dichotomy on how one interprets the world around them, either something belongs to everyone or it, more likely, belongs to no one. The difference between the two determines who has access to something or someone. All the artifacts from these robbed graves is the main case in point, whether those still living should be allowed to plunder for financial gain, or should they remain with the spirits who they were intended to keep the company of? Eventually, this relates to Arthur himself, struggling to get it together as a single young man who's been left alone, ending up in one of the most fitting of scenarios considering his occupation.
Reviewed on May 26th at the 2023 Cannes Film Festival – Competition. 130 mins.
★★★½/☆☆☆☆☆