DogMan | 2023 Venice Film Festival Review
All Dogs Go to Heaven: Besson Gets Bombastic with Retro Pulp
The suspension of disbelief required to enjoyably settle into Luc Besson's latest film, DogMan, is significant, a B-movie scream of queer vigilantism as shaggy eared and rough around the edges as its stray canine supporting characters. But once the narrative gets chugging along, rearing into persuasively entertaining gusto, a superbly fervent lead performance from Caleb Landry Jones evens out all the colors of this grimy, often off-putting scenario. Jones delivers the kind of captivating mix of strangeness and sincerity which has become an absolute rarity, a go-for-broke wounded swagger underlining every moment in spite of whatever the bonkers narrative is doing.
Bloodied and bruised, Doug (Jones), in Marilyn Monroe drag, is pulled over by police, his van housing a myriad of stray dogs. At the detention center, a psychiatrist, Dr. Evelyn Decker (Jojo T. Gibbs) is assigned to interview him. The more she learns, the more Evelyn is compelled by Doug, who grew up in an extremely dysfunctional home environment, abused by his father (Clemens Schick), a tiresome sort who tortured dogs used for dogfights. When young Doug's allegiance to the canines is revealed thanks to his conniving older brother, he finds himself locked outside with the dogs until a violent altercation alerts the authorities of his treatment, but not before he loses his ability to walk. Shuttled between foster homes, he finds a kind of salvation thanks to the kindness of Salma (Grace Palma), though her mentorship of his talents is short lived. As an adult, social services finds him employment at a New Jersey dog shelter, but when the state shuts the facility down, Doug absconds with his new family into an abandoned school, eventually becoming known in the neighborhood as DogMan, whose power over his furry minions earns him a reputation. To pay for their housing, he's trained them to burglarize well-heeled citizens for a 'redistribution of wealth.' When he's courted by a young man to stop a local gangster, El Verdugo, from extorting a mutual friend's business, Doug's intervention has dire consequences.
DogMan plays like a dusty 1970s era spec script by Walter Hill that never moved beyond a sort of seedy exploitation treatment about a paraplegic Doctor Dolittle who moonlights as woozy drag queen only later to be adapted by any number of counterculture auteurs, at times recalling everyone from John Waters to Tim Burton to Ken Russell. What Besson can't quite land right is the white trash trauma which defined Douglas' childhood, treated to such extreme abuses, collapsing religious extremism into mental health issues with flashbacks which are, quite frankly, a bit shitty when compared to the energy supplied by Jones in his characterization.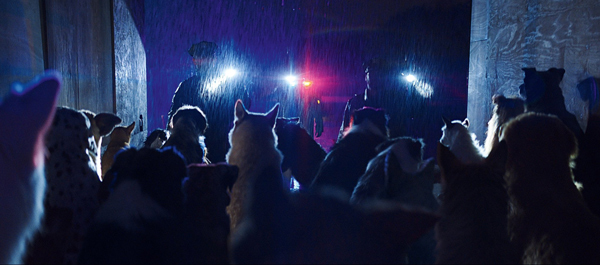 In his interview sequences alongside a warmly empathetic Jojo T. Gibbs (who also elevated the stock character of the supportive best friend in the cannibal horror film, Fresh, 2022), Jones' line delivery sounds like he's jumped off the stage of a Tennessee Williams production, his speech patterns echoing early 90s Brad Pitt (who himself famously provided his torturous history to an interviewer as a reluctant vampire). Their rapport lends the film its fatalistic backbone, a sad elegy for all the small things crushed beneath the warped wheels of an apathetic world.
Once we get past the terror of his childhood and a doomed romance with a kindly librarian who introduces him to Shakespeare, DogMan enters a realm similar to the Joker origin story, a social pariah who serves as a violent equalizer for those demeaned and dismissed in his community. With touching, if somewhat cornball aplomb, he's welcomed by a group of drag queens for weekly performances impersonating various glamorous stars of the past, from Edith Piaf and Marlene Dietrich. It's a juicy, layered role one could have seen either Marlon Brando or Bette Davis tackling in the twilight of their careers had this arrived in an earlier era.
Of course, not everything Besson throws into the pot gels effectively, even if the use of "Sweet Dreams" by The Eurythmics adds an energetic flair to the introduction of the (surprisingly well populated) drag show revue. An opening quote from Alphonse de Lamartine, "When man is in trouble, God sends a dog," establishes a recurring religious theme (and since Besson can't quite help himself, we get a literal visualization of God spelled backwards), and there's plenty of chit chat regarding Douglas' yearning for salvation in a deity who he can't quite reconcile his feelings for. In one of many eloquent passages, he refers to the weakness of his mother as partially being responsible for her own path to salvation. "God always knows his own."
If anything, the third act climax arrives too quickly, as Besson seems to just be hitting his stride, getting to the most interesting elements of Douglas at his full powers, a watchful Doberman guarding the entrance to his secret lair like a one-headed Cerberus. Christopher Denham as a sleazy insurance adjuster investigating the stolen necklace for a bored, wealthy elitist played by, of all people, Marisa Berenson, happens to be more interesting than the resulting shootout with El Verdugo and his clan, a mere echo of Besson at his prime with 1994's Leon: The Professional. Despite a myriad of arguable flaws which likely suggests evisceration from those demanding a more refined pedigree of storytelling, DogMan is a rough and tumble underdog of a film, its heart in the right place even when not landing steadily on its paws.
Reviewed on August 31st at the 2023 Venice Film Festival – In Competition. 114 Mins.
★★★½/☆☆☆☆☆