Won't cause the distress the title suggests: Fresnadillo Can't Hack it.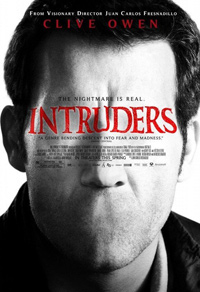 Spanish filmmaker Juan Carlos Fresnadillo's first film since his excellent 2007 28 Weeks Later is the English/Spanish hybrid, Intruders, an exploration of cross generational childhood trauma. What at first starts as a unique and original tale about two different children terrorized by a mysterious being known as Hollow Face quickly unravels into an unfortunate narrative nosedive, developing a freewheeling schism between present day UK and Spain thirty years prior.

Clive Owen stars as John Farrow (perhaps a tribute to the notable director) a man whose thirteen year old daughter, Mia, has come to be terrorized by a faceless figure lurking in her closet, a figure only the two of them can see. Mia recently discovered a handwritten story hidden in the stump of a tree describing a faceless man terrorizing a young boy. She begins to write the story where it was left off, and the more she writes, the more she is terrorized by Hollow Face. As authorities begin to question the relationship of the father and daughter, mom Susanna (Carice Van Houten) helplessly looks on, and we keep seeing a similar narrative decades prior in Spain about a young boy who's writing a story about a faceless being named Hollow Man. The more he writes, the more he terrorizes the young boy and his mother (Pilar Lopez de Ayala). The boy's mother consults a priest (Daniel Bruhl) who can do nothing to help them. Eventually, the film reveals the connection between the two children.
While childhood fears are a staple in the horror genre (one only has to look at the Stephen King catalog) Fresnadillo's botched narrative devolves into narrative suicide. It may seem a bit obvious what the connection between the two children might be, and once it's revealed, there are a few instances of implausibility that Fresnadillo doesn't bother to address. If only he could have given us a few less repetitive scenes between child A and child B being terrorized in exactly the same way, he could have spent a little more time developing the story. Add to that a terribly anticlimactic conclusion and you'll find that the only intrusion is on your time and money spent on this ill-conceived effort.
Reviewed on September 12 at the 2011 Toronto Int. Film Festival – SPECIAL PRESENTATIONS Programme.
100 Mins.