In Need of Assisted Living: Kasdan's Dog of a Film Brown-noses the Geriatric Crowd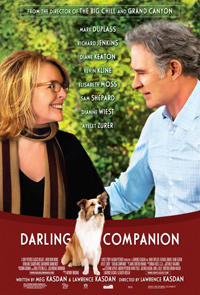 Was it the Nancy Myer's curse that derailed the trajectory of Diane Keaton's career? Not long after her Oscar nomination as a Meyer's cipher in Something's Gotta Give (2003), we were then forced to bear witness to Keaton's puzzling turns in dismal fare like Because I Said So (2007), and then Mad Money (2008). And now, we see Keaton headlining another nightmare fiasco, Darling Companion, gratingly directed by revered director Lawrence Kasdan (whose last effort was the equally terrible 2003 Stephen King adaptation, Dreamcatcher), unashamedly banking on the fact that a current generation of grandmothers are simply going to eat this up like Kibbles 'n bits.
Kasdan alum Kevin Kline stars as Denver spinal surgeon Joseph Winter, married to Beth (Keaton). We're introduced to him as he's about to go into surgery, unable to see his oldest daughter and grandson off at the airport after a recent visit. The already emotional Beth commiserates with younger daughter Grace (Elizabeth Moss) on the ride home, dropping narrative groundwork like artillery bombardment concerning the difficulties of having a doctor as father and husband, Grace's inability to find a decent man, etc. Suddenly, Beth spies a mangy mutt on the side of the freeway and demands that Grace turn the car around. Within minutes, the growling, dirty pooch becomes a family fixture (much to the chagrin of Joseph), coined Freeway. Grace falls in love with the veterinarian that cleaned up the dog, and a year later, we're ushered into the Winters' cabin in the mountains where Grace is marrying Dr. Bhoola (Jay Ali). There we meet Joseph's nephew, Bryan (Mark Duplass), also a spinal surgeon, attending the wedding without his girlfriend, an obvious point of contention. Bryan is the son of Penny (Dianne Wiest), who is introducing her family to her new beau, the free spirited Russell (Richard Jenkins), whom the highbrow moneyed family does not seem to approve of. While Grace and her hubby fly off to Bora Bora, the minor squabbles begin, until tragedy strikes. Joseph loses Freeway on a walk in the woods!! Beth's relatives volunteer to help search for the creature she loves more than anything (or anyone, we're led to believe) and must enlist the help of the cabin's caretaker, Carmen (Ayelet Zurer), a woman descended from gypsies that is able to see into the animal world. Bonds are tested and alliances are made. Is this the breaking point or a new beginning for Beth and Joseph?
Darling Companion has all the quality of a highly insipid LARP game challenge constructed by and for wealthy-ish, bored suburbanites. Sadly, Kasdan has assembled a deceiving amount of talented cast members in this putrid porridge (Sam Shepard even shows up as a persnickety sheriff) to counteract the one note concept (some would say script, but it doesn't deserve that distinction). However, Kasdan's treatment (which he c-wrote with wife Meg) retards the talents of all Oscar winners and nominees involved, even though they all inspire cute titters for all their charming qualities. Wiest and Jenkins are incredibly engaging together, but at every turn they're swallowed up by the utter ridiculousness surrounding them.
This writing and directorial endeavor proves that the Kasdans are merely mired in wealthy white people problems (and the detail of Grace marrying an Indian doctor feels like their crazy way of mixing it up a bit), not unlike the privileged viewpoint in their 1991 racially diverse Grand Canyon. Maybe go back and re-watch that overrated item to remember how Danny Glover gets involved with Alfre Woodard. But really, Joseph Winter, as played by Kevin Kline, is a spinal surgeon that's given his wife and two daughters a life of luxury (plus helped put his nephew through medical school). Granted, he's not home a lot. At the point where all the supporting characters make him feel guilty for going back to work after they can't find Freeway for several days, one can only feel bad for those poor patients in need of spinal surgery back in Denver, that now have to reschedule so he can help his wife find her dog. Meanwhile, Keaton is written (and played) as a gratingly unappreciative and pampered lady. Since we can't develop any feeling for her predicament, it's hard to care about the proceedings. Though she does have nightmares about her lost Freeway, in cartoon form, no less, we're not given any scenes documenting this intense relationship, instead developed as lazily here as in 2008's Marley and Me. You can say you love something all you want but actions speak louder than words.
Their handling of the character Carmen (played by Israeli actress Zurer, in yet another terrible American film, after Vantage Point, 2008, and Angels & Demons, 2009) shows more of their discomfort of the foreign, mystical Other, used here as a gypsy with powers generally at home in the horror genre. Since it's completely lacking in substance, the running time, as you could imagine, feels generously bloated, padded by scene after scene of characters screaming the name 'Freeway' in the wilderness (recalling another, and better, Elizabeth Moss film, Earthly Possessions, 1998, where she's crying out for her lost cat named Murder), leading the audience to pray for the dog to turn up somewhere, somehow, alive or dead. Something's gotta give, no? Obviously, there's an audience out there for fare like Darling Companion, an audience consisting of privileged, unquestioning acolytes looking to enjoy light and cutesy entertainment before they're conducted to their next prepackaged engagement.