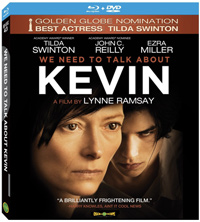 Lynne Ramsay likes to trudge through the dark depths of the human spirit, and after a nine year period without a film in the can, she's made a return to form that surpasses her early work in nearly every way. We Need To Talk About Kevin is a masterfully made, soul pummeling psychological drama about the depth of motherly responsibility, and the malicious psychopathy of unwavering evil. Her third feature shines with a power house performance by the always wonderful Tilda Swinton, as well as strong showings by a cast of different aged kids (from eldest to youngest – Ezra Miller, Jasper Newell, and Rocky Duer) that portray her utterly terrifying son with unhinged brilliance. But it's not just the astute acting that shines. Ramsay's choice in seamless non-linearity, and a striking visual palette that constantly prophesies the violent climax we all knew was inevitable, culminate to make one hell of a dark examination of both character and family.
Swinton plays Eva Khatchadourian, a financially successful writer who, after birthing her first child, Kevin, spends her life being openly hated by him. From the womb Kevin puts his all into torturing his mother. Whether it be crying throughout the entirety of Eva's care, completely destroying a freshly finished wallpaper job, or putting her under perpetual verbal assault, Kevin makes it his mission to vex his mother at every turn. Kevin's father, played by a buoyant John C. Reilly, never sees the same resentment. Instead, he is lovingly played to spite Eva furthermore. Though Kevin is quite naturally malevolent, some of his fault lies in the hands of his nondisciplinary parents who seem to merely shrug off any mistreatment with hopes of it going away on its own. At some point, Kevin snaps, and commits an unforgivable act of violence upon his community at large, and his poor mother is purposefully left to sift through the agonizing chaos of neighborhood outcry, and leprous fallout in the wake of her son's actions.
Eva's journey from joyously youthful to utter despondency unfolds through disheveled sequences that explore her existence, pre- and post-heinous event. One moment she is blissfully in the arms of her husband on a drizzly New York evening, the next, aged, broken, and scraping paint from her vandalized front porch, years down the road. It isn't until around the midway point of the film that the progression starts to click into place, but the slow build allows Eva to develop into a heavily layered character in which we find both pity and misanthropy. The hallucinatory structure lends itself to the incubus that Eva's life becomes. Editor Joe Bini's delayed clarity also makes Ramsay's big reveal a truly horrifying, and highly cinematic reality check that won't be easily forgotten.
The film also explores the idea of the mundanity in the development of a psychopath. Kevin was growing up in a very privileged home, raised by parents that were caring for their children more or less like any average parents would, but he still became a monster – a despicable, yet intelligent, and ultimately empathetic one at that. Ramsay subtly asks the somewhat terrifying questions, why aren't there more kids like this, and with so much normalcy embedded within, what makes them this way?
The Disc:
Oscilloscope's excellent catalog just keeps growing with more and more critical cinema. In the wake of the tragic loss of Adam Yauch, the company's ingenious founder, I truly hope Oscilloscope can maintain his passion and spirit from this point forward. We Need To Talk About Kevin's home video release rings of nothing but artistic integrity, and consumer quality. The Blu-ray/DVD combo pack looks absolutely fantastic, with it's ultra wide 35mm transfer that pops with lucid stylization, and a wide ranging color palette. With a 5.1 DTS-HD master track pushing extremely clear dialog along with Jonny Greenwood's perfectly moody soundtrack, the A/V presentation couldn't have been better. Complimenting the beautiful transfer is a host of fulfilling, and insightful extras that the European release of the film lacked. On top of all that, it comes in a gorgeous signature Oscilloscope recycled cardboard gatefold package, within a slipcase featuring the haunting poster art for the film. Brilliant.
Behind The Scenes Of Kevin
Sticking to standard talking heads, this interview based look into the film's production sees its director, actors, and crew speak at length about character development, and thematic dissection. With such rich material to work with, you get the sense that everyone involved dug deep into their portion of the film. At nearly a half hour, this piece puts standard EPKs to shame.
Extra Footage From 'La Tomatina' Tomato Festival
This is a brief 4 minutes of footage of a tomato covered Tilda Swinton in slow motion, reflecting on the cleansing chaos she's endured. The footage is without sound.
In Conversation With Tilda Swinton
Taken from a live conversation with Swinton and Hilton Als at the 2011 Telluride Film Festival, this 17 minute piece sees Swinton fielding highly personal questions about her acting career, as well as her role as a film producer.
Interview With Author Lionel Shriver
While attending a screening of the film at the 2011 BFI London Film Festival, Lionel Shriver, author of the book the film was based on, was prodded on her take of the adaptation, and the origin of the story itself. It's brief, but still manages to shed some light on why the story came to be.
Theatrical Trailer
Featuring Buddy Holly's upbeat "Everyday", this trailer shortly descends into the horror the fills the film from beginning to end. Despite its obviously abridged length, it does a wonderful job of conveying the tone of the film.
'The Heart Of Evil' by Mark Stafford
This well written essay by Stafford, a psychoanalyst from New York, is included within the foldout packing of the film, and discusses the importance of Ramsay's film in a society where events like this can and do happen.
Final Thoughts:
Most people don't like to meditate on the evil of humanity, and even less like to be emotionally punished for doing so. This fact alone makes We Need To Talk About Kevin a hard sell to most, but those willing to endure will find an artful concoction of directorial brilliance and breathtaking performance. Lynne Ramsay continues to forge a strikingly dark path all her own while prodding at the under workings of society, and the fallacies of family.
Film Review
Disc Review