Reviews
Blue is the Warmest Color | Review
Blue is the Color of My True Love's Hair: Kechiche Takes Us Deep Sea, Baby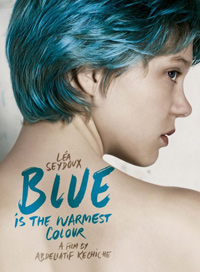 For his latest film, Abdellatif Kechiche returns to themes of love and maturation with Blue Is the Warmest Colour (La Vie d'Adele, Chapters 1&2), based on the graphic novel by Julie Maroh. As with other entries in the actor turned director's filmography, his latest masterpiece sports a lofty running time, at nearly three hours covering a relatively small amount of time in one character's life in the length of time that most epic sagas run out of steam. But if you give Kechiche your time, he hardly tries your patience, once again creating a beautiful, engrossing film that manages to capture human emotion like few others films ever have. Inordinately simple on paper, as, in essence this is a coming out drama, Kechiche understands how to pace, guiding us expertly as he generously allows his actors and their characters to breathe actual life and believability into the film, and thus creates bold portrayal of love, sex, and relationships and what time does to warp our thoughts on them all.
Adele (Adele Exarchopoulos), on the verge of completing her high school career, seems not very interested in boys her age, even though a handsome schoolmate has been noticeably vying for her attention. An avid reader, she seems inspired by a teacher's lecture on Marivaux's La Vie de Marianne which she's been reading for French class. The students discuss how the heart is able to decipher something is missing through the trials of the main character in the novel. Mention is made of that unexplainable happening of locking eyes in passing on the street, and the inexplicable possibility of love from such an experience, or even the absences left behind if these experiences are not acted upon. Adele soon has such an experience, finding herself instantly attracted to the blue haired and already romantically involved Emma (Lea Seydoux). As Adele forces herself to bed her high school admirer, she soon feels she knows what Marivaux means, discovering that the lack she feels towards her boyfriend is that he may be the wrong gender she's attracted to. Another chance encounter pops up with Emma, and their instant attraction grows into a passionate, sexual relationship, which soon finds Adele isolated from her high school friends. Emma is a an art student who happens to be several years older than Adele, and as they continue to see each other and become introduced to one another's parents, the narrative skips ahead to Chapter 2, where we find Adele as a kindergarten teacher now living with Emma, who is fast becoming a notable artist.
It is here where we quickly see how social backgrounds and common interests are slowly beginning to drive Adele and Emma apart. Whereas the first chapter is punctuated with unmitigated moments of explicit sexual passion, this second portion is rife with stillborn dreams cascading into moments of devastating realism. Sofian El Fani's cinematography is closely hinged on extreme close-ups of Adele and Emma, capturing in intimate detail every emotional tic. If anything, oral fixation takes center stage as a motif, where food items (pasta vs. oysters) and their enjoyment and appreciation become metaphors for sexual pleasure and indications of class status.
As he did with Games of Love and Chance, Kechiche once again using Marivaux, (albeit a different text this time around) to predicate the lives and situations of his characters. The passionate and the seemingly banal intertwine remarkably well, only to unspool unfettered into some of the most profoundly realistic emotional explosions pertaining to sexual desire and emotional attachment perhaps yet committed to film. That said, Kechiche knows full well he would get nowhere without the correct performers, here discovering a wondrous talent in newcomer Exarchopoulos, who manages to build a stirring chemistry with her co-star. Lea Seydoux (and damn it, doesn't she just manage to even make blue hair look fashionable?), the much hailed It-girl who has already worked with a dizzying array of some of today's most accomplished filmmakers, shows us another fascinating, and wholly intoxicating persona with her portrayal of the somewhat callous Emma (and for even further proof of her versatility and emotional range, an easy cross reference would be her role in Rebecca Zlotowski's Grand Central). A late staged reunion between Emma and Adele in a quiet café boils over into a remarkable sequence of human longing and emotion that you'd be hard pressed to recall material of equal stature, though Kechiche should be the first name in quite some time that should perhaps be placed along the likes of someone like Cassavetes.
Many detractors will have issue with a handful of explicit sexual sequences between Emma and Adele, but never does the film appear to be exploitational (though as Kechiche is male, still more will likely denounce the material as inappropriate or, worse, misogynistic). Emma and Adele are really the newest additions to Kechiche's already vast array of strong female characters, characterized in previous works from the likes of Sara Forestier, Hafsia Herzi, and Yahima Torres.
Rather, these scenes, like the film as a whole, represent one lovingly made bildungsroman that for once manages to show organically the emotion, the heartbreak, the hope, and the exciting possibilities life has in store for those that grow from their experiences and set off in their own direction. We can only hope that the secondary title of Blue Is the Warmest Color, which asserts that these are the first and second chapter of Adele's story, are in fact only the extraordinary beginning of what could potentially turn out to be something more, perhaps something like Truffaut with his Antoine Doinel. At the very least, this should finally bring Abdellatif Kechiche much wider (and much deserved) recognition as a master of cinematic language.
Reviewed on May 22 at the 2013 Cannes Film Festival — MAIN COMPETITION.