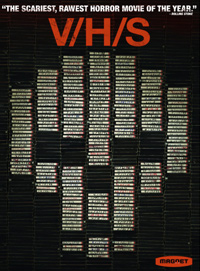 Brad Miska, who runs bloody-disgusting.com, sees his fair share of horror successes and failures. It's pretty safe to say that he knows what works and what doesn't within the genre. So when he came up with the idea to combine the over-used but still viable found footage concept with an anthology film – which is enjoying a mini-renaissance of its own in horror, with films like The Theatre Bizarre and The ABCs of Death – and offer it up to a group of young, promising genre filmmakers that he's been championing on his site, you can bet that people took notice of it. And when the resulting film, V/H/S, played at last year's Sundance Festival, it floored everyone and was promptly acquired by Magnolia Pictures' genre arm, Magnet Releasing, for a small theatrical run followed by a heavily-promoted VOD and home video release. The question that needs answering, though, is whether it was really worthy of all the hype.
Adam Wingard, who with writing partner Simon Barrett made the minor masterpiece A Horrible Way To Die, was first on board for the V/H/S project, and the two of them came up with the wraparound segment of the anthology, "Tape 56″, in which a group of rabble-rousers are paid to enter an abandoned house and find a mysterious videotape. What they find instead is a room full of televisions and a dead body in a recliner. While they split up to search the house further, one of them is always left behind in the room to keep watch over the body (?). Of course, with nothing better to do, each straggler pops in a tape and starts watching it, only to disappear once it's over. Not necessarily the strongest of set-ups, but it's the wraparound, generally the least important of an anthology film's segments, and it serves its purpose.
The first segment, from The Signal co-director David Bruckner and aptly titled "Amateur Night", features a few frat-boy types heading out for a night on the town, but not before one of them dons a pair of spy glasses that films everything he sees. They meet up with a couple of girls and get them to come back to their hotel room, but one of them is not exactly what she seems to be.
Next up is "Second Honeymoon", from master of the slow-burn atmospheric thriller Ti West (The House of The Devil, The Innkeepers). True to form, West delivers the story of a couple's road trip to the Grand Canyon, where after some romantic moments and sight-seeing they eventually encounter an odd woman lurking outside their hotel room but manage to convince themselves everything will be fine. After a couple of 'oh my gawd' reveals, a final twist is introduced, a twist that may not seem necessary but that works anyway.
Even though the last two guys that stayed in the room with the corpse are nowhere to be found, the tape-retrievers still decide to leave one in the room – perhaps in case they come back? – which gives us our next segment, "Tuesday the 17th", from I Sell The Dead director Glenn McQuaid. His take on the weekend-at-the-lake slasher staple adds a little bit of levity to the proceedings while still providing some chilling moments via a villain reminiscent of Slender Man.
"The Sick Thing That Happened to Emily When She Was Younger" is mumblecore king Joe (Silver Bullets) Swanberg's entry, told entirely via Skype conversations, in which a young woman (relative newcomer Helen Rogers in likely the best performance of the film) experiences some haunting moments in her apartment while Skyping with her long-distance boyfriend, who is powerless to help when things take a turn…or is he? Swanberg, who also stars as the husband in West's segment, works the Skype angle well, but the whole concept of this segment doesn't seem to gel with the idea of found video tapes.
Which brings us to the final segment, "10/31/98″, written and directed by, and also starring, a collective who go by the name of Radio Silence. Four guys get dressed up in their cheesiest Halloween costumes and head over to a house party to enjoy a night of revelry. But when they get there, the house is empty. Not sure if they're at the right place, they find a way in, and the house is just creepy enough to make them think they're meant to endure some shmaltzy scares as they wind their way to the part of the house where the party's taking place. The further into the house they get, the stranger the goings-on become, until they realize that this is definitely not where the party is.
As with any anthology film, not every part of it will always appeal to all viewers, but there's enough good stuff going on in V/H/S that it should appeal to most fans of indie horror. The creativity of the writers and directors of the individual segments in portraying the found footage (i.e. the spy glasses, Skype, a couple's home video of their road trip) is truly innovative and non-repetitive and works in the film's favor. As well, the varied types of scares, when cobbled together in this format, work very well together: we get the visceral scares of monsters and demonic entities as well as the psychological freakouts of the mysterious stranger and yet it all fits together within the overall concept of V/H/S. The main problem, and it's the same with all found footage horror films, is that it's not always realistic that people will continue to keep their cameras rolling when encountered with what they're experiencing, although that is neatly managed in three of the five (six, if you count the wraparound) segments.
Disc Review
Being a found-footage film where the source is supposed to be VHS tapes, and knowing how the filmmakers involved like the finished product to be as authentic as possible, the video quality is about what you'd expect, warts and all. This makes it all the more peculiar that there is actually a 5.1 Digital Audio mix, although there really isn't that much going on in the 3.1 superfluous channels except for the occasional ambient noise. Which brings us to the special features.
Cast and Crew Audio Commentary:
This laid-back commentary track features just about everyone involved in the making of V/H/S having a good old time laughing and telling stories. It's actually a refreshing change from the usual technical-oriented audio commentary. Ti West was missed, though, as his commentaries are usually quite interesting.
Alternate Ending – 10/31/98 (1:32):
This ending, although it offers a brighter outlook for our protagonists, simply did not fit in with the overall tone of V/H/S and so was wisely excised from the finished product.
More Tuesday the 17th (2:38):
This head-scratching segment doesn't seem to know if it wants to be some kind of deleted scene or a mini-making-of, so it tries to be both, to confusing effect.
Amateur Night: Balloon Night (3:33):
This featurette explores the creativity used in the filming of the final sequence of Amateur Night, in which a camera is attached to a few balloons to get the floating POV shot.
Webcam Interviews (13:35):
A couple of Skype conversations between Joe Swanberg, Helen Rogers, and writer Simon Barrett in which they discuss the film. The Skype novelty is enough to lure you in, but the segment could have been a couple of minutes shorter.
Cast and Crew Interviews (28:42):
Six separate (and varyingly informative) interview segments with producers Brad Miska and Zak Zeman, writer Simon Barrett and director Adam Wingard, director Ti West, directors Matt Bettinelli-Olpin and Tyler Gillett of Radio Silence, directors David Bruckner and Glenn McQuaid, and actor/director Joe Swanberg and Simon Barrett (again). Everybody involved discusses how excited they were about the concept and how they each tried to be unique in the reasons behind the various characters' continued filming of their ordeals even after the proverbial poo had hit the fan.
AXS TV: A Look at V/H/S (4:51):
This promotional video was put together using portions of the other featurettes and clips from the film itself.
Behind the Scenes Photo Gallery:
Look! Some photos! And they're behind the scenes!
Conceptual Design Gallery – Lily:
The creature in the Amateur Night sequence actually went through a very thorough and detailed design process, considering how little screen time is actually spent focused on her post-transformation.
Theatrical Trailers:
Viewers are treated to the red- and green-band trailers for V/H/S in succession. It's interesting to note how, apart from the occasional swear word and creative editing of a couple of scenes, they're almost exactly alike.
Final Thoughts:
V/H/S, despite its shortcomings, is an overall breath of fresh air from a group of talented young filmmakers in the genre. Don't take our word for it: the sequel (aptly titled S-VHS) will be premiering at Sundance this year, with a new group of genre filmmakers, including Jason (Hobo With a Shotgun) Eisener, Gareth (The Raid: Redemption) Evans, and Eduardo (Blair Witch Project) Sanchez, among others, scheduled to contribute segments.
Film Review
Disc Review