Short Film Corner: Interview with Andrew Renzi (The Fort)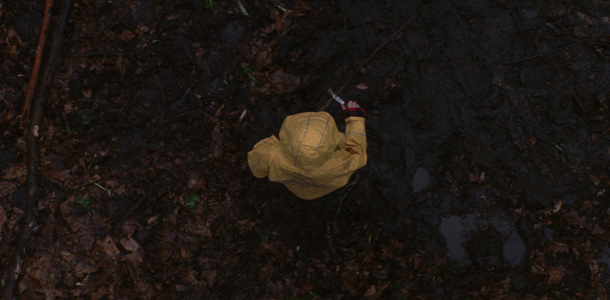 This month's Short Film Corner we feature The Fort, the dozen minute short that premiered at this year's Sundance Film Festival (more recently BamCinemafest) and is slowly making its way onto the U.S. and international film festival circuit. Set on the puddle-filled backwoods, this tells the tale of a rain0-coat wearing young boy (pint-sized Kyle Catlett) who is putting the finishing touches on fort and who meets a stranger — what follows could be the entry point into the narrative of the man (Jake Weber) who helps build that fort, but who has monster preoccupations that are come across as unresolved. Andrew Renzi (featured as part of our inaugural American New Wave 25 series in 2010) moves from his role as a producer (2010's Alistair Banks Griffin's Two Gates of Sleep) to that of helmer. Contributing to this meditative, stripped down number we find producer Andrew D. Corkin, the excellent Jody Lee Lippes (Director pf Photography) and a score from Saunder Jurriaans and Daniel Bensi.
I sat down with writer/director Andrew Renzi to discuss the intended themes, ideas and genesis of the short and you'll also find World Premiere Q&A screening footage outside Park City.