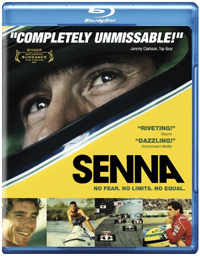 Fans of motorsports generally get a bad rap, but not all racing is epitomized by the generic dim-witted redneck NASCAR fan, blasting country music and pounding cases of Bud Light. Formula One (F1), the globe-trotting super sport of high speed open-wheel road racing, has a very different audience, and though F1 has never really managed to grasp a major American audience, it is by far the most popular racing series on the planet. If you happen to be a fan of the technical brilliance and utter insanity of F1 racing, you no doubt know the name Ayrton Senna. If not, Asif Kapadia's absolutely stunning documentary constructed solely of archival footage, Senna, serves not only as an engrossing introduction to the Brazilian driver who is considered by many to be the best to ever live, but triumphs in constructing a masterful rise and fall, complete with heroes and villains, and told by not only those involved, but the man himself.
The BAFTA Best Documentary and Sundance Film Fest's Audience award winning doc begins with Ayrton's quick rise from Brazilian kart racing as a teen to the international renown of F1. Upon his arrival to the majors he was instantly recognized as a supreme talent at the wheel, but very different from the majority of drivers, he was an intensely spiritual man whose national pride and genuine humility eventually made him a redemptive Brazilian icon. Anyone who watched F1 in the late 80s will remember two cars, nearly identically bearing the Marlboro name, endlessly battling for the lead, one driven by Ayrton, the other by teammate and eventual arc nemesis Alain Prost. As a traditional three act story, the bulk of Senna's second act is devoted to the tension filled conflict between them, in which the ugly political side of F1 starts to rear its head with the presence of its totalitarian president at the time, Jean-Marie Balestre. After Prost's eventual retirement, a series of horrific accidents lead into the film's final act which meditates on mortality through the development of Senna's relationship with the medical head of F1, Sid Watkins, and Senna's own tragic death.
Forumla One is a sport constantly under the watchful lens of cameras, whether they be for television broadcasts, personal use of fans, or independent filmmakers, and thanks to this fact, Kapadia and his team were able to find some truly incredible footage through countless hours of research in F1 archives, journalist inquiries, and personal contact with the Senna family. He gained access to footage that helped shape races into fantastic battles of rivalry or spectacular flashes of momentous personal achievement, often utilizing a variety of sources simultaneously by over dubbing audio from interviews to form a multi-dimensional narrative. By only using found material, Kapadia and his duo of editing magicians, Chris King and Gregers Sall, were forced to find ways to introduce Senna, Prost, Watkins, and Balestre, constructing the intricate relationships between these men, meanwhile showing Senna's spirit outside the car, and the individual events that became turning points in his career – somehow managing to pull it all off flawlessly. Senna is a turn of true editing genius. Those instantly turned off by the subject matter would do well to set their assumptions aside and indulge in one of the best told stories of recent memory.
The Disc:
With very few memorable titles to their name, Arc Entertainment has found an important success story with Senna. Their Blu-ray release of the film has come out a few months after its initial DVD release, but it sure was worth the wait. The film is a mixed bag in terms of visuals, ranging from distorted and letter-boxed Japanese interview footage to stunning 35 mm film unearthed during the research process, but the transfer does its best to stay faithful to the material, and it does so without issue. While the story relies heavily on the often rough visuals, the emotional core lies in its audio. Antonio Pinto's subtle score and the visceral roar of the cars blast out of the DTS-HD 5.1 track with striking authenticity, especially considering some of the source material. Pairing the near perfect film with plenty of extras, Arc has done a very respectable job with its newest release. The disc itself comes safely packaged in a standard Blu-ray case featuring an intense Ayrton in his iconic Brazilian striped helmet.
Audio Commentary with Director Asif Kapadia, Writer Manish Pandey and Producer James Gay-Rees
As a trio, there is constant dialogue that delves into the many decisions made to cut down the film to a reasonable length (the first cut was 5 hours long!), how they managed to collected all of this old footage from around the world, and which scenes created certain feelings to progress the story in the way they saw fit. Interestingly, they also tell much of the back story that was either cut from the film, or that they heard from others during their research. Occasionally they get off course, thanking people or just describing what's on screen, but for the most part it is a lively and enlightening listen.
Interviews
Nearly an hour of video interviews with unidentified commentators and journalists that were some of the voices that overlayed the film. The interviews are cut together into a semi-narrative that follows Senna's career. Unfortunately, there are occasionally non-English speakers in the mix, and no supplied subtitles, so part of the time you may be left in the dust.
Senna Family Home Videos
Only 3 minutes long, this collection of video clips is paired with bits of soundtrack music, and features Senna at home, in the car, in mid flight, shaving and playing with his son. These must have been just a few bits that didn't make the final film.
Theatrical Trailer
Switching gears as though trying to race through the entire film in two minutes, the trailer does a poor job conveying the actual tone of the film, but it satisfactorily gets the message across.
Final Thoughts:
Creators of non-fictional cinema continue to play with the format, but Kapadia's creation here has done something strikingly unique by refusing to utilize the traditional interview to tell Senna's story. By incorporating only footage shot during Ayrton's life he discovered a kind of on screen magic that only could have come from extended marathons in the editing room. As a result, Senna rests in the confines of classic storytelling while navigating outside of its sturdy realm, creating an intimate story of personal triumph, political trepidation, and unmitigated tragedy that ranks with the best of the best.