Reviews
Celeste and Jesse Forever | Review
Krieger Asks You Don't Know What You've Got 'Til It's Gone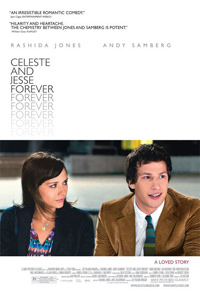 An emotionally grounded dramedy authored by a pair of television veterans and a burgeoning silver screen star in Rashida Jones and Will McCormack, much like the work of writer/director Alexander Payne, Lee Toland Krieger's Celeste and Jesse Forever, harnesses the heart while observing the absurd with outstanding results.
Jones stars as Celeste, best friend, but soon to be ex-wife of Jesse, who's portrayed by an expectedly silly, but surprisingly straightforward Andy Samberg. They've decided to separate, but only because Celeste doesn't see Jesse every growing past the man-child lifestyle he refuses to abandon. When life thrusts Jesse toward responsibility, Celeste is left lost and regretful over the life she is giving up.
As a successful marketing mind and trend forecaster, Celeste has made a life for her and Jesse, but under her financial wing, he has lazed about, passively refusing to find a job. Now separated, he's now living in the apartment behind their house, but they've been best friends since grade school, and their humor based habits don't seem to be subsiding. After friends (Elijah Wood, Ari Graynor, Eric Christian Olsen and Will McCormack) urge them to spend some time apart in the wake of filing for divorce, Jesse finds that a one night stand has become a lifetime commitment that he honorably concedes to. In the wake of his fatherhood discovery, he buckles down, finding the maturity he knew was there all along.
The problem is, Jesse's heart is with Celeste and Celeste's with Jesse, but by the time she realizes her misjudgment, her life has become a confused downward spiral of regret. But as they say, old habits die hard, and this couple with a history can't seem to let go, or move forward without some serious mental adaptation from both parties.
Jones and McCormack's script continuously rejuvenates us with Celeste and Jesse's many character quarks, but the film is entrenched in the idea of coming to terms with deep regret. Despite its often lighthearted feel, the story is about a divorce that no one actually wants, and the chemistry found on screen makes it that much more tragic. Rashida really gets to show her stuff here, desperately grasping for a male replacement or a hobby to distract her, but ultimately having to face her fears in an honest emotional climax. Toward the end the material does get a bit melodramatic, and a superfluous young pop star character played by Emma Roberts seems a bit forced and unnecessary, but for the most part, Krieger's sophomore effort looks and feels just right.
Celeste and Jesse Forever may not be as tightly wound as Payne's work, but its comparable tone, and wonderful performance by Jones make the film a definite contender for mainstream consumption. With this film there is little doubt that Jones will find herself in the spotlight as Kristen Wiig has with Bridesmaids, and she deserves it. The film is a amusing, yet heart-wrenching comedy with all the makings of a summertime smash.
Reviewed on January 21 at the 2012 Sundance Film Festival – PREMIERES Programme.
89 Mins.