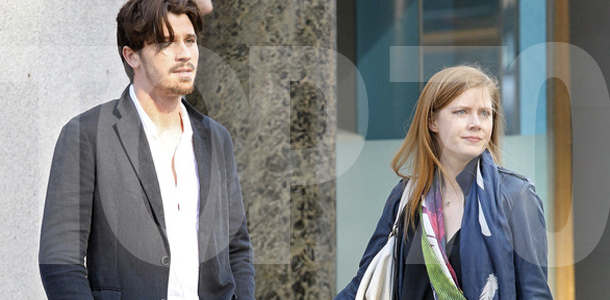 If Andrew Levitas does crack the Sundance line-up, the trade headlines will mention his skill-set inventory (read his wiki page). In the film world, Levitas moved from acting to producing (The Art of Getting By, At Any Price) to his first gig which started filming this past June in New York City and which has been in post since August. Lullaby's all-star cast includes Garrett Hedlund, Amy Adams, Jessica Brown Findlay, Terrence Howard, Richard Jenkins and Jennifer Hudson.
Gist: Based on Levitas' own original screenplay, the film explores the "power of life, its transformative moments and reconnections between loved ones" with the official plot summary being, "Estranged from his family, Jonathan (Hedlund) receives word that his father, Robert (Jenkins), who has been fighting illness for over a decade has chosen to take himself off life support in less than forty-eight hours. What follows is an unexpected journey of love, laughter, and forgiveness."
Production Co./Producers: Cary and Andrea Stone-Brokaw
Prediction: Premieres section
U.S. Distributor : Rights Available
Eric Lavallée is the founder, editor-in-chief and film critic at IONCINEMA.com (founded in 2000). Eric splits his time between his home base in Montreal, NYC, and is a regular at Sundance, Cannes and TIFF. He has a BFA in Film Studies at the Mel Hoppenheim School of Cinema. In 2013 he served as a Narrative Competition Jury Member at the SXSW Film Festival. Top Films From Contemporary Film Auteurs: Almodóvar (Talk to Her), Coen Bros. (Fargo), Dardennes (La Promesse), Haneke (Caché), Hsiao-Hsien (Three Times), Kar-wai (In the Mood for Love), Kiarostami (Taste of Cherry), Lynch (Mulholland Dr.), Tarantino (Pulp Fiction), Van Sant (My Own Private Idaho), von Trier (Breaking the Waves)
You may also like...
Andrew Droz Palermo (Rich Hill)
"This extended into the treatment of the kids, as much as humanly possible – I was on the ground shooting up and wide at them – trying to make them look larger than life, like heroes." Read more

Review

Interviews

In Theaters

08 Aug

23 Jul

18 Jul

11 Jul

09 Jul

04 Jul

02 Jul

27 Jun

Masthead

Facebook
Coming Soon
09/30/14
10/24/14
11/14/14