2013 Sundance Film Festival Predictions: George Tillman Jr.'s The Inevitable Defeat of Mister and Pete
By Eric Lavallee on November 20, 2012
@ioncinema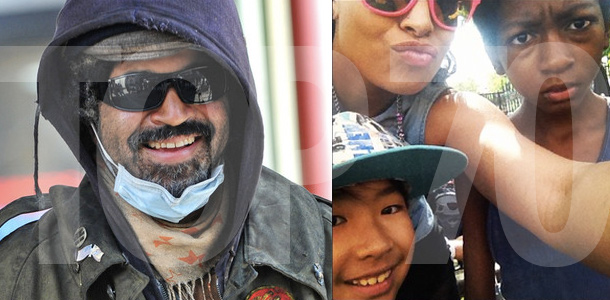 Certainly feels like the director and producer who has only delivered in mainstream items (Soul Food, Men of Honor, Beauty Shop, Notorious) is trying on a new hat of sorts with the spunky titled The Inevitable Defeat of Mister and Pete. George Tillman Jr.'s latest appears to tap into the more authentic, inner city borough pics featuring kids in survival mode a la Raising Victor Vargas or Chop Shop. Starring Anthony Mackie, Jeffrey Wright (pic on the left), Adewale Akinnuoye-Agbaje, Jennifer Hudson, Jordin Sparks (see tweet pic top right) and a pair of first-time on the big screen young thesps in the lead roles, filming took place during the summer, has been post-production since late August and features tech crew work by the likes of Production Designer Jane Musky (Why Stop Now) and Cinematographer Reed Morano (For Ellen).
Gist: Written by Michael Starrbury, this is a coming of age story about two inner city youths, who are left to fend for themselves over the summer after their mothers are taken away by the authorities.
Production Co./Producers: Tillman Jr., Robert Teitel, iDeal Partners Film Fund's Rachel Cohen and Jana Edelbaum (Dirty Girl)
Prediction: U.S. Dramatic Competition
U.S. Distributor : Rights Available
Eric Lavallée is the founder, editor-in-chief and film critic at IONCINEMA.com (founded in 2000). Eric splits his time between his home base in Montreal, NYC, and is a regular at Sundance, Cannes and TIFF. He has a BFA in Film Studies at the Mel Hoppenheim School of Cinema. In 2013 he served as a Narrative Competition Jury Member at the SXSW Film Festival. Top Films From Contemporary Film Auteurs: Almodóvar (Talk to Her), Coen Bros. (Fargo), Dardennes (La Promesse), Haneke (Caché), Hsiao-Hsien (Three Times), Kar-wai (In the Mood for Love), Kiarostami (Taste of Cherry), Lynch (Mulholland Dr.), Tarantino (Pulp Fiction), Van Sant (My Own Private Idaho), von Trier (Breaking the Waves)
You may also like...
Trieste Kelly Dunn
"I focused on feeling wronged and that something was taken from her, and that taking it from someone else who deserved it felt heroic and right, despite it being wrong and irrational." Read more

Review

Interviews

In Theaters

18 Apr

11 Apr

04 Apr

02 Apr

28 Mar

21 Mar

14 Mar

07 Mar

28 Feb

21 Feb

Masthead

Facebook