2013 Sundance Film Festival Predictions: John Carney's Can A Song Save Your Life?
By Eric Lavallee on November 19, 2012
@ioncinema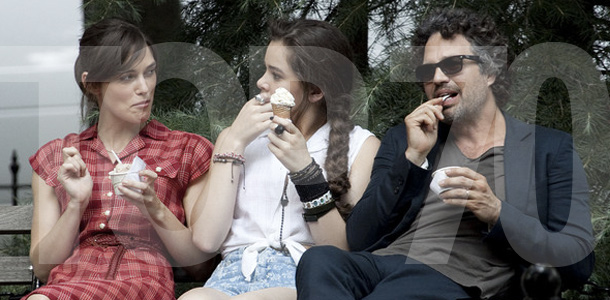 His 2006 true-life fairytale swooned Sundance audiences picking up the Audience Award World Cinema – Dramatic Competition and then Best Song at the Oscars. Once filmmaker John Carney has made a pair of films since in 2009′s Zonad and 2012′s The Rafters, but we think that despite the budget and the fact that with post-prod began in August, that with a return to a strong musical element and a cast that includes a mixture of established indie vets and singers (Sundance does have an appreciation for films that bring in musical talents), Keira Knightley, Mark Ruffalo (see set-pic above), Adam Levine, Catherine Keener, Hailee Steinfeld, Mos Def, Cee-Lo and James Corden, that there might be a window of opportunity to include Can A Song Save Your Life? to the Premieres line-up. Tech crew includes Cinematographer Yaron Orbach (Please Give) and Production Designer Chad Keith (At Any Price).
Gist: Seduced by dreams of making it in the big city, Gretta (Knightley) and her long-time boyfriend move to New York to pursue their passion for music. She's heartbroken when he dumps her for the fame and fortune of a big solo contract, leaving Gretta all on her own. Her world takes a turn for the better when a down-on-his-luck record producer (Ruffalo) stumbles upon her singing in a local bar and is immediately captivated by her raw talent and inspiring authenticity – they may be each other's last chance to turn their lives around. Somewhere between friendship and their love of music, the two strangers strike a chord that captures the hearts of everyone around them, proving that every great story has its own soundtrack.
Production Co./Producers: Exclusive Media Group's Tobin Armbrust and Likely Story's Anthony Bregman
Prediction: Premieres Program but might end up at a fest like TIFF.
U.S. Distributor: Rights Available
Eric Lavallée is the founder, editor-in-chief and film critic at IONCINEMA.com (founded in 2000). Eric splits his time between his home base in Montreal, NYC, and is a regular at Sundance, Cannes and TIFF. He has a BFA in Film Studies at the Mel Hoppenheim School of Cinema. In 2013 he served as a Narrative Competition Jury Member at the SXSW Film Festival. Top Films From Contemporary Film Auteurs: Almodóvar (Talk to Her), Coen Bros. (Fargo), Dardennes (La Promesse), Haneke (Caché), Hsiao-Hsien (Three Times), Kar-wai (In the Mood for Love), Kiarostami (Taste of Cherry), Lynch (Mulholland Dr.), Tarantino (Pulp Fiction), Van Sant (My Own Private Idaho), von Trier (Breaking the Waves)
You may also like...
Trieste Kelly Dunn
"I focused on feeling wronged and that something was taken from her, and that taking it from someone else who deserved it felt heroic and right, despite it being wrong and irrational." Read more

Review

Interviews

In Theaters

18 Apr

11 Apr

04 Apr

02 Apr

28 Mar

21 Mar

14 Mar

07 Mar

28 Feb

21 Feb

Masthead

Facebook