2013 Sundance Film Festival Predictions: Laurie Collyer's Sunlight Jr.
By Eric Lavallee on November 22, 2012
@ioncinema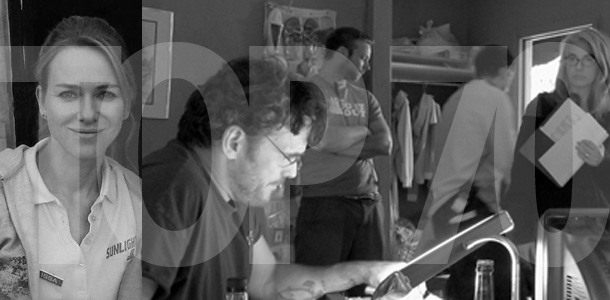 Half a dozen years since she first broke out at Sundance with the micro-budgeted Sherrybaby (Sundance '05) which still stands as Maggie Gyllenhaal's most raw performance to date, Laurie Collyer finally returns with her sophomore fiction project, her third film when you include her docu Nuyorican Dream (Sundance '00). With the of trio of players of Norman Reedus, Naomi Watts and Matt Dillon (see collage above from set), Sunlight Jr. is perhaps the most readied film among our predictions set – as filming began in Florida back all the way back in November of 2011. Tech folk includes cinematographer Igor Martinovic and Production Designer Jade Healy.
Gist: Sunlight Jr. is a love story set in the ruins of the American dream. Melissa is a convenience store clerk who lives in a motel with her paraplegic boyfriend, Richie. When they learn they are going to have a baby, they are genuinely excited. But when she loses her job and they are evicted from the motel, they face difficult choices about life and their relationship.
Production Co./Producers: Charlie Corwin, Ariel Elia and Andrea Roa
Prediction: Tempted to call this as a U.S. Dramatic Competition title, but the star wattage means this should go to the Premieres section.
U.S. Distributor: Rights Available
Eric Lavallée is the founder, editor-in-chief and film critic at IONCINEMA.com (founded in 2000). Eric splits his time between his home base in Montreal, NYC, and is a regular at Sundance, Cannes and TIFF. He has a BFA in Film Studies at the Mel Hoppenheim School of Cinema. In 2013 he served as a Narrative Competition Jury Member at the SXSW Film Festival. Top Films From Contemporary Film Auteurs: Almodóvar (Talk to Her), Coen Bros. (Fargo), Dardennes (La Promesse), Haneke (Caché), Hsiao-Hsien (Three Times), Kar-wai (In the Mood for Love), Kiarostami (Taste of Cherry), Lynch (Mulholland Dr.), Tarantino (Pulp Fiction), Van Sant (My Own Private Idaho), von Trier (Breaking the Waves)
You may also like...
Trieste Kelly Dunn
"I focused on feeling wronged and that something was taken from her, and that taking it from someone else who deserved it felt heroic and right, despite it being wrong and irrational." Read more

Review

Interviews

In Theaters

11 Apr

04 Apr

02 Apr

28 Mar

21 Mar

14 Mar

07 Mar

28 Feb

21 Feb

Masthead

Facebook