2013 Sundance Film Festival Predictions: Quentin Dupieux's Wrong Cops
By Eric Lavallee on November 22, 2012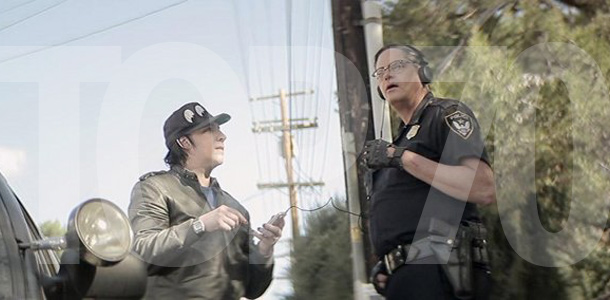 From the French filmmaker who launched his career with Rubber and hit Sundance's World Dramatic Comp with Wrong the following year, his next film a project told in seven parts actually debuted volume I in Cannes' Directors' Fortnight sidebar. So I naturally think that Wrong Cops, a freakshow starring Marilyn Manson, Mark Burnham, Grace Zabriskie, Eric Judor and a Steve Little – Sundance would not be complete without him showing up.
Gist: This is a comedy about "deranged" cops.
Production Co./Producers: Realitism Films's Grégory Bernard and Diane Jassem
Prediction: Park City at Midnight
U.S. Distributor: Rights Available
Eric Lavallée is the founder, editor-in-chief and film critic at IONCINEMA.com (founded in 2000). Eric splits his time between his home base in Montreal, NYC, and is a regular at Sundance, Cannes and TIFF. He has a BFA in Film Studies at the Mel Hoppenheim School of Cinema. In 2013 he served as a Narrative Competition Jury Member at the SXSW Film Festival. Top Films From Contemporary Film Auteurs: Almodóvar (Talk to Her), Coen Bros. (Fargo), Dardennes (La Promesse), Haneke (Caché), Hsiao-Hsien (Three Times), Kar-wai (In the Mood for Love), Kiarostami (Taste of Cherry), Lynch (Mulholland Dr.), Tarantino (Pulp Fiction), Van Sant (My Own Private Idaho), von Trier (Breaking the Waves)
You may also like...
Hannah Fidell
"I absolutely had her in mind for this film when I was writing it and she was attached to the project basically from day one." Read more

Review

Interviews

In Theaters

11 Dec

06 Dec

29 Nov

27 Nov

22 Nov

15 Nov

08 Nov

01 Nov

18 Oct

16 Oct

Masthead

Facebook
Coming Soon
Copyright © 2013 IONCINEMA.com