2013 Sundance Film Festival Predictions: Scott Coffey's Adult World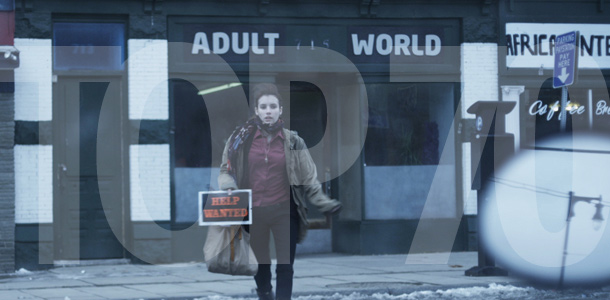 The drought between his debut and sophomore will come to an end in 2013. A full eight years since Ellie Parker (Sundance '05), which was based on the short of the same name (Sundance '01), Scott Coffey's Adult World was shot in Syracuse, NY back in February with a trio that includes Emma Roberts (who attends the fest yearly in four back to back years with The Winning Season, Twelve, The Art of Getting By, Celeste & Jesse Forever), Evan Peters and John Cusack. Wolf Parade frontman Dan Boeckner scored the comedy which I think Sundance programmers might want to include because it fits a certain niche demographic that they like to sample yearly.
Gist: Written by Andy Cochran, Amy Anderson (Roberts), an eccentric university graduate, is determined to become a famous poet. Saddled with debt and unemployed, she moves back in with her parents, who force her to get a job. She takes the only job she can find: working the cash register at an adult bookstore called Adult World. Desperate to become a published writer, Amy stalks a punk poet figure named Rat Billings (Cusack), who reluctantly agrees to mentor her. However, Amy ultimately finds more inspiration in her new friendships at Adult World — with the elderly couple who own the store, a drag queen named Rubia, and Alex, the charming and quirky young manager. These new friends enable her to channel her creative energy into an unexpected and fulfilling new writing style. Amy learns about love, life, herself, and how to navigate the adult world.
Production Co./Producers: Manu Gargi, Anonymous Content's Alex Goldstone and Joy Gorman, Treehouse Pictures' Justin Nappi and Kevin Turen
Prediction: Premieres Program
U.S. Distributor: Rights Available