Blood Runs Thicker Than Oil In The Motor City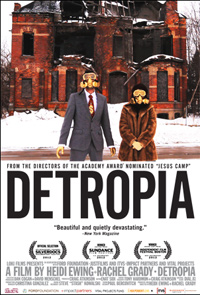 With a resume that includes the Oscar nominated Jesus Camp, and their Emmy nominated debut, The Boys of Baraka, one could rightfully expect Heidi Ewing and Rachel Grady's latest film to be quite a doozy. Focusing on Detroit, the model city for crumbling American dreams, Detropia finds a metropolitan ghost town struggling to find its place where industry has packed up and left, taking the population with it. The city is in dire economic straights, and the directors, with help from local artists, administrators, bar owners, and bloggers, aim to cover as many issues as humanly possible. Though its examination bares a rich and sprawling birth, the film lays its foundation in the humanity of Motor City and the haunting abandoned architecture that has left it but a shell of its former self.
The sprawling empty factory compounds and thousands of deserted homes are an everyday reminder to the remaining poverty-stricken residents that have the misfortune to be eternally tied to the city. As the auto plants shut down one by one, thousands have been left unemployed or with severe decreases in already meager wages. Even the once powerful unions now lack the capacity to stand strong for its dwindling workforce. The lucky ones have either skipped town or found a niche that fills one of a million voids left behind by others. Relying too hard on the auto industry for funding, even the popular Detroit Opera House has had to endure massive cuts. As the population continues to shrink, Mayor Dave Bing and his team of hired city planners have had to think seriously about trying to condense the city into stronger, centralized districts that will better withstand the recession, despite overwhelming outcry from impoverished citizens who have little incentive to pick up and relocate.
In the face of the progressing dereliction, it seems many young people are finding refuge in Detroit. Property prices are continually plummeting, making it one of the cheapest places within a major US city to acquire a house. Here, one artsy couple was able to purchase a spacious loft and an art studio for less than the cost of a small apartment in most major American cities. Countless empty houses are torn down everyday in post-industrial Detroit, but with some serious refocusing could the city built on motor oil and grinding gears be the trendy new city for the burgeoning college grad? Only time will tell, but at this point, there is still a long road ahead.
Ewing and Grady have carefully chosen their subjects, all of which have been deeply effected by the city's contraction, but each retain a critical eye on their afflicted hometown. They all possess a vested interest in the city, whether it be for financial stability, historical appreciation, or just genuine concern for their struggling fellow citizens. Though the corporate suits have traded Detroit for discounted foreign replacements, it is not a city altogether forgotten. There is history there, and the lineage runs deep, holding strong with an unwavering loyalty. With a mindful eye and an evenhanded approach, stark photography and unmitigated confessions, Detropia gives an austere depiction of a floundering city who's glory days are over, but the acceptance of failure remains unthinkable while potential still remains.
Reviewed on January 31st at the 2012 Sundance Film Festival – US DOCUMENTARY COMPETITION Programme.
90 Mins.