Fantasy Fútbol Turned Nightmare: Santoro Brings Bravura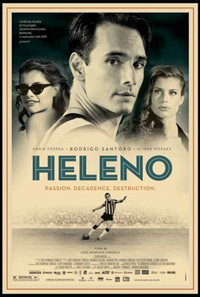 As we all know, the brightest stars often burn out far faster than your average Joe, especially when referring to narcissistic, trash talking celebrity athletes who seem to care for their public image more than the bodies that bring them success. Long before we witnessed the rise and fall of Mike Tyson, Darryl Strawberry, or Tiger Woods, there was Heleno de Freitas, a Brazilian bad boy soccer superstar who led the Botafogo football club throughout the 1940s, ending his career morosely by refusing to treat a crippling case of syphilis and talking himself into alienation from the sport that made him a national icon. Director José Henrique Fonseca's biographic portrayal of the hot headed footballer takes pains to indulge de Freitas' worst impulses in classic antihero fashion, but Heleno steamrolls story arch conventionalism with performance bravura and striking black and white cinematography that conjures the golden age with remarkable vim.
One of Brazil's most cherished international screen talents, Rodrigo Santoro plays the sports icon, and with commanding audacity to say the least. Though famous from his time on the field, we get to know Heleno off of it as a silver tongued viper, consciously passionate about winning, but heedlessly in need of physical attention from any and all women deemed worthy. Despite his athletic successes, fiscal fortunes and overall public ascendancy, Heleno is an unhappy man prone to violent outbursts. He wants the cup, but feels his teammates are bringing him down, and he's more than willing to publicly belittle them with each and every lose. An effortless womanizer, he loves the women in his life, but can not have them all, and when he does decide to settle down, his lack of presence becomes the beginning of the end for not only his romance, but his best friendship as well. In fact, the only point in the film in which we see Heleno in pure euphoria is on the soccer field being bathed in a chorus of praise. Wisely, Fonseca limits our time on the green to just a few key sequences, forcing our inclination of attraction to Heleno to be challenged up front, rather than relying on athletic mystique to sway our favor of the player.
Co-written by the director and a quartet of other contributors, Heleno is not only characteristically confrontational, but it places the man's ultimate cessation in parallel with the star's initial downturn. From the beginning we see the star from several view points – talented, suave, emotionally explosive, blindly egotistical, and finally, mentally and physically incapacitated, residing in a sanatorium at his end. Each idiosyncrasy is bracingly performed with nuance by Santoro, who's stony profile seems to exude a vile confidence and dejected vulnerability in equal measure. The unsympathetic panorama makes for a cold, hard examination of megalomania that draws direct comparisons to numerous headlines that tarnish the sports column today.
One might guess that a film about one of the unheralded tragedies of football history would revolve around the sport that brought them to prominence, but Fonseca has chosen to instead craft a brash character study that delves deep into the depths of egomania, ultimately rejecting the floridness of visual candy that comes with action sports. The film does occasionally run awash with peripheral personage clichés, with the star's many wide-eyed muses falling under the protagonist's spell, but even they possess a surprisingly fiery moxie. Gorgeously lensed by cinematographer Walter Carvalho, Heleno is propelled by a tenacious performance by Rodrigo Santoro, who is an absolute force of nature as de Freitas. The forlorn football icon may not have found the glory he so hoped to achieve in life, but Fonseca's depiction of Heleno's anguished legacy surely is a winner.