Reviews
My Amityville Horror | Review
Dysfunction Junction: Walter Revisits Source of Classic Horror Film with Mixed Results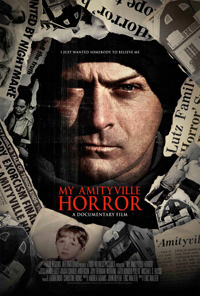 Thanks to Stuart Rosenberg's 1979 film adaptation of Jay Anson's infamous novel, "The Amityville Horror", along with its various sequels, not to mention that high profile 2005 remake with Ryan Reynolds, the spooky tale of a family plagued by a series of chilling paranormal activities has long been cemented in the pop cultural psyche. For his documentary debut, filmmaker Eric Walter revisits this notorious case with My Amityville Horror, scoring an exclusive interview with Daniel Lutz, the eldest child of the Amityville family, given the chance to share his side of the story nearly thirty-five years later. The resulting documentary is, at times, unnerving, but more often a subjective exercise that reveals one of America's most famous hauntings to be an overblown façade, and Daniel Lutz to be an intriguing case study as a victim of psychological (and not preternatural) abuse.
While his two younger siblings declined to be involved, David Lutz finally gets center stage, recounting the lurid details of twenty eight days when he had been ten years of age. David's mother and stepfather moved into a residence where only a year prior, a family had been viciously slaughtered by one Ronnie DeFeo. Lutz assures us that the accounts we're familiar with aren't nearly as horrible as the way things really were. Walter films the enigmatic and confident Lutz being interviewed by a psychologist, Dr. Susan Bartell, who he is meeting for the first time, and Laura DiDio, a journalist that had interviewed David as a child when she covered the Lutzs' story.
We quickly realize that there was a high level of dysfunction going on in the Lutz home, particularly between David and an abusive stepfather, George, who may have been involved with some occult practices that were not disclosed to the media at the time. Conversations between DiDio and other journalists and parapsychologists that had been involved in the case reveal other conjectures about the Lutz family, with most conceding that some parapsychological phenomena may indeed have visited the Lutz family, perhaps because of George Lutz channeling something or other, but that the case certainly did not warrant the mass media attention it had gone onto receive.
While many may feel a need to believe Lutz's accounts as a child and troubled teenager, it really shouldn't take long to realize that he's also a highly disturbed individual. To revisit the case now is reminiscent of revisiting famed murder cases, such as the West Memphis Three in the Paradise Lost trilogy or Amy Berg's West of Memphis, where we can see how the public and the media were swept away by lurid details and ridiculous conjecture, as well as an insistent need to believe in the ever virulent struggle between good and evil. A reunion between Lutz and demonologist Lorraine Warren at first begins in rather touching fashion but soon devolves into a ridiculous discussion of belief. As Warren trots out wood that supposedly hails from the cross upon which Mr. Christ was crucified, and Lutz admonishes two agnostics in Walter's film crew, the believability factor of Amityville is inadvertently voiced by Warren who comments that "you have to have faith." Ere goes, if you don't believe in god, you probably won't believe what happened to David Lutz, either.
At times, Walter seems to purposefully cast doubt on the dogged insistence of Lutz's claims, often creating some downright uncomfortable moments such as when he asks Lutz if he would consider being subjected to a lie detector test. Likewise, Lutz's sequences with the psychologist Bartell are equally disconcerting, while she unconsciously condescends, every gesticulation and grandiose statement makes My Amityville Horror chilling for natural and not supernatural reasons. While DiDio's moments with Lutz seem less critical of him, she exudes a biased excitably to desperately want to believe that something paranormal actually happened in the residence of 112 Ocean Avenue oh so long ago.
As a psychological case study, David Lutz is an intriguing subject. However, Walter's documentary often feels like an episode of some popular television series, those more aligned with debunking rather than proving the existence of otherworldly malignant forces hellbent on terrorizing suburban heteronormative familial units.