Mims and Tippet Find Faith In Punks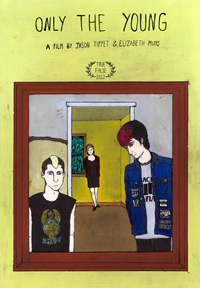 Another non-fiction tale of sun-kissed west coast kids, Only The Young follows a trio of good-hearted teenage punks meandering their way through high school problems while trying to deal with innate ones that are just too big for their own naïve hands to hold. In a small town in southern California, directors Elizabeth Mims and Jason Tippet found Garrison, Kevin and Skye, a pair of young skaters and their pierced up female counterpart trying to find themselves among the corroding abandoned buildings and fluorescent lit underpasses that make up their neighborhood. Their brief, supremely honest account is one of growing up in a small town with a small clique and a head full of perplexities and the best intentions.
The trio have been friends since the dawning of their teens and have since spent every spare minute sharing their boredom in good company, together. They firmly believe this feeling of inherent camaraderie will last forever, each stating so plainly on several occasions. All three of them devout followers of the Christian faith, their conceived problems are often questions of morality, yet they've all had their own adolescent issues to deal with. The list runs from commonplace to tragically current. There are shaky love triangles that dissolve to make room for a new girl. There are questions of faith. There is evidence of self inflicted harm. There are addicts and convicts for parents, and loving grandparent replacements. There are families moving far from the place they've always called home and there are homes being taken from the families that have always lived in them. And there are all the general questions that come with a growing body and the responsibilities that come with it.
Mims and Tippet's film is incredibly naturalistic in its depiction of coming-of-age youth, with their young subjects willing to bear their hearts, admit their mistakes, or act like the silly adolescents that they are without the camera becoming a major distraction or barrier. It seems though, much was indeed planned while constructing shots and sequences. For example, the opening itself, a conversation between Garrison and Skye that sets the stage for the entire film is a pair of shots that seem impossible to shoot at the same time, meaning that one of these exchanges must have been reenacted. Whether this is true or not is but a question of the boundaries of non-fiction filmmaking and the truthfulness that is meant to be conveyed within it. Another film, Alma Har'el's Bombay Beach, shares not only very similar subject matter in troubled small town kids, but it dabbled in creative liberties within non-fiction as well, staging gorgeously lensed shots and choreographed dance numbers to bookend narrative sequences. Though Only The Young lacks choreography, it certainly seems to have its fair share of orchestrated set pieces that still manage to come through as truthful.
Feeling like an amalgamation of recent documentaries such as Bombay Beach and Tristen Patterson's Dragonslayer, a film about a SoCal skater taking the wandering path to accepting adulthood, Mims and Tippet's doc finds its own footing by hinging its trifecta of friendship, faith and change on the authenticity of their baby-faced subjects. Only The Young manages to encapsulate and circumvent all the clichés of teenage romance, the rebellion of punk rock, the influence of religious youth groups, and the results of drug abuse to produce a vision both heartwarming and heartbreaking, a celebration of youthful hope and desire that sincerely accepts the unavoidable adversities of maturity.