Communication Studies: Seung-Jun Offers Space Tourism of a Different Kind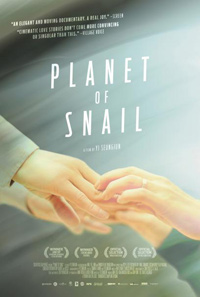 We take our senses for granted. Trapped in the silent darkness of his own existence, deaf-blind Korean poet Young-Chan experiences the world mostly through touch. His wife, Soon-Ho, also has a disability. Her back issues have stopped her vertical growth, stunting her just above the height of her husband's waist. Though their disabilities have brought them together, as a team they overcome their hardships in beautiful, and surprising ways. After detailing the conditions of the suppressed Nepalese people in Children of God, docu-helmer Yi Seung-jun returns with yet another subtle story of human triumph in the face of extreme adversity with the sublime, IDFA Award-winning, Planet of Snail.
Exploring the experience of a man who can't hear or see, in a medium he physically can't perceive, is an intrepid undertaking, but Seung-jun has conveyed the feeling quite gracefully. With cooperation from the on screen couple, he filmed nearly everyday for months on end, and what he found were brilliant moments of staunch understanding, and unwavering love for one another. In one key scene, a light bulb burns out, and Soon-Ho is too short to change it herself. So, with guided instruction, Seung-jun stands atop a bed, and changes the secured circular bulb purely by feel. To communicate, Soon-Ho gently taps out memorized word patterns on Young-Chan's fingers. The simplicity of such a banal activity expands into a difficult, time consuming process that makes us grateful for the ease that most of us live with, and appreciative of the bravery Seung-jun exhibits throughout everyday life. They are a special couple that share a truly unique intimacy, but that comparability is based in a very dark place – loneliness.
Young-Chan describes his condition like being an astronaut, disconnected from civilization, floating in a muted world all his own, but with a partner to help navigate our busy modern society, it is manageable. Obviously, his pace of life is far slower than the average person, but his disability allows him to appreciate the world like a child first learning of rain, or the sound of rustling leaves. With youthful wonder, Young-Chan experiences things we overlook on a daily basis, and he soaks it all in, turning it into humbling literary insight for the masses.
Through quietly captured moments of heartwarming collaboration, Yi Seung-jun has crafted a remarkable depiction of love, understanding, and patience. Young-Chan's unique experience is expressed through watery sound manipulation, and tranquil cinematography that captures the intimacy with which he perceives the world. Planet of Snail is an inspiring, reverential character study of an astounding man, like any proper astronaut, reaching for the stars.
Reviewed at the 2012 Hot Docs Film Festival – International Spectrum section
89 mins.