Body Works: Summerour's Quiet Reimagining of Notable Scandal an Ambivalent Mix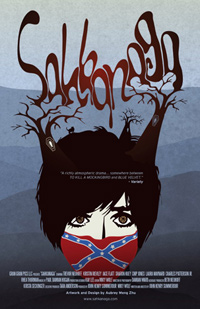 For his directorial debut, John Henry Summerour fictionalizes a decade old account of a notorious crematorium scandal in 2002 northwestern Georgia (the director's native stomping grounds) for his debut, Sahkanaga, in which the Environmental Protection Agency, from an anonymous tip, discovered more than 300 bodies in various states of decomposition, dumped unceremoniously in the woods instead of being cremated. Summerour tells the tale from the perspective of an adolescent boy, whose accidental discovery of the grisly details leads to his rite of passage as far as discovering the cruel realities of an ignorant small town community. Grotesque details aside, Summerour's film is mostly an understated community drama about religious hypocrisy in a small town, albeit without any particular statement about the rights and wrongs of the cultural beliefs examined. While this observational quality is mostly appealing for this intriguing aspect, Summerour's reservation hooks the film as more of a progressive minded Christian themed niche feature, which may be disappointing for those that have little patience for the possibility of hidden religious agendas.
Opening with a biblical quote, Matthew 8:22, "Follow me, and let the dead bury their own dead," we are introduced to Paul (Trevor Neuhoff), who, in a fit of sibling rage, decides to toss his younger sister Rachel's (Laura Maynard) kitten into the forest. At about the same time, the local Sheriff accidentally shoots himself while scrounging for more toilet paper after discovering its lack too late, and dies. Paul's dad (Chip Jones), happens to be Sahkanaga's (which is a Cherokee word meaning Great Blue Hills of God) local funeral home director, and at the Sheriff's funeral, he urges his son to offer condolences to Lyla (Kristin Rievley), the Sheriff's granddaughter, whose mother has now left in the care of her grandmother, Lovey (Sharon Huey) the host of a local televised prayer hour.
While Paul becomes more and more fascinated with Lyla, his rabblerousing best friend, Scotty (Jace Flatt) confesses that the Sheriff used to make him clean his house naked or sometimes wear Lovey's clothes in her absences. But when Paul's sister insists he was the cause for the disappearance of the kitten, he has to feign putting up lost kitten posters while trying to hot trot back to the woods to the baby feline. And when he goes back to search, he makes the grotesque discovery of finding bodies in the woods. Bringing Scotty out to take a look, they witness Chris (Charles Patterson), an employee of Paul's father, in charge of cremating the bodies, as the person responsible for dumping them. Unsure of whether his father knows or not, Paul has a hard time trying to decide whether to consult his parents or report his discovery.
Sahkanaga, a surprisingly adept debut, will most likely bring to mind the early works of David Gordon Green, in particular, that director's own 2000 debut, George Washington, also focused on children in a small town having knowledge of terrible deeds. Avoiding sensationalism, Summerour focuses on the effects of the overly righteous religious small mindedness that casts Paul's family into pariah status once the bodies are discovered, and only hints at the taboo secrets that several of the town inhabitants keep. While Paul's budding sexuality is juxtaposed with what seems to be his best friend's burgeoning homosexuality, it's unfortunate that Scotty's orientation is seen as a result of possible pedophilia.
Summerour wisely doesn't try to tie up any loose ends or provide pat answers about human motivations or behaviors, and doesn't shy away from showing the nastier side of religious mob rule, like church members ostracizing Paul's mother at the supermarket and leaving a dead python in her wake, or the barely disguised racism that surfaces from some townsfolk after Chris, an African American, is arrested for his crimes. But the character given the most intriguing angle is the outsider Lyla, who isn't chained to the same archaic notions. She questions Paul about his faith, asking, if he and the other townspeople believe the deceased people's souls are in heaven, why are they so angry and unforgiving about what happened with the bodies?
There are several wooden moments in Sahkanaga, in particular from Chip Jones as Paul's father, but for the most part, it feels natural and realistic, with Paul being as undefined as most adolescents really are. Summerour injects a good amount of voiceover narration that doesn't quite gel with the tone of the film, especially towards the lagging finale. The film's greatest strength may very well be its look, a grainy Southern landscape captured by Damian Ward. Summerour, the son of a Methodist minister, developed this script with assistance from the Screenwriters Colony on Nantucket and the IFP Narrative Lab in New York City. It will be interesting to see how he branches out from here.