The Bed Bugs Bite: Balaguero's Latest a Creepy Premise with Dubious Motives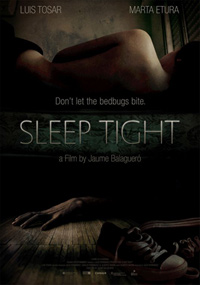 Sleep Tight Jaume Balageuro, leaving behind the REC franchise (which his co-director, Paco Plaza, would have also been wise to do) revisits the dangerous social aspects of the apartment complex with his latest thriller, Sleep Tight, a character study that insistently proclaims that misery not only loves company, it'll kill for it. What begins as an incredibly creepy premise unfortunately dips one too many times in the ludicrous pot by the unsurprising finale and annoyingly equates innate positivity with lack of common sense. With a lack of clarity concerning many of its supporting characters, written solely as devices to further moments in the soggy narrative, Balaguero's film coasts along mostly on one convincingly menacing performer.
Cesar (Luis Tosar) is a disturbingly unhappy man that works as a front desk clerk in a fancy Barcelona apartment building. His voice-over narration informs us that he has never known happiness and is only comforted by making those around him miserable. He lives in the basement of the apartment building, using his lunch breaks to visit his ailing mother in her nursing home. Since she's unable to speak, Cesar relates his dark desires and secretive plans quite freely.
A young woman we had seen Cesar in bed with, Miss Clara (Marta Etura), turns out not to be Cesar's love interest, but simply a happy-go-lucky resident that Cesar is determined to make miserable. But then, what was he doing in her bed? When we're finally aware of what Cesar's up to, it's incredibly unnerving. He's also discovered personal details about her, and, posing as an ex-lover, sends alarming texts and written letters to her. But Clara seems to be able to keep her sunny disposition, even unwisely sharing particular details about her recent spat of "bad luck" with the rotten egg Cesar. Meanwhile, some of the other apartment residents clearly see right through Cesar's mostly affable presence, including an old man that seems inexplicably hell-bent on having Cesar fired. When Clara's often absent beau returns, however, Cesar's efforts to make Clara miserable are immediately thwarted, causing his plans to spin out of control.
Beyond its decidedly creepy base premise, Balaguero and screenwriter Alberto Marini (who adapts from his novel) manage a strange dynamic for most of the running time, aligning us with a character it's nearly impossible to empathize with. Luis Tosar gives an intense, morbid characterization of a man motivated solely by making those miserable around him, a premise that outwears its welcome early on as being a bit trite and silly, especially with repeated visits to mute mom to keep her (but mainly us) updated on how far he's willing to go.
Tosar, a veritable star in his native Spain, has quite a string of intense roles to his name, and has won several Goyas, and has even collaborated with actress and girlfriend Marta Etura before, notably in 2009's Cell 211. Once again, he proves himself a likeable screen presence despite other shortcomings, which is more than can be said for the melodrama used to support the rest of the film. Etura's Miss Clara, though supremely positive, comes across as extremely naive and without any sort of problem solving capabilities, and any sympathy we may have for Cesar is the fact that everyone around him seems so incredibly dumb. And no, the fact that Clara has a collector's hardcover copy of Ingmar Bergman's Oeuvres hardly makes up for her lack of self preservation instincts.
This is the type of narrative where the antagonist's precariously won success is only at the expense of no one else anywhere having the capability of rational thought. Needless to say, this detracts from the overall menace that Sleep Tight establishes early on, even if Balaguero and cinematographer Pablo Rosso keep us constantly informed of Cesar's mental imbalance by giving us plenty of skewed and off center tracking shots. Also, another great distraction is a young girl, Ursula (Iris Almeida), supposedly wise to Cesar's ways and supplying him with certain items while simultaneously blackmailing him. She comes across as a preternatural waif and seems like she escaped from some other more fantastical narrative and ended up here.
While it's refreshing to see Balageuro branch out beyond REC again, what could have been an interesting thriller hinged on class warfare, between the haves and have-nots, ends up being a murderous version of The Grinch.