Features
Book Review: Mike Goodridge's FilmCraft: Directing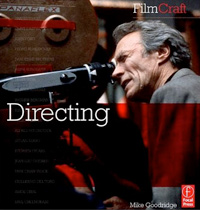 As the fifth volume of Focal Press's exceedingly readable and loving exploratory series of the filmmaking process, Mike Goodridge's FilmCraft: Directing follows the success of its predecessors with expectedly enjoyable results. Featuring discussions with sixteen of the world's most influential and exciting working directors and five profiles of authentic legends that help shaped cinema as we know it, the brisk 192 page collection manages to touch on a wide range of creative epicenters, their immensely differing ideologies on the medium, and the egotistic, yet somewhat ambiguous job that a film director's capacity really encompasses. The book serves an intimate peak into the stressful task of helming a feature, whether it be a massive Hollywood extravaganza or a homegrown intimacy.
Broken down by filmmaker, each section is structured around a principal discussion by the director at hand, with a variety of asides that fill out the full color pages that focus in on pivotal features from their careers or iconic sequences from a specific film. Each director included seems to approach the subject with a surprisingly different credo, so the conversations and digressions tend to vary in specialization greatly. For instance, the dual Palme d'Or winning Dardenne brothers discuss why they've never really left their beloved hometown of Seraing in Belgium, their lengthy rehearsal process with the actors that sometimes begins months before the shoot, and their hyper self-consciousness to avoid purposefully cinematic composition in their films, while Clint Eastwood on the other hand speaks about his on-set flexibility, his trust in his cast and crew to contribute to the film in their own creative ways while still being faithful to the material, and instead of having an audacious independent vision of the project at hand, thinking first of the intended audience. Some of the filmmakers also have a section of advice to aspiring filmmakers. While all of these one sided interviews and intimate divulgences are authentic details of the development of both skill and style, each sheds a unique light on what it means to be a director.
The five legacy directors profiled within shouldn't come as a surprise to any self proclaimed cinephile – Ingmar Bergman, John Ford, Alfred Hitchcock, Akira Kurosawa, and the only living example, Jean-Luc Godard (probably refusing outright to be interviewed for such a book). With only a pair of pages devoted to each, Goodridge quickly recounts how they got into filmmaking and a brief, but thorough outline of the filmmaker's oeuvre, highlighting their most critically acclaimed and under appreciated works. In doing so, he makes sure to justify their influential places in film history by focusing in on the specific techniques or styles that each auteur pioneered in their heyday.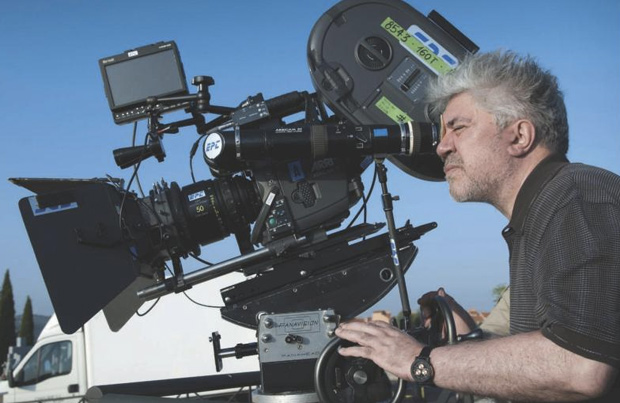 Being that there is a substantial amount of space allotted to the development of specific films, it's helpful if you've seen many of them previously, but it's not necessarily required. As part of Pedro Almodóvar's profile, we get to explore his distinct hand in the meticulous production design of his latest film, The Skin I Live In. One of the only Hollywood specific directors in the book, Paul Greengrass speaks on the development of his documentary influenced action sequences within his two Bourne features. Within the section on Michael Haneke there are comparison shots between Funny Games and his American remake of the same title that are paired with hand written notes on the script and storyboard. Highlighting the Cannes Grand Jury Prize winning revenge epic Old Boy, director Park Chan-wook talks about how the twisted story came about, and compares his hand-drawn storyboard to the iconic single shot, hammer doning fight scene that came about almost by accident while on set. Each filmmaker within has a variety of films that are touched on, and the more you are familiar with, the better.
As you can see from the previously mentioned names, within this group of auteurs many will be instantly recognizable, but there are a few surprise names in the roster. One who has been flying under the radar for many is the Israeli director Amos Gitai, who's trio of portraits on life in Israel, Kadosh, Kippur, and Free Zone, were each nominated for the Palme d'Or upon their respective releases, but he seems to remain somewhat domestically unknown. István Szabó, another filmmaking vet, has been on the festival circuit for decades, but the Hungarian director's name doesn't seem to garner the recognition of many of his contemporaries despite being an Oscar winner for his work on Mephisto and critical acclaim for many other notable works. The only woman featured in the book, Susanne Bier, the director behind such incredible recent works as In A Better World and After the Wedding, gets a chance to speak her thoughts about being a female filmmaker, as well as her casting and collaboration process. Seeing many lesser known international film helmers featured in a predominately American film publication is always a wonderful thing.
Film goer's reading material can often be a little dense for the average reader, but Mike Goodridge has put together an insightful, but breezy collection of essential filmmakers and has allowed them to give their perspective on their own roles as director through casual conversation and beautiful full color movie stills that complement the exposé. Fans of international cinema, those looking for a new filmmaker to latch onto, and people generally interested in the creation of motion pictures will find something to love, but don't expect to find extended in-depth film analysis or the like, as what makes FilmCraft: Directing a worthy read is its first person glimpse into the directorial process and the differing philosophies behind the always varying, ever intricate craft of filmmaking.