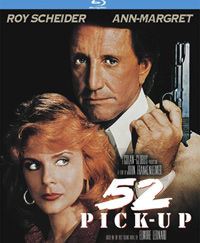 Smack dab in the middle of his fourth decade as a filmmaker, auteur John Frankenheimer would release what would stand as one of his last notable titles with 52 Pick-Up in 1986. The 80s were not really kind to the veteran director, having knocked out one of his silliest titles in 1979 with the environmental horror film Prophecy prior to helming some other oddities, like the Scott Glenn/Toshiro Mifune film The Challenge (1982), the Michael Caine thriller The Holcraft Experiment (1985) and then Dead Bang (1989) with Don Johnson. But it would be his adaptation of this Elmore Leonard novel, a black mail neo noir that really stands out amongst his later works.
Harry Mitchell (Roy Scheider) is a Los Angeles entrepreneur. He's got a great life, lots of money, a beautiful wife (Ann-Margret) about to enter into the political arena, and a sprawling home. But when three criminals led by pornographer Alan Raimy (John Glover) approach him with video footage of his young mistress (Kelly Preston), they demand one hundred and five thousand dollars or they'll bring the video to his wife. Instead, Mitchell confronts his wife with his adultery and ignores their demands. But then the blackmailers do something more drastic—they film the murder of his mistress, who is killed with a weapon they've stolen from Mitchell's home.
Interestingly, Frankenheimer's film was not the first adaptation of this particular Leonard novel. Only two years prior, director J. Lee Thompson filmed a much altered version of it as The Ambassador, changing it to that of a woman's perspective (Ellen Burstyn), and co-starring Robert Mitchum and Rock Hudson (in his final theatrical performance). Frankenheimer's version was adapted by Leonard (along with first time screenwriter John Steppling) and is apparently much closer to the source material.
As the protagonist, Roy Scheider is resolutely dry, often outshined by Ann-Margret's effectively angry and disappointed wife. After asking the age of his mistress, she discusses the length of their matrimony, venomously spouting "that's longer than she's been alive!" Surprisingly, Margret also gets a couple scenes where she gets to lash out at her attackers when things start to get heavy. Besides an early role for Preston, Frankenheimer features the striking Vanity, an actress whose career didn't take off as expected. But the real standouts are the trio of villains, like the sleazy pornographer played by the always dependable John Glover, and Jon Trebor's homosexual smut parlor owner (who is dispatched, along with his 'lover,' very similarly to a key villain in Inglourious Basterds). But it's clearly Clarence Williams III that really stands out with a furty of performance as a pimp with barely controllable rage issues, clearly with no qualms about snuffing the life out of his most cherished property. A home invasion sequence where he invades Scheider's abode is equally well-staged.
Disc Review:
One of the many forgotten about titles that Kino Lorber is joyously bringing to Blu-ray for the first time, Frankenheimer's film is given their standard treatment, presented in 1.85:1 and sans extra features. But 1980s Los Angeles looks alive and well even in its staggering disparity between the haves and have-nots of a bygone heydey.
Final Thoughts:
Set in the sprawling age of excess in the notoriously superficial gleam of Los Angeles, there's nothing uniquely innovative about the narrative. In short, this is really just a flick about a rich mark that turns the tables on his antagonists. But Frankenheimer's tone provides a remarkably tense scenario, thanks in part to some great supporting performances. Gary Chang's dated score blares seldom enough to be forgivable, while DoP Jost Vocano (at one time the regular cinematographer for Verhoeven) injects seedy flourish. In fact, along with Editor Robert F. Shugrue, they create what has to be the most artistically violent snuff film ever, with Kelly Preston flailing in slo-mo while she's riddled with bullets.
Film: ★★★½/☆☆☆☆☆
Disc: ★★★/☆☆☆☆☆