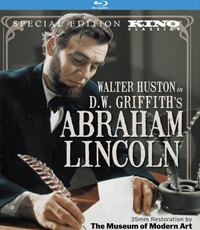 Capitalizing on the latest biopic of the sixteenth United States President with this month's release of Steven Spielberg's Lincoln, Kino releases a mastered HD restoration of D.W. Griffith's 1930 film, Abraham Lincoln. Serving as the silent film master's official foray into sound, this serves as the conservative counterpart to Spielberg's bearded game changer, with dueling depictions that couldn't be more disparate in quality or content. Griffith's film is regarded by many to be a poorly made endeavor, regardless of his renowned manifestations of blatant racism that are certainly present here, and Huston's dowdy performance hardly rates next to the magnificent Daniel Day Lewis. But even if Spielberg's log cabin abolitionist is more a portrait of the man we hope and wish Lincoln was, experiencing Griffith's version serves to highlight not only how far we've come in the advancement of filmmaking, but perhaps in the advent of people making as well.
A sporadic smattering of highlight's from the lanky man's early years comprise much of of the film, with a doltish young Abe Lincoln (Walter Huston) working as a store clerk in his early twenties in New Salem, Illinois. Later, heavily powdered, he's a rail splitter circa 1834, wooing the bejesus out of sweetheart Ann Rutledge (Una Merkel). When she dies of a fever, a devastated Lincoln fights in the Indian Wars only to return and open a law practice. He meets his next wife, Mary Todd (Kay Hammond) at a ball, and though he actively courts her, there really is little love between them. Awarded the republican nomination, Lincoln is elected president, the Civil War begins, and he signs the Emancipation Proclamation. Next, we witness how Lincoln decides to put Grant in charge of the armed forces, which turns the war in his favor, and then, as General Lee surrenders the Confederate forces and Lincoln is re-elected, peace time at last reigns again. But before reconstruction can begin, Lincoln, as we all know, is assassinated by the actor John Wilkes Booth.
With a screenplay from renowned author Stephen Vincent Benet, who penned John Brown's Body, and the announcement during the credits that the feature was "personally" directed by D.W. Griffith, one should have moderately high expectations going into this affair. Sadly, Griffith, the notorious ignorant racist, proves the mastery of his craft did not transition very well with the introduction of the talkie, a progression he also opposed.
As staunchly conservative as Spielberg's latest incarnation could be read as wishful thinking liberalism, (at least in the treatment of the romanticized regard in which we hold the subject), this Abraham Lincoln is a sprawling yawn fest, with historical moments ignominiously linked one after the other, spiked with the signature Griffith racism, who, even fifteen years after his infamous The Birth of a Nation still uses black face.
Huston, in one of his first notable acting roles does his best, but the clownish make-up and wooden dialogue mire the performance in utter ridiculous sequences, such as Lincoln, deliriously wandering around his presidential home with Mary Todd trailing, where he utters lines filled with pregnant pauses like, "Did we ever……..sleep?" before declaring, out of nowhere, that his plot to win the Civil War will be to instill General Grant as the head of his armed forces. Boo.
Kay Hammond tries to make the most of her own thankless role as an icy, uber bitch, who never stops referring to her own husband as Mr. Lincoln, but Griffith's biggest misstep is perhaps utterly wasting the enigmatic Una Merkel in his early sequences. Merkel, who often played second fiddle to the likes of Jean Harlow and Marlene Dietrich (but very often upstaged her A-list co-stars) gets several short sequences before thanklessly dying here. Instead, we get hammy, hateful moments of an unexplainably angry John Wilkes Booth (Ian Keith), and Griffith, who gave us an elaborate assassination sequence in The Birth of a Nation, gets a second cinematic chance to assassinate the abolitionist leader once again.
Disc Review:
Kino does what it can with this dried up museum piece, which has been mastered in HD from The Museum of Modern Art's 35mm restoration, and also includes exclusive footage that's missing from other editions of this title. That said, the first several minutes of the feature are without audio, so damaged the prints were, with subtitles in place of the missing dialogue. The real highlight of the disc is the lone special feature, credited as an "introduction" to The Birth of a Nation, which was meant to accompany a 1930 re-release of the film.
Introduction to the Birth of a Nation
A two-part, ridiculously staged dialogue between actor Walter Huston and D.W. Griffith as a trio of gawky adolescents voyeuristically eavesdrop (is this who we are supposed to be aligned with, the unsophisticated and ignorant American public?) is the most notable element to give you a taste of Herr Griffith and his archaic views. Apparently, Griffith was completely unaware of the innate racism in his 1915 landmark feature, which is credited with reviving Klan activities and establishing hopelessly ingrained cultural attitudes about the black male rapist, and when The Birth of a Nation was criticized upon release, this apparently hurt and unnerved him, which led him to make his next film, the 1916 Intolerance: Love's Struggle Throughout the Ages as a sort of apology. But this was already too little, too late. But even if Griffith had to have his racism explained to him, his dialogue with Huston here reveals his lack of enlightenment even by 1930, where he tells about growing up with his mother sewing rope to be used by the Klan, a group of people that the director verbally assures us were a necessary entity, at one point.
Final Thoughts:
At best, this title is a curiosity piece for those die-hards that want to spare some time to experience a film that only highlights how advanced we now are in both filmmaking and humanitarian efforts (though no where close to where we need to be in the latter). Detractors and fans of the divisive Griffith should at least agree, however, on the wearying dullness of this arid affair. A substantial flop, Griffith would only direct one more talkie after this, the 1931 film The Struggle, before retiring from the business he had been responsible for advancing significantly only sixteen years before.