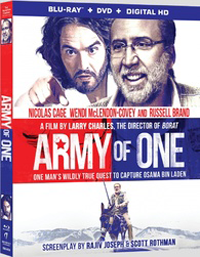 As an exercise in the wrong way to formulate satire comes Larry Charles with his latest film, Army of One, a reenactment of media headliner Gary Faulkner, a Christian bumpkin who believed God told him he was chosen to fly to Pakistan and sniff out Osama Bin Laden because he would have the element of surprise the US military lacked. After a trio of iconic to middling films featuring Sacha Baron Cohen (Borat, Bruno, The Dictator), Charles makes his first narrative cinema since his 2003 Masked & Anonymous not starring the hirsute comedian, this time employing the endless manic side of Nicolas Cage in what has to stand as one of the performer's most miscalculated ventures to date (and in a sea of questionable Nic Cage headliners over the past decade, that's saying something).
Colorado construction worker Gary Faulkner (Cage) is down on his luck but high on faith, and thus doesn't seem too concerned when God (Russell Brand) pays him a personal visit during kidney dialysis (allowing a brief sequence for Matthew Modine as his physician). Through God's suggestions, the frazzled man takes it upon himself to fly to Pakistan and track down Osama Bin Laden on his own. Around the same time, he has begun a tenuous romance with single-mom Marci Mitchell (Wendi McLendon-Covey), a warm reunion since they were acquaintances back in their school days. Ultimately, Gary is unsure if he should continue his time consuming quest to find Bin Laden or settle down in a comfortable life of domestic bliss. But the lure of his deity's wishes proves to be a continuously overruling force, while two US agents (Denis O'Hare, Rainn Wilson) become responsible for stopping Faulkner from upsetting their own operations.
Charles, who was responsible for the aggressive 2008 documentary Religulous (which plays like self-satisfied bellowing to those who agree with this common sense viewpoint, but isn't exactly a useful tool to deal with zealots), appears to despise Faulkner more than his audience ever could. How else to explain this woefully unappealing presentation of a man who Charles, along with screenwriters Rajiv Joseph and Scott Rothman, clearly presumes to be an unerring, but formidably idiotic moron?
As portrayed by Nicolas Cage, Faulkner is a braying lunatic, a man sans any appealing tendencies whatsoever, an exaggerated version of a mad conspiracy theorist (think Brent Spiner's flamboyant scientist from Independence Day but if he were also partially lobotomized and/or suffering from a mental breakdown). To believe he would be someone with reasonable friends or able to attract the likes of the emotionally starved woman played by Wendi McClendon Covey isn't believable, which makes Army of One seem mostly too mean-spirited for contemplation.
On its own Faulkner's story is ridiculousness enough as it is, but Cage's performance is more along the lines of an extended SNL caricature (as a counter to something overly earnest, like the 2010 Bollywood film My Name is Khan, in which an Indian man with Asperger's journeys cross country to tell George Bush post 9/11 that his ethnicity and religion shouldn't be used as qualifiers to mark people as terrorists, Charles' film is at the opposite end of the uncomfortable spectrum). The presence of Russell Brand as God reaffirms detrimental stereotypes pertaining to white supremacy and dominance in Western approximations of inherent power structures regarding Christianity, but this is just another element squandered as he's merely one more onerous facet of Cage's dotty, scatterbrained persona.
Disc Review:
Anchor Bay unleashes the title a little over a week following the film's limited theatrical release, though cast names and the packaging (including both a DVD and Blu-ray disc option) suggest a higher production value than it actually delivers. Presented in widescreen 2.39:1, the disc's audio and visual qualities convey what seems to be a glossy but hurriedly assembled television production.
The Making of Army of One:
This brief seven minute feature chronicles the basis for the film as well as cast and crew
Final Thoughts:
An ungainly misfire, Army of One is so wrapped up in its predetermined dislike for its subject it has the opposite intended effect of making Gary Faulkner a figure worthy of pity rather than the rightfully administering a mollifying critique which seems to be the film's aim.
Film Review: ★½/☆☆☆☆☆
Disc Review: ★★★/☆☆☆☆☆