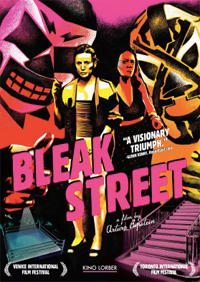 "Let's drink and hate everything and everyone," mutters one bedraggled prostitute to another in Mexican auteur Arturo Ripstein's latest masterpiece, Bleak Street, a tale of two destitute sex workers, who out of desperation to feather the golden years of their lives with something less degrading than the reality they know, begin grifting their clients. Unfortunately, their scheming leads to manslaughter in this grimy, gritty tale ripped from the headlines and outfitted with Ripstein's particular flair for the grotesque. Penned by his usual scribe Paz Alicia Garciadiego (who has collaborated on all the auteur's works since 1986's The Realm of Fortune) and once again showcasing frequent muse Patricia Reyes Spindola (of his memorable 1994 title The Queen of the Night), this latest exploration of social misfits is nothing short of fascinating as a lurid spectacle with surprisingly melancholy undertones enhanced by the constant debasement and duress suffered by its fated characters trying to elevate their circumstances.
In an impoverished neighborhood of Mexico City, four lives become eternally disrupted after a desperate swindle turns deadly. Tired of her daily grind as an aging prostitute, the cynical Adela (a captivating Patricia Reyes Spindola), who also makes a habit of forcing her mute, beleaguered mother to beg in the streets for extra income, convinces fellow colleague Dora (Nora Velazquez) to help her drug a john with prescription eye drops and make off with the cash. Dora, who is experiencing dilemmas at home with her thankless teenage daughter and a live-in boyfriend she recently caught dressing in her clothes while sleeping with young men, agrees. Fate brings them in contact with a pair of little people, brothers who work as the mini "shadows" of two luchador wrestlers named Death and AK-47 (to differentiate, they are known as Little Death and Little AK-47). Tired of their nagging wives at home, the brothers, who never remove their wrestling masks, hire Dora and Adela for service after a match. However, the two women don't account for the physical size of the men, inadvertently killing them when they administer too much of the drug.
The testament of Ripstein, like his famous mentor Luis Bunuel, is to capture the fleeting moments of beauty swallowed by the squalor petrifying their opportunities of mobility. Whereas Bunuel often ruefully castigated the pretentiousness of the bourgeoisie, Ripstein seems committed to a more authentic, straightforward portrayal of characters reproached or dismissed as carnivalesque. If the superficial details informing the environment of these particular characters gets snagged on the daunting tawdriness, Ripsetin and Garciadiego don't commit any extra energy as far as emotional manipulation. These are bitter, phenomenally dysfunctional women, either using or used by the members of their disparate families, and Bleak Street never seems more than transparently grim. It's a dog eat dog, man's world, and these women, despite what they consider their best efforts, become swallowed up by it.
Disc Review:
Kino Lorber foregoes a Blu-ray release for Bleak Street, unfortunately. This strikingly shot black and white noir from DP Alejandro Cantu is beautiful to behold, despite the grotesqueries and impoverishment it reflects. This shadowy, digitally shot netherworld is filled with striking moments (including a final moment of despair, where Adela pleads with an unseen law enforcement to deliver a message to Dora, the muted police car lights jostling ominously around her) and this bare bones transfer (presented in 1.85:1 with 5.1 surround sound) manages to suffice.
Final Thoughts:
Having lost none of his penchant for the odd and bizarre, Arturo Ripstein's Bleak Street is a formidable late-career gem from the Mexican auteur, whose works are still rarely seen and mostly unavailable in the US.
Film Review: ★★★★/☆☆☆☆☆
Disc Review: ★★★/☆☆☆☆☆