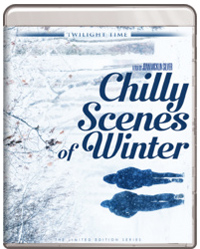 Among the many interesting elements of Joan Micklin Silver's 1979 title Chilly Scenes of Winter is the film's troubled theatrical release. Based on a celebrated 1976 novel by Ann Beattie (to date, the only film feature adaptation of her work), US distributor United Artists released the film in 1979 as Head Over Heels with a tacked on happy ending, which was not in keeping with the spirit of the material. Bombing at the box office, Micklin somehow managed to finagle a new version, replete with using the title of the source novel and outfitting it with an appropriate melancholy finale, which managed a box office profit when United Artists Classics re-released theatrically in 1982. Supported by fine performances from a sterling cast, this bemused sigh of a film ranks as one of Micklin's best, though like much of her filmography has faded into obscurity.
Charles Richardson (John Heard) works as a civil servant for the Department of Development in Salt Lake City, Utah. Living a stable existence and accompanied by his friend Sam (Peter Riegert), an out of work salesman who lives with him, the only thing Charles lacks is romance, although lately he's been forced to contend with his mother's (Gloria Grahame) increasingly volatile behavior as she seems to have been swept away into an eternal emotional crisis. One day, he happens to meet Laura (Mary Beth Hurt) in the filing department at his job, a woman who has recently left her husband, Ox (Mark Metcalf), a log home salesman. Charles becomes infatuated with Laura, and she responds in kind—until she decides to give it another go with Ox for the sake of her child. But Charles can't shake the feelings he has for Laura.
Throughout the 1970s and 1980s, Joan Micklin Silver was on the frontlines of indie filmmaking, one of the few notable women directors to have met box office and critical success during her most notable periods. Perhaps best remembered for the Amy Irving romantic comedy Crossing Delancey (1988) or the dysfunctional family comedy Big Girls Don't Cry…They Get Even (1992), her treatment of the Ann Beattie novel is almost unfashionably and soberlingly adult.
The gripes and foibles of its Salt Lake City set of characters couldn't be more banal in their limited universe, tethered to impossible notions of love (at least judging from the tortured choices they all seem to be making), and yet, it's this authenticity which also makes it simultaneously compelling. Take a conversation between Charles and Laura after they leave a porno theater (a conscious choice on Laura's part to see what all the excitement was about). In an effort to cheer her, Charles states Laura is prettier than the actress in the film which sets off a tirade concerning his exaggeration of her beauty and abilities. Though self-deprecating, this is all about the rosy tinted impossibility of our projections upon the objects of our affections, played with supreme aplomb by Mary Beth Hurt in one of her best on-screen monologues (and remember, this arrived in the same period as The World According to Garp and Interiors).
To see John Heard and Peter Riegert so impossibly young is also reason enough to revisit the film, the two actors sporting a likeable camaraderie, especially in the film's most tense sequence where they visit Laura's home under the guise of purchasing from her husband's business (Mark Metcalf, trying to be the lummox suggested by his character name, Ox). Upon Ox's assumption the two men who live together are gay, minor hilarity ensues until Heard brashly and unabashedly proclaims his love for Laura.
Micklin's film takes pains to show the cyclical discord of troubled relationships, including the tendencies adopted from one's parents. A game Gloria Grahame stars as Heard's crisis prone mother, a woman who takes too many laxatives then gets into the bathtub and calls her adult children for help. Character actor Kenneth McMillan stars as Grahame's sad sack husband (he would play a similar husk of befuddled masculinity in 1981's Eyewitness from Peter Yates, opposite William Hurt as his son) and the pair of them add a sense of morose comedy, particularly in a bizarre hospital sequence featuring character actress Frances Bay. Blink and you'll miss a small role for Griffin Dunne (who produces and also starred in Silver's Big Girls Don't Cry) as Heard's sister's (Tarah Nutter) boyfriend, while Nora Heflin (niece of Van) stars as a flirtatious co-worker of Heard's who gets excited about making dips for cocktail parties.
Disc Review:
Twilight Time releases this limited edition (3,000 units) in 1.85:1 High definition with 1.0 DTS-HD Master Audio. Picture and sound quality are well tuned (as usual, an isolated music track is included, featuring a score from Ken Lauber), and writer/director Joan Micklin Silver provides an audio commentary track alongside producer Amy Robinson.
Final Thoughts:
A touching, acutely observed depiction of troubled romance, Joan Micklin Silver's Chilly Scenes of Winter walks a fine line between absurdity and dolorousness and succeeds with sincerity.
Film Review ★★★½/☆☆☆☆☆
Disc Review ★★★½/☆☆☆☆☆