Disc Reviews
Criterion Collection: David Lean Directs Noel Coward | Blu-ray Review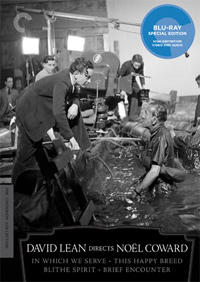 Before directing some of the greatest epic films ever made, David Lean's directorial career began in the 1940's, when he collaborated with playwright Noel Coward on his first four features, each a cinematic, original classic on its own. Criterion has outdone themselves with a pristine box set, David Lean Directs Noel Coward, culling together these four works, a definitive starting point for those new to Lean's oeuvre, or unaware of his minor works.
In Which We Serve
Lean's directorial debut was actually co-directed by Coward (the only such credit to his name), a dated propaganda effort titled In Which We Serve. Survivors of an attack on their naval ship cling to a lifeboat, their lives and situations relayed to us via flashback in-between German planes circling over them and shooting. Coward himself stars as the commanding officer, his voice informing us from the film's opening that "This is the story of a ship." Really, it's a thinly veiled morale story about England's finest. Extremely notable British talent shows up in the film, including Michael Wilding (that's Mr. Elizabeth Taylor #2), and John Mills (whose daughter, Juliet Mills makes her screen debut as an infant). Lean favorite Celia Johnson pops up as Coward's wife, with voice-overs from Leslie Howard and a young Richard Attenborough in his uncredited debut. Considering this was the first directorial effort from both, the film looks quite good. However, none of the characters are particularly memorable, each representing various stock scenarios of women and men's lives during wartime. (2.5/5)
This Happy Breed
Their second collaboration together, This Happy Breed, shows Lean coming into his own as a full fledged director with his first fleshed out feature. A unique time capsule of a film, this was based on Coward's play that was currently playing at theater houses. Due to WWII and the closure of most of the theater houses, they began production on this film concerning one family's life between the two World Wars, from 1919 and 1939. On stage Coward played the lead, but Lean wasn't convinced his friend should play the patriarch of this working class family, casting Robert Newton and their favorite Celia Johnson as Frank and Ethel Gibbons. Returning players Kay Walsh and John Mills (in his mid thirties playing a twenty-two year old) are also on board. An affecting look at a family picking up the pieces only to watch everything disintegrate once more two decades later, rides heavily on an excellent turn from Johnson (made to look extremely dowdy here) and Kay Walsh as her daughter. Filmed in Technicolor, This Happy Breed looks excellent, though the film relies a bit heavily on its politics to further the story and thus feels a bit episodic. However, it signals the birth of a great director, replete with nuance and carefully planned shots, including one excellently framed moment of the Gibbons washing dishes. They are discussing their youngest daughter (Walsh), who has been ostracized by the family for running off with a married man and we are observing them from outside their kitchen window, one pane shut on the stubbornly closed off Johnson, and the other opened to Newton, trying to change is wife's mind about their kid—an excellent shot that shows us exactly where they stand in their lives. (3.5/5)
Blithe Spirit
Coward brought his incredibly successful stage play to Lean, making Blithe Spirit their third feature together. While Coward was apparently unhappy with Lean's finished product, the film was a success and garnered an Academy Award for Best Special Effects. A light and breezy comedy, Rex Harrison stars as Charles Condomine, a successful author, happily married to his second wife, Ruth (Constance Cummings). As research for his latest fictional book, he invites a daffy medium over to his home for a séance, a scene stealing Margaret Rutherford as the hilarious Madame Arcati. However, the agitating psychic accidentally invokes the spirit of Charles' first wife, Elvira (seemingly lured in due to the psychic's insistence on playing Irving Berlin's "Always" during the séance), which causes much despair for the rigid Ruth. But when she finally becomes convinced that Charles isn't lying and can actually see Elvira, Ruth tries to get Madame Arcati to send Elvira back where she came from since the two women don't seem to get along. On the surface, Blithe Spirit is a frothy comedy featuring some first rate performances, especially from the dippy Rutherford (who has some of the strangest posture you're apt to see in film) and the sickly-green Kay Hammond as the wily Elvira. But it's not without substance, proving to have considerable commentary on the inner workings of heterosexual monogamy often not seen in the time period, slipping quickly and furtively under the radar. With the beautiful restoration from the BFI and the spectacular transfer from Criterion, the image quality of Blithe Spirit is superb, looking decades younger than it actually is. You'll have to overlook Noel Coward's unpleasant attitude towards the film—it's definitely an entertaining film. (3/5)
Brief Encounter
David Lean's final collaboration with Noel Coward happens to be their most powerful and profound work with Brief Encounter. A classic of genre and highly influential (spoofed recently in BBC's short-lived series, "The Life and Times of Vivian Vyle," with Jennifer Saunders and gay husband Conleth Hill playing the "Brief Encounter" game in place of make-up sex), the film was remade for television in 1974 with Richard Burton and Sophia Loren, and still retains all of it's tragic potency. Celia Johnson stars a housewife Laura Jesson, and upon getting grit in her eye one day at the train station, she meets a handsome doctor (Trevor Howard). As circumstance brings them together again, they agree to meet, spend an afternoon together, and soon, they both realize they are in love with each other. Only, they are both married with children. An exercise in restrained passion, you're absolutely captivated by Johnson's big tragic eyes, her well written inner thoughts and rationalizations that make this infidelity exercise a beautiful tragedy. Not one moment feels out of place, told in extended flashback as narrated by Johnson, desperately trying to decide if she should tell her husband she's really in love with someone else. Employing a multitude of close-ups on Johnson's expressive face, secretive shots of them in-between shadows at the train station, and some jabs at Hollywood films (they are seen at the theater watching some tripe called "Flames of Passion," but it's the commercial airing directly after, concerning baby prams, that better reflects their repressed and stuffy reality), Lean's use of black and white cinematography in the film cloaks the film in a veritable grey zone—this isn't the bright, Technicolor world we see in This Happy Breed or Blithe Spirit, this is a fog tinted love, lost on the moist, indifferent cobblestones of a transient train station.
While their love story may seem threadbare, it's because it really is. Brief Encounter is instead the story of one woman's awakening, and while it employs the unpopular voice-over device to key us in on Laura's thoughts, it's provides us with an intimate glimpse into her melancholy misery, a narration that's poetic and moving. By today's standards, the male/female relationships of Brief Encounter seem hopelessly repressed, but it bravely points a weary finger at the trappings of marriage, right up to the anti-climax. 4.5/5
Disc Review:
The BFI's 2008 restoration of these titles, paired with these new high-definition digital transfers make all four of these titles beautifully rendered in Criterion's package. The uncompressed monaural soundtracks enhance not only Coward's excellent dialogue but the frequent use of choice music, whether it be Irving Berlin or Rachmaninoff. This is an extremely desirable collection.
Special Features – In Which We Serve
Excerpts from Noel Coward expert Barry Day's October 2011 interview highlights interesting information behind the making of the film, including how Coward came to make his own first feature, already the author of 40 plays, 8 musicals, 400 lyrics and various short stories by 1942. Coward was approached by producer Havelock-Allan to make a picture about any subject he desired, and Coward chose to tell the story of a close personal friend, the captain of a destroyed ship. Day details how Coward chose David Lean as a "helper," but upon Lean's insistence, credited him as co-director, with Coward tending only to the actors with Lean overseeing all the technical aspects. There's also a portion of a documentary from 2000, Profile of In Which We Serve, which interviews Havelock-Allan, producer Robert Neame, and actor John Mills. Much of the same information is covered concerning the film, though we learn that Coward was a close friend of Churchill's. They painted together on Sundays. Additionally, a radio interview from 1969 has Richard Attenborough interviewing Coward about the film, exploring Coward's additional filmography. And of course, the original theatrical trailer is included for your enjoyment.
Special Features – This Happy Breed
Excerpts from Noel Coward expert Barry Day's October 2011 interview highlights interesting information behind the making of the film, which he considers to be a sequel to Coward's piece, Cavalcade (1933). Day thinks this is the first film where we see Lean's style matching Coward's insight, creating a film that reflects the change of the British psyche. Also including the original theatrical trailer as well as the trailer from a re-release, there's an extended interview from 2010 with Lean's cinematographer Ronald Neame (who became a director himself shortly after Blithe Spirit), who relates background info on several of his titles with Lean, and in the case of The Happy Breed relates their issues with Robert Newton, an actor that only seemed to come alive while drinking.

Special Features – Blithe Spirit
Excerpts from Noel Coward expert Barry Day's October 2011 interview highlights interesting information behind the making of the film, with Day explaining the rather mixed reception of Lean's version (even Grahame Greene had outspoken disdain for it upon release) compared to the extremely successful stage version. Due to censorship issues, the ending of the play had to be changed for the film version, and with Coward away entertaining troops, the film wrapped without his approval of the change. Notoriously, upon watching the film, Coward criticized Havelock-Allen, Lean, and Neame for "fucking up" the best thing he had ever written. Day reveals a lot of highlighting tidbits about the film, including Rex Harrison's intense dislike for Margaret Rutherford (who received the best notices from audience and critics for her work here), and unfortunately talks a bit of rubbish about Kay Hammond. Reprising her stage role of Elvira for the film, Day deems her as being just fine for the stage version but not being attractive enough to compete with Constance Cummings, playing wife number two. Perhaps Barry Day forgets that beauty is in the eye of the beholder. Also included is a 1992 Southbank Show episode, hosted by Melvin Bragg, documenting the work of Noel Coward, featuring John Mills, John Gielgud and Daniel Massey, and clips from a 1969 Coward speaking on his work. There's interesting tidbits about his friendship and working relationship with Gertrude Lawrence and his outspoken actions during WWII which landed his name on the Nazi Death List. The original trailer for the film is also included.
Special Features – Brief Encounter
Excerpts from Noel Coward expert Barry Day's October 2011 interview highlights interesting information behind the making of the film, which he considers to be not only their best collaboration but one of Lean's all time best. Day discusses their purposeful intention to make the film set pre WWII in order to give a sense of timelessness to the feature. In Day's opinion, the period of 1942-1945 represents Coward's golden era of film with these four features. There's also a portion of a documentary from 2000, Profile of Brief Encounter, which interviews Havelock-Allan, producer Robert Neame, actress Margaret Barton and Celia Johnson's daughter, Kate Fleming. The players discuss casting and Trevor Howard, how he purposefully did not learn his lines by rote so that he would hit his stride during rehearsal. Much love is extended for the wonderful Celia Johnson. A 1971 documentary interview of David Lean is also included, one of the best features of the whole set as it explores Lean's POV and not Coward's. Between Lean going over each of his credits until then, producer Sam Spiegel makes an appearance, his Oscar discreetly positioned at his elbow.
Final Thoughts:
A beautiful disc set worthy of any aficionado's cinema collection, Criterion's package openly favors Noel Coward rather than David Lean. A nice touch considering the latter part of Lean's career overshadows his early work and that Coward's name has fallen under the radar. Unfortunately, for a set that thoroughly celebrates Coward and with special features relying heavily on one Coward historian, relatively little is stated about Coward's homosexuality. As one of the most successful and multi-talented presences in the history of cinema, who could not openly discuss his sexuality during his own lifetime, it's unfortunate that Barry Day, the lone Coward expert featured on all four discs, simply discusses him in terms of being "effete." In 2012, it would've been welcome to see film historians discussing how cultural stigma concerning sexuality affected Coward's work and writing, from stage to screen, especially considering that many of the special features contain repetitive background information, exploring "safe" topics about the making of his films. But overall, Criterion has put together a jolly good box set, all worthy of owning, with Brief Encounter standing as the timeless classic all should see.