Disc Reviews
Criterion Collection: Dressed to Kill | Blu-ray Review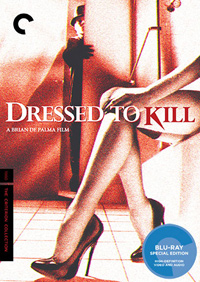 Criterion beautifully restores Brian De Palma's early masterpiece, Dressed to Kill, his 1980 title often lumped in with a quartet of other films categorized as Hitchcockian riffs, criticized or celebrated for how they playfully exhume style, narrative and tone from iconic titles. Although it's nearly impossible to discuss the film without an acknowledgment of its obvious homage, it's also a strikingly original piece in its own right, one that most easily sidesteps the derivative trappings of the 'anxiety of influence' theory thanks to its complex design as a critique on rigid social constructions.
Kate Miller (Angie Dickinson) is an unhappily married housewife, saddled with husband number two, a man whose underwhelming lovemaking she describes to therapist Dr. Elliott (Michael Caine) as the root her problems. When her precocious teenage son (Keith Gordon) declines to go on a lunchtime museum trip, Kate goes alone, and becomes involved in a casual tryst with a stranger. But before she can leave the man's apartment building, she's viciously murdered in the elevator by a blonde woman wearing sunglasses. Or was it actually a woman? The sole witness, Liz Blake (Nancy Allen), is a known prostitute, leaving Detective Marino (Dennis Franz) to declare her the prime suspect until she can cough up the john who can provide her with an alibi.
At the apex of Dressed to Kill is a transsexual serial killer, a dubiously designed villain whose provocative shock value has been drained, replaced by the judgmental disdain inherent in modern conversations concerning politically correct depictions of the Trans community.
There's no escaping the archaic depiction of the psychotic Bobbi, even though De Palma clearly took pains to avoid the virulence of homophobia, with macho cop Dennis Franz reduced to the epithet of 'weirdo' in his tacky verbalizations. Much like the closing psychologist's commentary explaining Norman Bates' mental afflictions in Psycho, we are treated to a similar sequence here as Nancy Allen lays down Transsexuality 101 for Keith Gordon at a fancy restaurant while old biddies listen on in horror directly behind them. But De Palma's film isn't aiming for cheap thrills, and Dressed to Kill is actually a much more significantly complex film than the particular Hitchcock title providing nuggets of inspiration.
De Palma's tale is an allegory concerning the reconciliation of sexuality with social expectation in a masculine, patriarchal system (reinforced by favored De Palma visual motifs like mirrors, and frequent use of doubling subjects). Clearly, the Bobbi/Dr. Elliott figure is a tortured soul, presented in a rudimentary portrait of battling gender roles a la multiple personality disorder (Bobbi's voice mail messages eerily resemble those of Dee Wallace's werewolf stalker in 1981's The Howling, a similarity of genre tropes equating the notion of gender identity with the 'trans-species' underpinning of lycanthropy). But he's stuck between two much more interesting characters, typified on opposing ends of the feminine spectrum—the mother and the whore.
Dickinson's privileged Manhattan housewife, decked out in a puff of blonde hair and completely white wardrobe, is shown pleasuring herself in the shower as her husband ignores her, idly glancing at her in the mirror as he shaves. The neglect of her sexual fulfillment gives way to a fantasy rape sequence, while shortly afterwards we see her husband hunched over her as she overreacts to his inattentive thrusts. Then, there's Allen's streetwise prostitute, Liz, arguably the most well-adjusted and well-developed characterization here. Having ownership over her body, clearly using it as a site of commerce on her own terms, she's comparatively the only sex-positive component. De Palma book-ends the film with Liz's shower sequence and it suggests something much more insidious. The traumatic experiences of the narrative have tainted her, and her shower sequence ends with the threat of violence previously absent from her sexual dynamic.
The scenario, and several famous sequences, conveys the navigation of these sexual dynamics within the context of social spaces. Perhaps the most famous instance is a nine minute segment, completely free of dialogue, where Angie Dickinson is shown to be in a museum gazing at the humans passing by her as she continues the banalities of her own existence writing out her grocery list. Of course, she's interrupted by the dark stranger, and we watch her deliberate her moves in a series of negotiations as complex as chess game. She balks at his initial touch in the museum, leading to a meaningful exchange of her white gloves (what happens with the thrown away glove outside the museum is as important as the one used as bait to get her into a taxi). These 'pieces' signifying her white privilege are like symbols from Greek mythology—an aerial shot finds her gliding diagonally down the steps of the museum, a descent bringing her down from the loft of culture into the base, primal desires engaged in within the taxi, one of several contained moving spaces haunted by the specter of sex and violence (the other being a subway sequence with Allen).
Sexual pleasure and fulfillment outside of one's assigned role or expectation equals death, and De Palma pumps Dickinson through the shame of venereal disease before providing another clue to her fallen status. Forgetting her ring in the stranger's bedroom, she takes the elevator back up, only to be greeted by the enraged killer stalking her. The attempt to reclaim her ring, and ascend back into the ranks of her privilege is what seals her fate. Dressed to Kill is about the danger and fear associated in these acts of 'de-motion.' De Palma explores this further, not only as the perceived downgrading of the sex-change from male to female but also Caine's occupational signifiers—as a man he's a doctor, but a significant sequence finds his female persona donning the uniform of a nurse, hinting at the rippling effect of such a 'reduction.'
Disc Review:
From the conflicted titillation of a museum flirtation to a gorgeously edited elevator murder sequence to his customary nightmare anxiety, De Palma's Dressed to Kill is gorged with fantastic displays of visual splendor, here administered by DoP Ralf Bode (Saturday Night Fever; Coal Miner's Daughter). Criterion fuels this 4K digital transfer with a multitude of extra features
Interviews:
Criterion includes six separate interviews, recorded in 2015, including Brian De Palma discussing his creative choices in the making of the film (with regular extra feature contributor Noah Baumbach moderating) for a twenty minute segment. Nancy Allen speaks of the experiences in her first leading role, producer George Litto discusses producing three of De Palma's works from the period (including this title between Obsession and Blow Out), composer Pino Donaggio speaks about his score for the film (along with his decades long professional working relationship with De Palma, and some intriguing interviews featuring Penthouse model Victoria Lynn Johnson (Dickinson's body double in the infamous shower sequence) and photographic art director Stephen Sayadian (who crafted the film's original one-sheet poster) are definitely of interest.
The Making of Dressed to Kill:
This 2001 documentary details the production of the film and includes interviews with De Palma, and cast members Angie Dickinson, Nancy Allen, Keith Gordon, and Dennis Franz as well as producer George Litto. The forty three minute feature begins with De Palma's origins of the project, lifting ideas and characters from his treatment of Cruising mixed with a famed Phil Donahue segment featuring a transsexual.
Defying Categories – Ralf Bode:
Criterion produced this 2015 feature including director Michael Apted and experimental video artist Peer Bode as they remember the life and career of late cinematographer Ralf Bode. The ten minute segment finds the men discussing Bode's working methods across several titles.
Slashing Dressed to Kill:
This 2001 ten minute segment examines the cuts made to the title in order to avoid an X rating in 1980. De Palma speaks about his feeling punished by the ratings board.
An Appreciation by Keith Gordon:
This feature from 2001 features actor/director Keith Gordon discussing the filmmaking techniques on display in the film in this six minute feature.
Storyboards:
De Palma's gallery of storyboards of the film's original opening and the Dr. Elliott/Liz split screen sequence is included.
Version Comparison:
A 2001 piece comparing the visual and audio differences between the R-rated theatrical cut, De Palma's preferred unrated version, and the television edit of Dressed to Kill features five minutes of visual comparisons.
Final Thoughts:
As deliciously offbeat now as it was perversely provocative then (opening several months after William Friedkin's controversial gay serial killer Cruising, a film acknowledged as the landmark scapegoat of queer visibility from the period, for which De Palma had originally written a treatment) Dressed to Kill unabashedly plays with expectations and ideologies. A hysterical nightmare of repressed sexuality and gender identity, it is arguably De Palma's masterpiece, but certainly a film you won't forget.
Film Review: ★★★★/☆☆☆☆☆
Disc Review: ★★★★/☆☆☆☆☆