Disc Reviews
Criterion Collection: Gate of Hell | Blu-ray review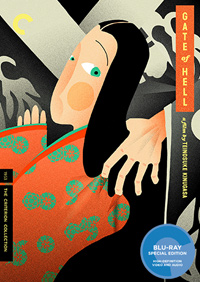 Teinosuke Kinugasa's glorious and vibrant masterpiece, Gate of Hell, excitingly receives a Criterion digital remastering this month, a certifiable occasion because this not only recreates the film's initial visual beauties, but the first time it will be widely available stateside (cinephiles were only previously privy to Eureka Entertainment's UK Blu-ray release). Winner of the top prize at Cannes, as well as the Academy Award for Best Foreign Language Film and Costume Design, Martin Scorsese names the film among one of the most beautiful color films of all time.
Based on the play Kesa's Husband by Ken Kikuchi, the setting is 1159 AD, known as the Heiji Era, and a rebellion has been staged against the royal family. Under siege, it is decided that a decoy must be used to distract the rebel army, and Lady Kesa (Machiko Kyo) assumes the responsibility, carted away by a group of samurais. While this entourage is attacked, Kesa and one other survive, Moritoh Enda (Kazuo Hasegawa), who takes the fainted lady to his brother's home. As he revives her, he discovers that his brother has turned traitor and joined the opposing forces, now predicted to gain power. Though the decoy ploy did work, the royal family has still been abducted. Refusing to join the rebel forces, Moritoh absconds to General Kiyomori (Koreya Senda), and by doing so, he helps defeat the rebellion. His contribution leads to Kiyomori promising to grant a request to Moritoh and it seems his wish is to have the hand of lady-in-waiting Kesa. The only trouble is, Kesa is married to Imperial guard Waturu Watanabe (Isao Yamagata). Kiyomori, amused at Moritoh's dogged insistence, arranges a meeting between Kesa and Moritoh, stating he will grant Moritoh's wish…but only if Kesa decides that she shares the same desire in her heart. However, it seems Moritoh has overriding desire enough for both of them, and his covetousness sets the seemingly happy couple into tragic orbit.
With a setup arranged like something akin to Indecent Proposal, the dark, obsessive desires of our center antagonist seem jarringly out of place in the zesty palette of sumptuous colors. A majority of the action takes place interiorly, and the brightly photographed greens, reds, and blues feel more electrifying than the almost matter-of-fact emotions on display, with perhaps only a sweaty Moritoh sometimes, operating out of madness, working up a sweat to match the passion of the colors surrounding him. Certainly, he's the brighter bird, as is perhaps most evident in a post horse-race meal where the competitors must sit side by side and break bread. The mild-mannered and unassuming Wuturu sits quietly resigned in his drab garments, while the incendiary Moritoh is blazing blue, quick to answer the taunts of Wuturu's supporters with a fiery battlefield temperament. Perhaps the most frustrating figure in this forced triangle is the object of affection, the demure and subservient Kesa, who is the personification of beauty and virtue. Of course, she (annoyingly) scores no demerits here, a consummate victim to the will and desire of men. Her trustworthy husband is blind to her emotions and social cues, and her overeager suitor wants to consume her, yet custom cruelly designates her of limited means, to reconcile a ridiculous conflict.
Disc Review
A new digital master of the 2011 2K restoration, this is a beautifully rendered package from Criterion. Unfortunately, there aren't any notable special features, though the UK DVD release from Eureka Entertainment suffers the same slight. An essay from film historian Stephen Prince, included on the insert, is worthwhile and informative.
Final Thoughts
If you can imagine The Umbrellas of Cherbourg as an insidious film noir you get the schizophrenic gist of Gate of Hell, which is so titled for the name of an area a cruel and morbid ruler displays decapitated heads. Doubly, Kinugasa's renaming of the play upon which it's based alludes to the dangerous emotional obsession of Moritoh, defiling the notion of love by forcing two people to a tragic crossroads. This was the first color Japanese film to be released internationally, and as Stephen Prince states in his essay written for this re-release, this is a "reclamation of a great cinematic treasure from the dustbin of history." One need perhaps look no further than an elaborately staged horse race sequence, where all of the riders are color coded by their regalia, orchestrated to a perfection that's so sumptuously rendered it reminds ones of a similar written scene from Tolstoy's Anna Karenina. While Gate of Hell is obviously set in a time and place long past (one can't help but giggle during an all too serious moment of struggle where Kesha, for once, interjects, "No matter what you say, female virtue won't allow it!") it's still a remarkably observed portrait of the dark side of unchecked human desire.