Disc Reviews
Criterion Collection: Gray's Anatomy | Blu-ray Review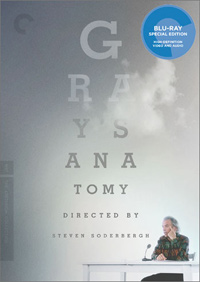 After a lifetime's worth of straight stage work, and several decades of fine tuning his own signature craft, Spalding Gray's final long form monologue to be converted for the big screen was the Steven Soderbergh directed Gray's Anatomy. Two previous works (Jonathan Demme's Swimming To Cambodia and Nick Broomfield's Monster In A Box) were basically condensed live performances of Gray's original monologues captured on film, but Soderbergh is not one to follow in the footsteps of previous creators. So, the live audience was scrapped, the budget was minimized, and home viewers are brought directly into the room with a neurotic man born to recount stories, his glass of water, notebook, and microphone, which is anchored iconically to his wooden desk.
In the wake of his previous successful monologues, Gray was approached to create yet another in hopes of cashing in on his then current popularity. Around the same time, he was diagnosed with a rare ocular condition in his left eye known as macular pucker, which can cause blurred vision, as well as swelling and irritation. Gray's career was built upon his personal experiences, so this rather unpleasant turn of events became a new mine for material.
As we come to learn, this eye disease can be treated through surgery, but there is a small chance of becoming blind in that eye as a result. Once Gray discloses this information, he launches into his year long journey of amusing alternative treatments. When the commonplace remedies like trying a raw foods diet and refraining from alcohol ingestion fail to improve his vision, Gray turns to more extreme ventures like partaking in a Native American sweat lodge ritual and traveling all the way to the Philippines to visit "The Elvis Presley of psychic surgeons". For all his effort, these failures ultimately lead him back to his original ophthalmologist to go under the microscopic knife.
If you've ever heard Spalding Gray speak, you know what you are in for here. He is at the top of his game, neuroses exposed, speaking with carefully plotted authority and a lucid recollection of minute detail. With the ability to pick and choose from the best takes from the eight day shoot, his cadence and inflection is perfected. And though precision was obviously a priority, he still takes the time to stumble, back pedal, and second guess himself, allowing the story to feel raw, even in its manufactured screen environment. Soderbergh's touch is light. His goal was only to simplistically compliment plot points through visual means, allowing Gray to remain the focal point at all times on his occasionally dollying and rotating desk chair.
Gray's Anatomy was one of Spalding's shorter pieces, and to fill some screen time, Soderbergh found a hand full of random people who also went through traumatic eye issues. Each of them describes what happened to them, and occasionally they are asked to comment on Gray's alternative attempts at solving his problem. Most of them are skeptical. Filmed in spooky looking infrared black and white film, these segments give Gray's tale a strangely haunting counter point that works surprisingly well at allowing us to digest Gray's rapidly spit dialogue while still moving the story forward.
The Disc:
Soderbergh's low budget reworking of Spalding's final film monologue really looks spectacular thanks to Criterion's top notch transfer. The camera almost exclusively focuses on close ups of Gray's face, and in it we can now see every pore and hair in a variety of different light settings with great detail. Even the ominous looking infrared shots of citizens speaking of their own eye problems are nothing short of striking in HD. Although the audio is anchored solidly in Gray's rich dialog, Cliff Martinez's fitting score is pumped through a lively DTS-HD 5.1 master track. The disc and booklet are held safely within Criterion's signature clear Blu-ray case.
Interview with Steven Soderbergh
This 13 minute interview with the director sees him looking back at how the project came to fruition, as well as how he used this micro-budget film to reinvigorate his film making process.
Interview with Renee Shafransky
As Spalding's long time writing partner and ex-wife, Shafransky gives insight into how Gray's monologues made it from the stage to the screen. In this 18 minute interview, she also speaks about their writing process as a team and her feelings about what the story came to be as a film.
Swimming to the Macula
Uncut and raw, with no supplemental audio, this is the video of Gray's eye actually being operated on, as spoken about in the film.
Theatrical Trailer
Though the trailer does a decent job of not giving too much away, it seems to insinuate a somewhat wacky film going experience, which really isn't the case. It does however introduce the concept of Gray speaking his mind, while others are brought in to comment on some of his decisions. It's presented in SD, and the audio is actually quite distorted in comparison to the cleaned up film track.
A Personal History of the American Theater
Presented in its entirety, this is one of Gray's monologues that he was performing with the Wooster Group in New York in the early 80s. This particular performance was filmed by Dan Weissman and Brad Picker at the Performing Garage on November 28, 1982. In it, Gray rattles on about many of his stage acting experiences from the decade previously with his signature dry humor and brilliant sentence structure.
Booklet
This nice booklet contains shots from the film, a detailed breakdown of the film's transfer process, and a lengthy critique on Gray and Soderbergh's collaboration by Amy Taubin.
Final Thoughts:
Soderbergh obviously held a lot of admiration for Spalding Gray. If it wasn't obvious after seeing this, he also cast Gray in his film King of the Hill, as well as constructed And Everything Is Going Fine, a wonderful hodge-podge documentary about the man after his death. Gray's Anatomy, in all its low budget glory, flourishes in its simplicity. Like a stage born stand-up alone in a room broadcasting to the world, Gray sits with his mic, filing through his memories with elegant composition and effortless charm, but in this odd sounding format conversion, his story loses nothing and we gain a film worth keeping for the ages.