Disc Reviews
Criterion Collection: Ingrid Bergman: In Her Own Words | Blu-ray Review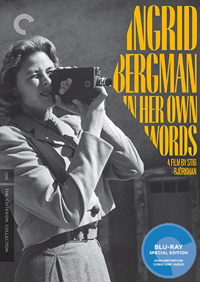 Three time Academy Award winner Ingrid Bergman (Gaslight; Anastasia; Murder on the Orient Express), one of the most revered, versatile actors celebrated both as a fixture of y Hollywood's Golden Age as well as an international icon, receives a loving documentary tribute from director Stig Bjorkman with Ingrid Bergman: In Her Own Words. The film critic/filmmaker was granted access to the star's generous bounty of belongings and personal memoirs left behind, a project suggested by her daughter, actress Isabella Rossellini. An enthusiastic portrait of a loving, generous personality emerges, whose luminous beauty stretched well beyond the confines of the cinema. Living life to the utmost and without regret, Bergman overcame intensely publicized shaming following the scandal of an extra-marital affair, the kind of moral blunder which sank the careers of many personalities before and after her. While not exactly a warts-and-all portrait of the esteemed performer, pains are taken to examine the consequences of Bergman's actions on her children from two separate marriages in this intimate deliberation of an ambitious, talented woman and her various aspirations.
Stig Bjorkman has notably been making documentaries for the past three decades, but actually began directing feature narratives in the late 1960s, blossoming into something of an art-house anomaly in the 1970s thanks to directing Diana Sands in the Maya Angelou scripted Georgia Georgia (1972) and Harriet Andersson in The White Wall (1975). His portrait of Ingrid Bergman premiered at the 2015 Cannes Film Festival in the Cannes Classic sidebar (a fitting unveiling since Bergman's visage graced the 2015 festival poster art). Swedish actress Alicia Vikander narrates Bergman's diaries and correspondence originally sent to her intimate friends, lovers, and children, beginning in April, 1928, where as a young girl she prayed for her father to be well. Although she tragically lost both her parents quite early on, as a young woman she experienced breakneck success in the Swedish film industry, quickly courted by David O. Selznick (via talent scout Kay Brown) at the age of 24 to remake her native success Intermezzo in 1939 Hollywood.
Leaving behind her husband Petter Lindstrom and their daughter Pia, Bergman would live at Selznick's home for a period, becoming friends with the movie magnate and his wife. Soon after, she'd score a role in the conservatively rendered remake of Dr. Jekyll and Mr. Hyde (1941), and engage in an affair with Victor Fleming during production. After some anxiety about a delay of film offers, Bergman would land her major breakthrough with Michael Curtiz's Casablanca, but then Bjorkman cuts out her prolific studio period, wherein she'd star in a trio of Hitchcock titles, focusing instead on her starring role in Victor Fleming's Joan of Arc, the historical figure who would haunt Bergman throughout her career (who she had previously and would later again play on stage).
Bjorkman instead focuses on Bergman's relationship with her children, returning to the obvious guilt she felt over having left daughter Pia behind. Recoiling from the extremely negative attention from the American press, Bergman infamously left for Italy to marry Roberto Rossellini after an affair which became official during the 1950 production of Stromboli. In effect, she started a second family, where she would bear the auteur a son, Roberto, and twin daughters Ingrid and Isabella, not seeing Pia again until her ex-husband flew their daughter to Europe to rendezvous in London. Despite the obvious strain, Pia Lindstrom gives a gracious, candid account of her years without her mother and its impact on their relationship. Likewise, the dissolution of her marriage to Rossellini threw her other three kids into a similar period of abandonment when their father famously went to work in India by the late 1950s and Bergman made her return to English language filmmaking with Anatole Litvak's Anastasia.
Bjorkman skips over her intriguing working relationships with other directors, such as Jean Renoir, who crafted Elena and Her Men (1956) for the actress, but had to ask Rossellini permission first. Likewise, a passing overview of Bergman's return to Hollywood is granted short shrift with a rather annoying and disturbing clip from the Ed Sullivan show in 1956, polling his audience to determine if they believe the actress should appear on his show.
As the documentary begins to revolve around the memories of Bergman's four adult children, some surprising peripheral figures from her 1970s era are included here, such as Sigourney Weaver, whose first paying gig in New York City was as Bergman's understudy in a production of W. Somerset Maugham's The Constant Wife directed by John Gielgud. Also, Liv Ullmann, who starred as Bergman's daughter in Ingmar Bergman's masterpiece Autumn Sonata (1978) relays a telling scenario from an on-set row between performer and director regarding her character. Throughout, a beautiful, melancholy score from Michael Nyman makes its presence known, sometimes forcibly assisting in the implementation of emotional heft in a pleasant documentary portrait about a pleasant famous person.
Disc Review:
Criterion presents this high-definition digital master in 1.78:1 with 5.1 surround DTS-HD Master Audio, with Nyman's score and Vikander's dulcet tones standing out amongst the talking head figures, various film clips, and sound bites of Bergman from interviews throughout her career. Since the documentary feels akin to an item you might stumble upon as a bonus feature, those included here are minimal compliments.
Stig Bjorkman:
Criterion recorded this eighteen minute interview with director Stig Bjorkman in 2016. After meeting Isabella Rossellini in 2011, this project on Ingrid Bergman was proposed, and Bjorkman comments on the process, meeting Bergman's other children, and the process of choosing what to include.
Home Movies:
Pia Lindstrom supplied these six minutes of 8mm footage shot by Bergman in the 1930s for Bjorkman's film. They are included in their entirety here.
Deleted Scenes:
Two deleted scenes are included, the first being "How I Would Raise My Daughter," in which Bergman's three daughters read an essay sporting this title written when their mother was only seventeen years of age. The second scene features an interview with film historian Rose Tronnolone, who owns the largest private collection of materials on Bergman.
Extended Scenes:
Two extended scenes which had been cut down in the documentary are also included. The first is a longer segment featuring Isabelle Rossellini speaking with Sigourney Weaver and Liv Ullmann at the Shubert Theatre in New York, while the second is a longer version of a conversation between Isabella, Ingrid, and Roberto Rossellini in her New York home.
Landskamp:
A brief clip from the 1932 Swedish film Landskamp featuring Bergman as an extra in her first screen appearance (which is also seen in the documentary) is included.
On the Sunny Side Outtakes:
Four minutes worth of outtakes from the 1936 Swedish film On the Sunny Side featuring Bergman and co-star Lars Hanson are included.
"The Movie About Us":
This is the music video for Eva Dahlgren's song "The Movie About Us," featured on the soundtrack of Ingrid Bergman: In Her Own Words.
Final Thoughts:
Ingrid Bergman is no stranger to the Criterion Collection, but Bjorkman's straightforward documentary sometimes feels like a generous extra feature which would exist as a special feature alongside one of her signature roles. Fans of Bergman should find this of particular interest, even though it generally ignores close examination of her filmography. But as the Bjorkman's most significant project in years, one can only hope this generates interest in rescuing his 1970s titles from obscurity.
Film Review: ★★★/☆☆☆☆☆
Disc Review: ★★★★/☆☆☆☆☆