Disc Reviews
Criterion Collection: The Tin Drum | Blu-ray Review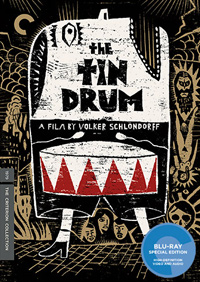 The Tin Drum is a story of Europe's nasty history in the first half of the 20th Century and, like that tortured history, the film features an intoxicating mixture of the profound and the profane. Rewarded in 1979 with an Oscar and the Palme d'Or, Volker Schlöndorff's satiric epic manages to reduce WWII's enormous struggles to simple, precisely stated metaphors that entrance, shock and mystify. Schlöndorff's intent is not to increase viewers' historical understanding of that dark period, but to serve up its murky vicissitudes with a freakish lingua franca that simultaneously amuses and repulses; that seduces while it brutalizes.
Based on a sprawling 1959 novel by Günter Grass, The Tin Drum is set in Danzig, a nominally autonomous region on the Baltic coast established in 1920 by the Treaty of Versailles. The story's chief concern is the life and times of Oskar Matzerath (David Bennent), born in 1925. Oskar is an exceedingly bright and sensitive child who closely observes the dank and decaying world around him; his only diversion a toy drum given to him by his gentle mother Agnes (Angela Winkler). Disappointed by the hypocrisy of adults, on his third birthday Oskar decides to perpetually remain a child and simply stop growing. He stages an accident to accomplish this goal, and as the years pass and his world is threatened by a new, jack-booted malevolence, Oskar's tiny form is often found at the epicenter of historic events. In many ways, Oskar is Eastern Europe's twisted answer to Forrest Gump.
However their similarities are purely conceptual, for while Robert Zemeckis' dimwitted icon was bathed in the sunny rays of an ascendent America, Schlöndorff's ubiquitous dwarf is mired in the filthy backwater of a Europe hellbent on self-destruction. Schlöndorff crafts the misty environs of Danzig as a foul gallimaufry of mud, feces and woodsmoke; a gouged, mucky playing field suitable only for poverty and pogroms. The chilling damp rises into the hearts of his characters, in particular Oskar's ersatz father Alfred (brilliantly played by Mario Adorf), a stroppy, thick-necked German merchant who's quick to don the swastika but too cowardly to confront his wife's cuckolding.
Schlöndorff's stylistic hasenpfeffer serves up a number of memorable and impressive scenes that present a skewed world in the early spiral of a death dive fueled by ancient hatreds and modern confusions. When he attends a brown-shirt rally, tiny Oskar weasels his way under the bandstand. There, his staccato paradiddles disrupt the orchestra, who abandon their heroic Wagnerian riffs and plunge headlong into a lilting version of The Blue Danube, while the assemblage of young goose-steppers begin to romantically waltz. Later, Oskar visits a traveling circus, where he encounters a troupe of dwarf acrobats led by the mysterious Bebra (Fritz Hakl) who senses Oskar's special qualities and treats him with a warmth and understanding far beyond anything Danzig's dull yokels could ever muster.
Oskar once again finds himself at history's Ground Zero when a trip to the post office in early September turns into a siege as Hitler launches a "humanitarian" action to protect Danzig's "oppressed" Germanic. This opening volley of WWII lands Oskar amid ruble and death, a contextual element repeated later in the film when he turns up at the bunkers of Normandy just prior to the Allied invasion. At this point Oskar is almost 20 years old, yet his body retains childlike proportions. But he is fully a man, having known several women sexually including his future stepmother Maria (Katharina Thalbach). Schlöndorff's eerie depiction of these odd couplings is far from graphic, but implications of child porn were strong enough to get the film banned in Oklahoma City during its initial theatrical run.
Disc Review
Some reviewers have complained that the transfer is not quite up to the Criterion standard, lacking in depth and sharpness. I disagree. In fact The Tin Drum looks the way a film from 1979 should look, and the transfer does a good job of retaining the original's murky coolness. Not everything needs the crispness of digital video for its best presentation, and the practice of tweaking all films so they appear to have been shot yesterday deprives audiences of important visual context. The transfer retains the original 1.66:1 frame and subtly evokes the misty, faded edges of memory.
The 5.1 track is full, involving and deceptively complex. Much of the dialogue for this edition is recently recorded ADR, and its blending with 35 year old production sound is absolutely seamless. Maurice Jarre's clever and stylish score adds depth without being obtrusive.
New interview with Schlöndorff about the making of the film and the creation of the complete version
This 67 minute interview will greatly add to one's appreciation of The Tin Drum. Schlöndorff originally considered the novel unfilmable, but changed his mind after his producer spent 6 months talking him into it. Schlöndorff's vision included huge, magical sets but the budget wouldn't allow for that approach, so he came up with the idea of telling a serious story through slapstick elements. Once completed, the film was rejected by United Artists as too weird and disgusting. He eventually shortened it to 135 minutes, and that version won the Oscar and the Palme d'Or. Schlöndorff amusingly relates how the original cut was stored at a film lab that was going out of business, and only a last minute phone call spared the material from the garbage bin. The longer cut on this disc is his original version, and it would have been impossible without those saved elements. The segment remains interesting throughout its duration and is highly recommended.
New interview with film scholar Timothy Corrigan
Corrigan's learned analysis offers valuable context on The Tin Drum and the German New Wave in general. Among the topics discussed are the "fatherless" nature of German cinema and its ability to capture realism in a surreal way. Corrigan sees Oskar's stunted growth as metaphorical of the static nature of European society prior to WWII. The 20 minute piece is like a lecture from an advanced course in film studies, and viewers will find it a worthwhile inclusion.
German audio recording of Günter Grass reading an excerpt from his novel The Tin Drum, illustrated with the corresponding scene from the film
This 9 minute segment shows Schlöndorff's extreme faithfulness, at least in spirit, to Grass' original text. It is a highly conceptual piece, and a welcome break from the scholarly presentations that typically supplement Criterion products.
Television interview excerpts featuring Schlöndorff, Grass, actors David Bennent and Mario Adorf, and co-writer Jean-Claude Carrière
This grab-bag of TV interviews, behind-the-scenes footage and Cannes news reports runs about 12 minutes and has an interesting 1970s flavor. The Tin Drum tied with Apocalypse Now that year at Cannes, and a visibly nervous Schlöndorff is seen awaiting the judges' vote. Carrière describes the rewrite he did of the first script, which Schlöndorff had deemed "too Protestant." 12 year old David Bennent is interviewed on the Croisette, where he describes Oskar wth an amusing innocence. As a whole, the supplement is a bit scatter-shot, but it does provide a charming glimpse of history.
Trailer
The film's original German trailer is included.
A booklet featuring an essay by critic Geoffrey Macnab and 1978 statements by Grass about the adaptation of his novel
The 16 page booklet contains film stills, production credits and notes on the transfer. Macnab's essay deals mainly with The Tin Drum's restoration to its original length, while Grass' brief comments concern working with Schlöndorff and Oskar as a sort of role model for 1970's youth.
Final thoughts
If this superb film can be said to have a flaw, it's a dwindling of momentum in the final act. Not too surprising considering that this Director's Cut has an additional 20 minutes of footage. Still, The Tin Drum covers a lot of historical and sociological ground without ever sacrificing the eccentric richness of its story and characters. It is a big film of big ideas and big situations — almost too big to get one's arms around — yet it is rendered with surreal intimacy through the bug-eyed musings of a perceptive soul in flight from the messy slog of adulthood. Oskar has chosen to remain small, but his knee-high point of view reveals the world's insanity from its most harrowing and unforgettable perspective.