Disc Reviews
Criterion Collection: Umberto D. | Blu-ray Review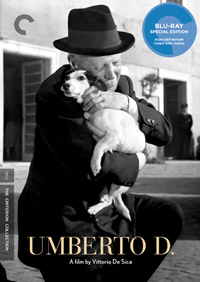 Perhaps remembered foremost for directing what is considered by many to be one of the best films of all time, Bicycle Thieves (1948), one of Italy's forefathers of neorealism, Vittorio De Sica is arguably not as glorified for the rest of his excellent filmography, as may be the work of some of his peers, like Rossellini or Visconti. Criterion revitalizes one of his other well known neorealist classics, the tender and moving Umberto D. to Blu-ray this month, and it's easy to see how the film has withstood the tests of time as a beautiful blend of social commentary of post WWII life in Italy, as well as a moving portrait of an affectionate relationship between a man and his dog in a cold, apathetic world.
During a protest demonstration enacted by a group of angry pensioners demanding more money than the meager amount they're allotted, police officers send the buzzing geriatrics a running. A small group ducks off into an alley, and a heated verbal exchange reveals that our protagonist, Umberto Domenico Ferrari (Carlo Battisti) isn't exactly on the side of the pensioners, though he is one. He balks at the fact that his peers failed to get a permit to protest (never mind that they would have been denied one) and recounts that most of his own economic sufferings are mostly his own undoing after driving himself into debt. Accompanied everywhere by his small dog, Flike, Umberto unsuccessfully tried to unload a watch with some other aged acquaintances, but most of them are in the same boat. Making his way back home, he finds himself locked out of his apartment, his harridan of a landlady (Lina Gennari) renting his room out to "discreet" lovers by the hour. Enraged, Umberto puts up a big fuss, but it turns out he is quite behind in his rent, and has been ordered to pay in full or be evicted to the streets at the end of the month.
Umberto develops a quiet friendship with his landlady's young maid, Maria (Maria Pia Casilio), a girl who is also on the verge of being cast out once her employer discovers her pregnancy. Unsure of who the father is (it could be her suitor from Florence, or maybe the one from Nepal), she's biding her time and trying to straighten her love life out, as neither boyfriend wants to take responsibility for her. Umberto has developed a fatherly affection for the young lady, and asks her to watch over Flike while he has an ambulance take him away to the hospital to recover from tonsillitis. Returning, he finds that the landlady has cruelly let Flike escape on the streets and has begun tearing out the walls in Umberto's apartment to create a larger apartment for herself. After a desperate search for Flike, he manages to save his companion in the nick of time, but seeing no hope at recovering enough money to pay the landlady and unwilling to live on the streets (several attempts at begging are thwarted by pride), Umberto begins to search for a safe haven to leave his beloved dog so that he can end his own life.
Neorealism began as film movement not only because many of the major studios had been damaged due to the war, but also as a way to break from the mainstream depiction of life in the cinema and portray what was truly going on. Continuing throughout the 1950s, neorealism was quite unlike something like Denmark's Dogme movement in the 1990s, as special effects and cinematic flourishes were used to significant effect even here. For instance, Umberto and Maria peer through a key hole to watch a scandalous couple profess love to each other, and the camera peers right with it. De Sica happened to insist on using nonprofessional actors that were just right for the part for his neorealist titles. For this film, he handpicked Battista and Casilio, both not aspiring actors and with little desire to become one. However, Casilio would go on to have a very successful career while Battista would never make another fictional piece of cinema. It's too bad, for he beautifully renders Umberto here, a proud, resourceful and spry old man that just wants to be left alone with his loving dog.
De Sica never overdoes what could be schmaltzy fodder, and nearly every frame of Umberto D. simply feels like a story telling itself. By withholding manipulation, De Sica manages to get at something much more tangibly powerful by the film's end. Hard may the heart be that doesn't find Umberto's search to find Flike a new owner before ending his life one of the most moving cinematic sequences one is apt to see.
Disc Review:
Criterion's latest update of this De Sica title includes a high definition digital restoration with uncompressed monaural soundtrack. Much of Umberto D. hinges on small, seemingly insignificant moments or exchanges between characters, which this transfer picks up magnificently. The soundtrack is snappy and impeccable, and every moving detail transfers extremely well. There's a beautiful clarity in one significant scene for Maria Pia Casilio where she is all alone, gently touches her soon-to-be swollen belly and cries silently in the kitchen, rendered to great effect here. Additionally, the DVD includes the trailer, a 12 minute interview with Maria Pia Casilio, and a fifty-five minute documentary about De Sica's career. One could have hoped for a bit more in this revamp of Criterion's 2003 DVD, but it's nevertheless worthwhile.
Interview: Maria Pia Casilio
Twelve minutes of excerpts from a 2003 interview with Casilio mark this as the best extra on the disc. De Sica discovered her at a very tender age, and she actually went home to her small town after filming. However, she wanted to prove her peers wrong, who only made fun of her when she had returned. Calling on De Sica, who cast her in a small part in his next film, Casilio went on to be a prolific actress, one that worked so much, the Italian public called her "parsley" since she seemed to pop up everywhere.
That's Life: Vittorio De Sica
A 2001 documentary for Italian television has a lot of archival footage of the great director, and covers a lot of his filmography, including his extensive work as an actor (which isn't noted quite as often). While interesting to avid fans of De Sica, this extra feature is a bit ungainly and spends only a fraction of time concerning Umberto D.
Final Thoughts
De Sica sites Umberto D. as his favorite film, and it's easy to see why. First an actor (who usually acted out the scenes for the actors before filming), he had an impeccable understanding for knowing exactly what he wanted to film and how he knew it should look. Claiming not to have made any money on the film, it's gone on to be one of his most beloved titles. A simple tale about miscommunication, and lack of empathy and understanding, Casilio points out in the interview excerpts, we still face the same problems today. Indeed, there's many a filmmaker indebted to De Sica, like an excellent 2008 film from Kelly Reichardt, Wendy & Lucy, containing a narrative arc which shares a striking resemblance with this 1952 film. While cinema may not have a tangible effect on our every day lives, something like Umberto D. may make you want to be a better person.