Tuesday Blus: Sweet Child O'Mine in Paul Newman's Marigolds
The Effect of Gamma Rays on Man-in-the-Moon Marigolds (1972)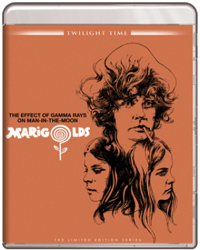 Considering its pedigree, it's a surprise The Effect of Gamma Rays on Man-in-the-Moon Marigolds fell into obscurity. The Pulitzer Prize winning play by Paul Zindel (a protégé of Edward Albee) mirrors the dysfunctional familial archetypes of both their predecessors, Tennessee Williams, which is perhaps why it attracted the likes of Paul Newman (who starred in several lauded Williams adaptations, such as Cat on a Hot Tin Roof and Sweet Bird of Youth), who adapted the play in 1972 (from scribe Alvin Sargent of Paper Moon and Ordinary People) as his third directorial outing (Newman's first film, 1968's Rachel Rachel was nominated for Best Picture). A stellar platform to show off the multi-faceted talents of his wife, Oscar winner Joanne Woodward, and their daughter Nell Potts, Newman competed in the 1973 Cannes Film Festival, where Woodward won Best Actress. So where's this odd little dramatic gem been all this time?
A straightforward, unfussy take on Zindel's play, Newman relocates the setting from Staten Island to Connecticut, where Woodward's abrasive Beatrice Hunsdorfer remains the eccentric pariah of her generation (the poster art featuring the actress screaming on the phone underneath the tagline "Life's Been a Real Bitch to Beatrice Hunsdorfer. And Vice-Versa" is a thing of beauty). Woodward stars as unhappily widowed (though apparently, she was as equally unhappily married) mother of two, who has transformed into something of an overbearing harpy towards her teenage daughters. While boy crazy Ruth (Roberta Wallach) is somewhat typical, younger daughter Matilda (Nell Potts) is something of an anomaly to the Hunsdorfer clan. An impending science fair gears Beatrice and her daughters for a dramatic climax (in a scenario recycled for an episode of "Strangers with Candy").
If Woodward's harridan borders on gale force trauma, Newman keeps Zindel's fragile centerpiece intact, the soft-spoken Matilda, whose science experiment detailing how marigold seeds exposed to varying degrees of radiation yield mutated plants (a metaphor for the dysfunctional hotbed of Beatrice's legacy). Elder daughter Ruth (played by Roberta Wallach, daughter of Eli, in her debut) suffers from night terrors whilst meanwhile joining in the communal degradation of her mother by portraying her in exaggerated skits at school.
Matilda's plight, who is mentored by a kindly science teacher, exists in her juxtaposition with her science fair competitor, a girl who may or may not have boiled a cat alive in order to repurpose its skeleton for her own designs. As Woodward anguishes for masculine attention, including from a disinterested neighbor, a skeezy antiques dealer, and an old high-school acquaintance, Newman's simplistic direction allows for the complex characterizations and ensuing dynamics to become the driving force of a film which also tries hard to negate its stage origins. Incredibly melancholic, The Effect of Gamma Rays on Man-in-the-Moon Marigolds plays like a fantastically unearthed time capsule from a particularly potent period of American filmmaking. Underneath its obscured corrosion, it shines like the radioactive particle it is.
Twilight Time brings the forgotten title for the first time ever to Blu-ray or DVD with this limited edition (3,000) transfer presented in 1.85:1 with 1.0 DTS-HD. Picture and sound quality perfectly captures the period of transition in both content and location from DP Adam Holender (of Midnight Cowboy and Newman's solo television outing, 1980's The Shadow Box). Twilight Time includes an isolated music and effects track along with the original theatrical trailer.
Film Review: ★★★½/☆☆☆☆☆
Disc Review: ★★★½/☆☆☆☆☆