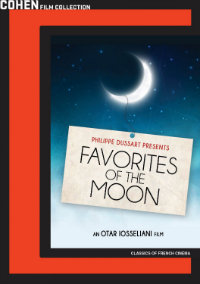 After a new print screened at the 2014 City of Lights City of Angels Festival earlier this spring, Cohen Media Group has released a digitally remastered Blu-ray of Otar Iosseliani's 1984 classic yet elusive title, Favorites of the Moon. Awarded the Special Jury Prize at the 41st Venice International Film Festival, the film, along with most of the Georgian filmmaker's titles, have long been unavailable to U.S. audiences, a shame considering his prolific stature and important body of work that subversively undermines frameworks within the dominant culture he's navigating as an exiled dissident.
Taking its title from Shakespeare's Henry IV describing thieves, "Diana's foresters, gentlemen of the shade, favorites of the moon," Iosseliani expounds on the same motif, casting all of humanity in the shade of the moon, a symbol of disorder, chaos and unrest. In essence, the plot is a roundelay, utilizing a set of 18th century Limoges china and a 19th century aristocratic painting, both created in the same house that's return to in the final frames, to unite past and present as they repeatedly exchange hands.
Thematically, the film resembles Max Ophuls 1950 film, La Ronde (rather woefully remade by Roger Vadim in 1964 as Circle of Love), but objects as a connective thread seem used more often in horror films, where undesirable or cursed items tend to cause discord in the lives of the recipients. Discord is at the forefront of the large cast of characters at hand here, though their existences are usually informed solely by their own self sabotaging actions. Scuttling between the upper and lower classes, Iosseliani seems to be depicting the futility of our self-imposed labels, for our base needs level the playing field, our drives as inescapable as the moon's effect on the sea.
After we witness their silent creations, both the china and the painting are auctioned off in modern day Paris, the set sold to Madame Laplace (Alix de Montaigu) and the painting to a police chief, Monsieur Duphour-Pacquet (Hans Peter Cloos). We here enter a whirling cast of various characters each beginning with the connections from the auction, and this requires some patience going forward. Monsieur Laplace (Pascal Aubier) is an arms dealer, and sells some explosives to a terrorist through his friend Gustave (Bernard Eisenschitz). We discover that Gustave's girlfriend, Claire (Katja Rupe) is sleeping with Duphour-Pacquet, and Gustave has been meeting with Madame Laplace. Then, we meet a father-son pair of thieves, Monsieur Cola (Jean-Pierre Beauviala) and his son (a very young Mathieu Amalric in his screen debut). More offshoots of relations to these characters transpire, resulting in the bombing of a statue, a punk singer, and a garbage collector.
Themes relating to the difficulty of verbal communication are repeated between many of the characters, relating to a disdain for logic and/or problem solving amid the flurry of urban living. Philippe Théaudière, a cinematographer known mostly for his work in exploitation films (though he also worked on some minor French New-Wave titles), champions a roving, restless camera here, canvassing multiple characters in sometimes banal scenarios, hinting that much more is happening at all times outside the frame. Certainly, the references to Altman are unavoidable here, but Iosseliani's position as an exiled filmmaker amidst haughty French society lends a different reading to the supposed simplicity of this sprawling material, his camera like the silent observer with a droll sense of humor, sharing a portrait of disparate members from the same culture that are a lot more alike than any of them would like to admit.
Disc Review
While its extra features are a bit standard, including only audio commentary from critic Phillip Lopate, a re-release trailer, and an insert essay from critic Giovanni Vimercati, the exquisite presentation is the most striking asset of the restoration. While the narrative traces an exchange of objects through the past to present, the film is mostly a masterful glance at the bustling arena of 1980's Parisian urban milieu, yet reaching a sort of sublime timelessness compared to other vintage titles of the period due to its lack of a dated soundtrack (at least as compared to work from then burgeoning native filmmakers like Luc Besson or Jean-Jacques Beineix, for example).
Final Thoughts
A work worthy in stature of its lofty comparisons to both Jacques Tati and Robert Altman, Otar Iosseliani's Favorites of the Moon is an absurdist, elliptical film that demonstrates the joyful, naive, disjointed and often apathetic nature of human interaction and existence. Most of all it's an excellent entry into Iosseliani's filmography, and a sublime resurrection from Cohen's collection.
Film: ★★★★/☆☆☆☆☆
Disc: ★★★★/☆☆☆☆☆