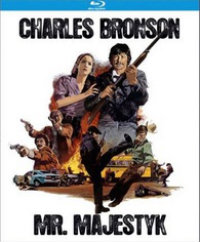 To recall the cinema of Charles Bronson, one can't get far without referencing his sterling epoch in 1970s era American film, a period eclipsed mightily by the star's work with director Michael Winner. Kino Lorber resurrects one of the star's lesser remembered titles, Mr. Majestyk, a 1974 action flick written by the great Elmore Leonard and directed by the illustrious Richard Fleischer, known for a varied career that included a penchant for true crime related titles (Compulsion; The Boston Strangler; 10 Rillington Place), and famed adaptations of pulpy novels, like Soylent Green and the infamous Mandingo. Unfortunately, Fleisher's title opened one week prior to the juggernaut known as Death Wish back in July of 1974, and has perhaps been unfairly overshadowed ever since.
Bronson stars as Vince Majestyk, a humble melon farmer whose only desire is to harvest his crop of watermelons. A Vietnam veteran, Majestyk steps to in to curb a bit of ignorant racism on the part of a gas station attendant who refuses to let a group of Latino farmhands use the restroom, politely requested by a beautiful woman. Their interaction causes Majestyk to hire the woman (Linda Cristal) and her crew, who introduces herself as Nancy Chavez. "No relation to that Chavez," she confirms. But waiting for Majestyk on his fields is Bobby Kopas (Paul Koslo), an extortionist that demands Majestyk employ his crew over the migrant workers. The offer is refused, a brief scuffle ensues, and Majestyk finds himself in jail facing assault charges. While being transported with other prisoners, the melon farmer finds himself alongside a Mafia hit man, Frank Renda (Al Lettieri), and a shootout ensues when Renda's baddies try to initiate his escape. The plan backfires and Majestyk takes charge of Renda, seeing this as an opportunity to have the charges dropped against him so he can tend to his crop. Outmaneuvered by Renda's gal, the aptly named Wiley (Lee Purcell), Majestyk finds himself on the top of Renda's personal hit list. And a mighty showdown is inevitable.
This was Elmore Leonard's follow-up to writing Joe Kidd, the Clint Eastwood vehicle helmed by John Sturges. The incredibly busy Fleischer had already released two films in theaters just six months prior to this film, including The Don is Dead and The Spikes Gang, so there's an inevitable fast and loose feeling to this Plain Jane revenge flick.
Bronson gives his signature blend of confident smug coolness throughout a series of violent shootouts and rather well maneuvered car chase sequences, which culminates, of course in his showdown with the impressive grudge holding of character baddie Al Lettieri, who appeared in The Getaway and The Godfather, and it's unfortunate that he died of a heart attack about a year after the release of this film.
As Bronson's love interest, which is, for once, not played by wife Jill Ireland (she wouldn't appear in the first Death Wish, either) Linda Cristal lends the film an interesting texture, a mixed race romance reminiscent of Warren Oates and Isela Vega in Sam Peckinpah's Bring Me the Head of Alfredo Garcia, which opened later that summer in 1974.
Disc Review
Presented in 1.85:1 aspect ratio, Kino Lorber's Blu-ray transfer is a worthy visual demonstration of Fleischer's well-orchestrated car chases and shoot-outs (as is customary, cars explode into flames way too easily). Filmed in Colorado, the generally flat landscapes get elevated to a showdown in the mountains, and while you'll be able to predict every beat, it's still one cool ride to get there. Beyond the original trailer, the disc is bereft of extra features. Still, it's a delightful resurrection of one of Bronson's lesser celebrated titles.
Final Review
Mr. Majestyk is a great Charles Bronson vehicle to catch up with. Cool and uninterested in ever giving in to unsolicited pressure, it's sure to please fans of the star, bolstered by the acceptance that persona didn't necessarily compromise performance. And for Christ's sake, can't a man just be allowed to grow his melons?
Film: ★★★½/☆☆☆☆☆
Disc: ★★★/☆☆☆☆☆