Disc Reviews
Female Prisoner Scorpion – The Complete Collection | Blu-ray Review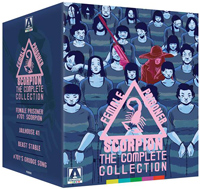 Outside of audience members determined to catalogue Quentin Tarantino's kitschy extra textual references (he utilizes the film's them in Kill Bill: Vol.2), the iconic trajectory of Meiko Kaji's wronged heroine, Nami Matsushima (aka Prisoner #701, aka Matsu the Scorpion, aka Sasori) and her slinky, silent swath of vengeance against various tormentors across four distinctive films from 1972 and 1973, has been largely relegated to the recesses of avid genre aficionados. Arrow Video's masterfully restored disc set of the Female Prisoner Scorpion quatrology aims to reintroduce her to a wider audience. One of the most phenomenal grindhouse female led revenge sagas ever conceived, she's a protagonist ahead of her time, sandwiched in sleazy narratives fantastically enhanced by hallucinogenic visuals from originating director Shunya Ito, responsible for the first three entries before Keijo's Stray Cat Rock director Yasuharu Hasebe usurped the reigns for her final denouement.
Meiko Kaji remains one of the most unsung fixtures of 70s genre films, having headlined the Female Scorpion series, but also the Stray Cat Rock films (recently redistributed by Arrow), Toshiya Fujita's equally renowned Lady Snowblood films (recently restored by Criterion), and cult director Teruo Ishii's Blind Woman's Curse (another Arrow restoration). Her grim determination is also something Tarantino borrowed in his creation of Uma Thurman's Bride for Kill Bill, but there's something much more mysterious about Kaji's cagey loner, who we meet after she's been double crossed by her dastardly lover, a crooked cop in 1972's Female Prisoner #701: Scorpion, based on a 1970 manga from Toru Shinohara. She's left to rot in prison after taking the fall for his scheming, scheduled to be murdered in prison. In this realm, the boys in blue are the insidious instigators of rampant criminality, and Nami Matsushima is merely another dame blinded by love. Silent and hardened, she has quickly become an expert at manipulation, and she is visually introduced as a reflection in a male gaze, one of several repeated visual metaphors utilized by Ito. Phallic and vaginal symbols abound, though most prominently in this superb visual reconstitution of the Japanese flag, the bright red dot in its blazing white center associated with her menstrual blood. Much like the roundelay of Pam Grier characters in 1970s Blaxploitation cinema of the same period, Sasosri is the victim of multiple sexual transgressions, gang raped and brutally beaten, her face always crafted into what translates as an immobile, serene sneer. In an early sequence, Scorpion and another woman escape, recalling the jungle run of Black Mama, White Mama, but they're stopped by the woman's menstrual blood, which alerts the pursuit dogs.
Usurping the male gaze in one of her first elaborate plots, she manages to choreograph the partial blinding of the warden by another rowdy inmate, but he knows who is responsible. Later, in the first sequel, he leers through his blacked out lens as his men violate her, the reflection contained by the apparatus shielding his empty socket, a symbol of his own compromised agency. Forced to dig holes (not unlike a certain 2003 Shia LaBeouf film), the women reluctantly rally around Scorpion, instilled with a fearful reverence for her, and the film channels a variety of classic women in prison tropes (resuscitated in recent memory for items like "Orange is the New Black" and Park Chan-wook's Lady Vengeance, 2005).
More heavily stylized is Ito's phenomenal sequel, Female Prisoner Scorpion: Jailhouse 41, opening on Scorpion as she is taken out of solitary confinement after wasting away for a year. An inspector is set to visit the prison because the Warden has been promoted to a higher post. Using the opportunity to wreak havoc, she breaks out with a rowdy group of lusty criminals, and it segues into a road movie version of Onibaba. Scorpion is nearly outshined by another leering lady, the vicious Oba (Kayako Shirashi), who contorts her face dramatically as she reveals her own crime, a Medea/Leave Her to Heaven inspired tragedy (including stabbing an unborn fetus out of herself) which explains why she has strong armed her way over the other women. The motley band of female warrior convicts morphs this segment into something else entirely, taking on spiritual elements when the women encounter a wizened old crone who crafts a song based on all their crimes (recalling Chicago's "Cell Block Tango") before she dies and transforms into leaves scattered on the back of the wind. A dramatic rooftop face-off equally recalls Infernal Affairs, and best of all, Ito gives his wronged femme fatale the last laugh, although transposed over a fake eye.
Easily the sleaziest entry of the bunch is Ito's Female Prisoner Scorpion: Beast Stable, which is so overstuffed with untoward grotesqueness it unfortunately peters out by the final frames, as if the film simply exhausted itself and gave up. A phenomenal opening sequence finds Scorpion accosted on the subway, escaping but resulting in the loss of an arm for a determined detective (Mikio Narita). Gnawing on his lopped off limb like a rabid dog, she's taken in by kindly prostitute Yuki (Yayoi Watanabe) who's recently been impregnated by her mentally handicapped brother she keeps locked up at home. "Don't I give you all the sex you want?" she inquires in dismay when her brother attempts to manhandle Scorpion after he receives an unexpected violent response. Yuki's plight supersedes Scorpion's here, as she quickly runs afoul of local yakuza Sameshima (Koji Nanbara) and his partner Katsu (Reisen Lee), a vicious madam who rapes Yuki with a golf club to teach her a lesson about working on their turf. Katsu is a malignant dragon lady, a crow feathered villain who looks like Madame Gin Sling revamped for Funeral Parade of Roses, and keeps a cage of her preferred black birds on hand to lock up Scorpion, who is an old nemesis from her prison days. A strikingly (and macabrely) juxtaposed dual abortion transpires (in his essay on the quartet, Chuck Stephens refers to the surrealist Bunuelian undertones of this sequence, "a touching moment of feminist connection at the center of a Japanese Pinky Violence film"). DP Masao Shimizu and Film Editor Osamu Tanaka create a bevy of inspired visual sequences, such as a club scene of choppy edits which conveys a surreal, reckless abandon in a pit of hedonism about to be hemorrhaged by Scorpion's wrath. Unfortunately, this chapter ends on a sloppy note, signaling the end of Ito's interest in Sasori's continuation.
Yasuharu Hasebe steps in for Scorpion's swan song, Female Prisoner Scorpion: #701's Grudge Song, which seems to best utilize the title track opening and closing all four films, sung by Kaji herself. It's meant to be the softer side of Sasori, once again allowing herself to experience love, this time with emotionally damaged Kudo (Masakazu Tamura), a worker in a sex club show who rescues her after she eludes escape from the police. Out of vengeance, the couple kidnaps the pregnant wife of Kodama (Toshiyuki Hosokawa) after he tortured Kudo, but after the woman plummets to her death, they are caught and Kudo eventually leads to police to his dangerous lover, Scorpion. Once more in prison and on death row, Sasori gets up to her old manipulative tricks by coercing an empathetic guard and riling up a peaceful inmate (Sanae Nakahara, the wife of director Kinji Fukasaku) right before her execution.
Disc Review:
The limited edition Blu-ray collection (only 4000 copies) clearly stands as one of the most essential cinematic restorations of the year, and Arrow Video surpasses their own sterling reputation with this formidable set. Presented in High-Definition Blu-ray (1080p) and Standard Definition DVD in 2.35:1, picture and sound quality are superb. The decked out packaging includes a beautifully bound booklet, which contains persuasive writing on the series by critic Chuck Stephens and an archive interview with Meiko Kaji. Each disc is also accompanied with its own unique special features.
An Appreciation by Gareth Evans:
The Raid director discusses his love of the series in this interview recorded by Arrow Video in London.
Shunya Ito – Birth of an Outlaw:
Arrow Video edits this 2006 interview with director Shunya Ito, originally recorded for a German DVD.
Yutaka Kohira – Scorpion Old and New:
Assistant director Yutaka Kohira, who worked on the first and fourth entries in the series, provides this interview exclusively for Arrow, shot in Febraury of 2016.
An Appreciation by Kier-la Janisse:
Writer and film programmer Kier-la Janisse (House of Psychotic Women) discusses the Female Prisoner Scorpion film series and its importance in the female revenge subgenre.
Jasper Sharp:
Film critic Sharp is interviewed for Arrow in this segment examining the career of Shunya Ito.
Tadayuki Kuwana – Designing Scorpion:
Production designer Kuwana is interviewed by Arrow for this release to discuss his work on the first three films in the series.
An Appreciation by Kat Ellinger:
Writer and film critic Kat Ellinger discusses elements of violence and horror in the Female Prisoner Scorpion series.
Film Review: Female Prisoner #701: Scorpion – ★★★½/☆☆☆☆☆
Film Review: Female Prisoner Scorpion: Jailhouse 41 – ★★★★/☆☆☆☆☆
Film Review: Female Prisoner Scorpion: Beast Stable – ★★★/☆☆☆☆☆
Film Review: Female Prisoner Scorpion: #701's Grudge Song – ★★★/☆☆☆☆☆
Disc Review: Disc Set: ★★★★★/☆☆☆☆☆