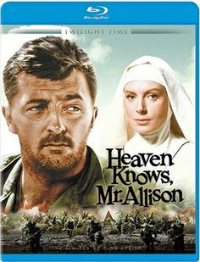 Completed just a few years after his lovingly revered wartime adventure melodrama The African Queen, John Huston's second attempt at the deserted odd couple in paradise formula in Heaven Knows, Mr. Allison doesn't occupy the same esteemed position in film history as its Bogart and Hepburn starred predecessor. Allison stars a straight-laced Robert Mitchum as a marooned marine and Deborah Kerr seeming to reprise her role from Black Narcissus as a devout sister of the faith, the film sees them hiding out on a small island in the South Pacific occupied by Japanese forces near the end of World War II. While the former film humorously indulged in the risque repercussions of being alone with the opposite sex for an extended period of time, the latter settles into a rather prudish moral stance where the integrity of one's chosen faith, whether military or religion, is of higher retribution than that of primal satisfaction. It's no wonder The African Queen lives on, while Heaven Knows seems to fly under the canon radar. Yet, despite its reputation as a decent but semi-forgettable CinemaScope flick, there is a propulsive charm within Huston's Adam and Eve interpretation that remains.
Mitchum's Corporal Allison arrives on the island by raft after narrowly escaping death out at sea, only to find Kerr's Sister Angela, the sole survivor of a rescue group that landed just a few days prior. Shortly after their arrival, Japanese troops storm the (mostly) deserted island and set up camp, forcing the odd couple to take refuge in a hillside cave in hopes of evading detection. Their prolonged close proximity of their natural bunker not only forces Allison and Angela to contemplate each others' chosen lifestyles, his of structured soldiery and her's of holy devotion, but tests their charactorial faith by throwing the brutality of war, the consequences of drink and the urges that follow a silent seduction all into this gloriously rendered cocktail of wartime melodrama.
Unexpectedly, the Japanese leave the island in an attempt to join a battle on the horizon. Seemingly free once more, the couple raid the abandoned supplies and find not only food, but a healthy sized bottle of sake, replaying yet another memorable scenario from African Queen, as Allison proceeds to drink the entire bottle and in his drunken stupor professes his love for Angela. Dismayed, she runs from their tent out into a thunderstorm and falls deathly ill as a result. The next day, the Japanese again return to the island and Allison has to care for the young nun back under the cover of the hillside cavern. Just on the precipice of capture or destruction by hand grenade, the island is bombed by American forces, saving the couple from certain doom, but Huston's grand finale would not be complete without a canny message from god that tells Allison to put his life at risk to disassemble the quartet of artillery guns aimed at the good ol' boys. Struck by a moment of holy enlightenment, the jarhead finally fully empathizes with his devout love interest, finding the selfless act of faithfulness to be the most virtuous way. Thus, with a cheese-laced straight face they return to whence they came, him to the trenches of military life and her to the house of the holy, now and forever, in this case more for worse than for better.
Disc Review:
Twilight Time continue to pull out old catalogue releases that have been flying under the radar since the shift to HD, but with Heaven Knows, Mr. Allison, the source they've transferred from could use to be cleaned up quite a bit. The once gloriously rich CinemaScope image is unfortunately continuously rippling with chemical discoloration and the occasional scratches, etc. That's not to say Oswald Morris's rich island cinematography shot on location on the islands of Trinidad and Tobago is lacking luster, because in truth, this is quite possibly the best the film has looked in quite some time. Textural detail is quite tight through most of its running time and contrast is generally well balanced, despite the color palate fluxuation. On the audio side of things, the disc is supported by an unremarkable DTS-HD stereo track, as well as an optional track with the music and sound effected isolated for the dialogue. Licensed from Fox, this is part of Twilight Time's limited release series, with only 3000 units going into play.
Movietone News
Contained here is a set of brief news reels from the film's release that features actual military footage and film award season news, including Deborah Kerr receiving an award and John Wayne handing one out. 10 min
Theatrical Trailer
Amplifying the purity of Huston's leading characters, the narrator makes quite a big deal of making sure that we know how delightful and wonderful our leads will be, despite the on screen action transgressions we see in these brief featured moments. 3 min
Booklet
Decked out in original release poster art and many stills from the film, this brief booklet features a fiery little essay about the film by Julie Kirgo. Not only does she give her take on the differences between The African Queen and the feature included here, but she also delves into the Mitchum's career and the Catholic Legion of Decency, whose accusatory glares got an eyeful from an unscripted explicit scene between Mitchum and Kerr making out. Good stuff.
Final Thoughts:
For all its subtly warm and faintly romantic interactions between Kerr's pure hearted nun and Mitchum's nearly solid gold soldier, John Huston's Heaven Knows, Mr. Allison falls short of the strikingly similar odd couple entertainment that came just before it in The African Queen. Downplaying the comedic for a more realistically low key slow burning melodrama, the film never finds the balance between gravitas and sentimentality to rise to the virtuosic poignancy Huston seemed to be attempting. Nonetheless, the disc is worth a watch, if for nothing more than to compare Huston's later twist on the deserted odd couple formula.
Film: ★★½/☆☆☆☆☆
Disc: ★★½/☆☆☆☆☆