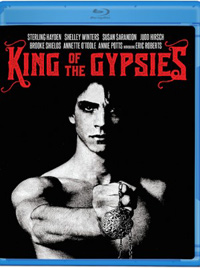 A forgotten gem of the late 1970s comes to Blu-ray for the first time, Frank Pierson's adaptation of the novel King of the Gypsies. Notable for several reasons, namely as the credited debut for actor Eric Roberts and a star studded cast packed to distraction, this is the kind of pulp oddity often whisked off the shelves of the bestseller list for glossy cinematic reinterpretation. This gypsy saga was based on a novel by Peter Maas, better known as the biographer of Serpico, which resulted in the novel inspiring Sidney Lumet's classic 1973 film starring Al Pacino. Eventually, Maas' works, often revolving around sensational true crime treatments, would be adapted mainly for television (including the 1991 Valerie Bertinelli Lifetime film, In a Child's Name), and this sometimes outlandish antique feels like an exaggerated heirloom in the Harold Robbins' vein (The Carpetbaggers; The Betsy; The Adventurers), a frumpy comparison perhaps enhanced by the inclusion of Dino de Laurentis as executive producer.
The criminal underworld of the clannish New York gypsies is explored via the heritage of Dave (Eric Roberts), born to Groffo (Judd Hirsch) and Rose (Susan Sarandon). His grandfather is the "King" of the Gypsy clan, Zharko Stepanowicz (Sterling Hayden), cared for by his wife, Queen Rachel (Shelley Winters). Dave's childhood is short lived, utilized in the criminal schemes of his parents. But his abusive father soon drives Dave out of the house, and he takes to the streets. Raising himself through adolescence, he grows into a young man and eventually dates Sharon (Annette O'Toole). But when the King's health begins to decline, and he wishes to bestow his gypsy medallion upon Dave as his successor (bypassing the problematic Groffo), Dave's mother and teenage sister (Brooke Shields) appear to beg him to return home. Reluctant to claim his legacy, upon learning his father has sold his sister into an arranged marriage (not unlike the unpleasant situation which resulted in his own parents' union), Dave decides to put a stop to this archaic tradition.
Snagging a Golden Globe nod for Best Male Acting Debut, the film would kick off the most critically acclaimed chapter of Eric Roberts' checkered filmography. Young, wild, and appropriately intense, he's a compelling figure in a film often overwhelmed by its own notable cast. Sterling Hayden and Shelley Winters appear in a handful of sequences as his revered grandparents, showing up to kidnap a bride for his father from their rival clan, eventually played by Susan Sarandon as his mother. Only a decade his senior, Sarandon had already made controversial headlines earlier in 1978 thanks to Louis Malle's 1978 classic Pretty Baby. Interestingly, Brooke Shields played her daughter for the second time that year, this time as Roberts' little sister. Throw in Judd Hirsch and Annie Potts as other influential family members, plus Annette O'Toole as a girlfriend (not to mention the very brief screen debuts of Patti Lupone and Rachel Ticotin) and King of the Gypsies becomes a noteworthy scrapbook of the cinematic period.
Most of the supporting players eventually feel inconsequential, with the exception of Hayden and Sarandon, both fascinating to watch. Arguably a portrait of a misunderstood community, it's hard not to view the film as anything more than sensationalized pulp. Frank Pierson's prolific screenwriting credits (Cat Ballou; Cool Hand Luke; Dog Day Afternoon) outshine his reputation as director, and though Gypsies was his follow-up to the 1976 Barbra Streisand version of A Star is Born, this would be his last theatrical feature, exclusively directing television features in between writing gigs for the remainder of his cinematic career.
Disc Review:
Olive Films presents the title with a customary bare-bones package, presented in 1.78:1 aspect ratio. There are several moments where the incredibly hushed moments of dialogue are a struggle to hear, but the film looks great, no surprise considering it was shot by none other than Sven Nykvist (the regular DoP of Ingmar Bergman, who worked with Tarkovsky, Skolimowski, Malle, Polanski, Troell, Jewison, and many others), reason enough to add this title to your viewing experience.
Final Thoughts:
An accelerated bildungsroman packaged as an immigrant experience, King of the Gypsies won't make anyone feel enlightened about a fascinating community. But as a forgotten late 70's ensemble, featuring an incredibly warped climax, it's an intriguing find.
Film: ★★★/☆☆☆☆☆
Disc: ★★★/☆☆☆☆☆