Tuesday Blus: Cold Cults in Soavi and Argento's The Sect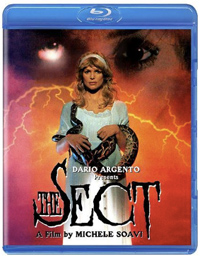 In a sense, one could point to the 1991 film The Sect as the link between Jamie Lee Curtis and giallo master Dario Argento, but only considering he co-wrote and co-produced this bizarrely flavored B-grade genre title which starred her lesser known sister, Kelly Curtis. Filmed in Germany (which accounts for the appearance of notable German co-star Herbert Lom), Argento protégé Michele Soavi (Cemetery Man, 1994) helms this thriller about a lonely kindergarten teacher with a pet rabbit who discovers a terrifying secret in the basement of her home, which makes her an object of interest to a murderous cult.
If the synopsis of The Sect sounds compelling, questionable production value, a leaden lead performance, and a two-hour plus running time quickly negates most good will once could extend to this oddity, despite a fitting score from famed composer Pino Donaggio. Starting out in the 1970s California desert, a group of partiers are interrupted by the arrival of a messiah named Damon (Tomas Arana), a Charles Manson like figure whose presence spurs a massacre. Fast forward several decades to early 90s Germany where American expat Miriam (Curtis) works as a kindergarten teacher. After nearly fatally maiming an old man named Moebius Kelly (Lom), Miriam puts him up at her house. However, the random encounter appears to have been staged as Moebius plants insects up the teacher's nose as she sleeps causing her to have strange hallucinations about pregnancy. And then things get weird.
Since The Sect is also known as The Devil's Daughter, certain similarities to something like Rosemary's Baby are certainly warranted. Soavi and Argento take a certain glee in various grotesqueries, such as the aforementioned insect tangent as well as a strange pelican-like bird which is on hand to pick insects out of Curtis' neck during one vibrantly over-the-top sequence. However, none of the film's more pronounced elements enhance a rather vague and overtly routine narrative about a woman cursed to bear evil fruit for an insidious cult.
Disc Review:
Scorpion Releasing presents The Sect as a brand new 2K scan of the original negatives, claiming to have underwent over 45 hours of color correction in the US specifically for this release (the film originally premiered in North American at the 1991 Toronto International Film Festival, shortly thereafter receiving a limited theatrical release). Presented in 1.78:1, picture and sound quality have been enhanced impressively for this transfer. Tomas Arana is on hand for a new exclusive interview, and an interview segment with director Michele Soavi has also been included as an extra feature.
Film Review: ★/☆☆☆☆☆
Disc Review: ★★★½/☆☆☆☆☆