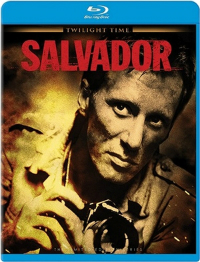 It's been a long time since Oliver Stone made anything with as much punchy political grit as Salvador. As the first of two films (the other being Platoon) produced by John Daly (and released mind-bogglingly within months of each other in the spring of 1986) that reckoned with war and all of its cultivated cruelty, its recklessness and the underlying romanticism being ravaged from within. Stone's film took up the, at that time, still active El Salvadoran peasant revolution and the US funded murder and suppression of such an uprising, as its volatile subject, all through the eyes of a true-to-life conniving Hunter S. Thompson-esque photo journalist named Richard Boyle, who co-wrote the screenplay along with Stone and who's on the ground experiences served as inspiration for the film. An Academy Award nominee for Best Original Screenplay and Best Actor, raw in its depiction of the ugliness of war and still darkly funny thanks to James Woods's remarkable, motor-mouthed performance as the shark-toothed Boyle (it landed him the Independent Spirit Award for Best Actor), Salvador was and still is crucially pertinent.
Released 12 years prior to Gilliam's drug addled interpretation of Thompson's towering work of Gonzo journalism, Stone's film begins with Boyle convincing Dr. Rock (played by a surprisingly serious(ish) James Belushi), one of his many bamboozled financiers, to tag along with him on a business trip to El Salvador, promising cheap tail and a solid tan. Already drunk and driving a beat up old convertible Mustang, the misogynistic tag team seems to prophecize what would become the cinematic incarnation of Duke and Dr. Gonzo, yet their fate meets much more severe politics as they near their El Salvadoran final destination.
Upon their arrival we find that Boyle has a family of sorts who he dearly cares for, though he deceives them of the dangers they face and the foul play he's committed. A shameless smooth operator, he works his way in with both the local left wing guerrillas who want him to feed photos to the US press and the murderous military dictatorship who want to leverage his safety for intel on their rebel enemies. It's a tricky situation, the film seeming to tilt like a political carnival ride with mortal repercussions with a cast of woebegone characters as unwitting but willing passengers.
Though overlooked by the populous upon its release, Stone's film of the importance of journalism possesses a bold sense of shocking reality about the repercussions of US involvement with foreign military governments. Thousands of innocent people were murdered by death squads funded by the US government, including Archbishop Óscar Romero and Jean Donovan, who were both assassinated after asking citizens to to stop carrying out the government's violations of basic human rights. These shocking events were still current when Salvador, not so subtly calling out the US government for their knowingly atrocious behaviour in daringly resolute fashion. Still soberingly relevant today, this is a film that needs a critical revival and much deserved love and attention.
Disc Review:
Packed with substantial contextualizing extras and limited to only 3000 copies, this Twilight Time disc is one of their better recent releases. The transfer boasts a consistently solid grain structure, a brilliantly unblemished representation of Robert Richardson's vibrant cinematography and a pair of competent DTS-HD tracks, one 5.1, one mono, to pump forward James Woods's spitfire dialogue, as well as the distro's signature isolated score track.
Audio Commentary with Director Oliver Stone
Chocked full of film history and clearly recollected memories from during the contentious shoot, Stone's commentary is a great little listen, though there are occasional silent dips in the flow of things.
"Into the Valley of Death" – The Making of Salvador
Packed with honest confessions about the tensions between cast and crew and the real life calamities that occurred during the film shoot in Mexico, this is a raw, revelation of making of pieces. 63 min
Deleted Scenes
Though included in cropped, incredibly degraded bits, these 9 scenes include extended scenes and some incredibly racy and disturbing displays that challenged the believability of Boyle's already wild tale. 28 min
Theatrical Trailer
Pushing the intensity of the political situation and Boyle's seemingly fragile psychology, this trailer highlights the war aspects of the film through propulsive cuts and the film's tense musical MO. 2 min
Booklet
This slim fold out features a thoughtful essay by Twilight Time regular critic Julie Kirgo and a variety of promotional stills and original poster art.
Final Thoughts:
It's kind of amazing to think that this and Platoon were released within months of each other, both garnering critical acclaim and Academy attention, yet Salvador, lacking the distance and cultural attention of Vietnam, seems to have been somewhat forgotten about. It's high time this film found an appreciative audience.
Film: ★★★½/☆☆☆☆☆
Disc: ★★★★/☆☆☆☆☆