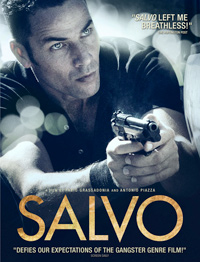 Receiving a US release in August 2014, Salvo arrives with an equally subdued DVD release this month. An experimentally inclined gangster piece, any brooding tension established by an immersive theatrical experience tends to be compromised in a smaller format. Traction due to the film's generous critical reception doesn't explain the underwhelming DVD presentation, but perhaps it will reach the audience that neglected it during a limited theatrical run.
Though its initial setup holds considerable promise, due mostly to subdued visual cues that take on greater meaning as the plot unfolds, Fabio Grassianda and Antonio Piazza's directorial debut, ends up casting a rather empty spell. Its brooding ambience traipsing into a shallow narrative coma, there's much to be desired as concerns this mafia tinged love story of unexplained events and feelings. Obscurity is certainly not a cause for automatic dismissal, but there's a failure to maintain any sort of lasting significance to proceedings that are neither amusing nor arresting enough to warrant the pleasure of befuddlement. However, it's important to note the film took home the top prize at the 2013 Cannes Critics' Week.
After a deal ends badly, resulting in a double-cross, Mafia hit man Salvo (Saleh Bakri) seeks retribution. Approaching the residence of the perpetrator, he quietly enters the home to find it empty except for his target's blind sister, Rita (Sara Serraiocco) counting money and humming to herself. He quietly observes her and she can sense his presence. He watches and waits, and she tries to pad off to another portion of the home, while he follows. When her brother comes home, she tries to scream in warning, but an off screen shot announces the end of her sibling. Instead of also killing her, Salvo abducts her and deposits her in an abandoned warehouse on the outskirts of town. Lying to the big boss, he tries to go about business, but finds himself preferring to duck back to check on his prized booty.
It appears that the basis of Salvo would be a 2009 short film from Grassianda and Piazza titled Rita, which concerns a blind girl harboring a young fugitive that breaks into her home. Dealing with breaking free of one's bonds seems to be the repeated motif, and the attraction Salvo has for this version of Rita might be her own metaphorical imprisonment as a blind woman. Perhaps this explains why she suddenly regains her eyesight after Salvo practices the ritual he performs on his victims. Playing with light and shadow, Rita's is the only face lit up in the interior sequences, confirming her status as an innocent in the nefarious criminal underworld she's stuck within. This miracle of restored vision is never directly acknowledged in the very sparse dialogue. Neither is a confirmation of what exactly is going on, including why Salvo is rooming with a rather unfriendly couple. It appears Salvo's little secret empowers him to help the husband hold his ground in the domestic realm, though to what purpose is unclear.
DVD Review:
Presented in 16:0 format with 5.1 Surround Sound, the title plays well enough considering the bare bones DVD release. With several extra features, Film Movement also includes the 2009 twenty minute short film, "Rita," upon which this feature is based.
Directors' Interview:
A fifteen minute interview with Piazzo and Grassadonia discusses the origin of the project, and how they found inspiration for their film out of the problematic area of Sardinia. They reveal that the script of Salvo was already complete when filming commenced on their short film "Rita."
Sera Serraiocco Interview:
Four minutes of interview footage with Rita finds the actress relaying her reaction to landing her first film role.
Scenes from the Set:
Nearly twenty minutes of set footage is compared to several moments from the written screenplay.
Rita (2009) Dir. Fabio Grassadonia & Antonio Piazza:
If anything, the short is merely an inspiration for what would become Salvo, as this first entry is told from the perspective of the ten year old blind girl of the title, shot almost entirely in close-up as a possibly insidious stranger enters her home and take her outside into the sea. This represents a moment of freedom for a young girl often in a highly controlled environment.
Final Thoughts:
While Bakri is a commanding screen presence, his fascination and attachment to Sara Serraiocco's Rita is rather coldly portrayed. Salvo's very violent beating of a colleague seems to point to his uncontrollable rage, though this is also unexplained. He seems to have resigned himself to fate, declining to eat, even as his boss warns that "only the dead fast." In short, Salvo concerns two individuals whose faults unite them briefly, but even this seems to be of little accord. During its setup, Salvo promises to be a meditative thriller, especially when we follow Salvo through the house of his intended victim only to discover a young blind woman counting money. It's a near 20 minute sequence of breathless anticipation. And yet, it is Daniele Cipri's cinematography that stands out as the strongest character, even when truncated into a finale of edited shots that ushers death into the dawn of a new, apathetic day.
Film: ★★/☆☆☆☆☆
Disc: ★★/☆☆☆☆☆