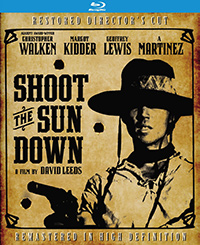 Kino resurrects an odd curio with Shoot the Sun Down, a counter-culture Western from 1978, notable for headlining Christopher Walken just prior to his Oscar win for The Deer Hunter and Margot Kidder before she was that year's Lois Lane in Superman. Of further note, director David Leeds, who financed with his own production company, would never again lend his name to another film in any capacity. The film, which is obviously modeled after Sergio Leone's Man With No Name series, considering it's mysterious protagonist, has all the makings of a subversive genre entry, it's stance on violence guided by an incredibly idiosyncratic score (that's not Ennio Morricone) and Michael Chapman's beautifully photographed landscapes (with plenty shots of rising/setting suns for its grand motif). However, muddled plotting and a comatosely constructed climax peg the film as rather forgettable, which is unfortunate considering its strange ambience.
It's 1896 Santa Fe and desperate people search for freedom, gold, and glory amidst a raging power struggle between Mexicans, the populous of California, and Native Americans. The convergence of several disparate individuals sets off a chain of events leading to the discovery of what may be part of Montezuma's gold. A staunch and enigmatic Confederate deserter turned bounty hunter, Mr. Rainbow (Christopher Walken) refuses to let fear and intimidation dictate his actions, but passing through a small town he finds himself obliged to help Sunbearer (A Martinez) out of a sticky situation, while he's also drawn to a woman from England (Margot Kidder), who is stuck as an indentured servant to an ex-seaman, the Captain (Bo Brundin). A bloodthirsty scalper (Geoffrey Lewis) with hot drawers for gold, discovers that the Captain has in his possession an ancient map to Montezuma's bounty, and insists on guiding the Captain and his white servant lady through the dessert.
Of course, everyone's best laid plans go awry, from the vague journey of the strange Mr. Rainbow to the troubled lady's designs for escape, and what's not flat out predictable tends to feel generally uninteresting. That's not to say that Leeds didn't interject some meditative visual flourishes, as Kidder's character is announced by a closed orange sherbet umbrella, demurely penetrating the sand, a symbol we quickly align with her character, ensconced in the same fabric. Towards the end of her tragic arc, her umbrella, which pops up several times, at last unfurls, perched over a shallow grave before blowing nonchalantly away into the sand dunes.
Unlike Eastwood's Man With No Name, Walken, who is, as always, an oddly captivating screen presence, is much too enigmatic for a role that seems handcrafted for a stoic, silent perfomer. While Walken already had an extensive filmography behind him, with notable supporting work for Woody Allen and Paul Mazursky, Shoot the Sun Down is as notable an early lead as his work in Bernard Girard's Mind Snatchers (1972). At the end of the day, it's Walken's presence, along with an early turn from A Martinez, that makes this rediscovered title worth your while. Kidder, on the other hand, seems sorely miscast as a British import, though she's thankfully unfettered by a formulaic romantic subplot even though a sort of wan mutual attraction develops between her and Walken.
Disc Review:
As is their custom, Kino presents a delightful package with their continued determination to resurrect long lost titles of note, and this high definition remastered director's cut is an exciting find. Extra features include the original theatrical trailer and an alternate opening sequence, which contains an original song composed and performed by Kinky Friedman.
Final Thoughts:
Surely a cause for cheer amongst Walken and Kidder fans, Shoot the Sun Down remains an odd if altogether uninteresting venture. Leeds shows considerable promise for his directorial debut, as the production value, technical specs, and mood are all first rate. But the narrative, from a script penned by Leeds and Richard Rothstein (author of the original Universal Soldier story), unfolds like a flaccid noodle. While it recalls Erich von Stroheim's Greed, a modern and immediate comparison may be German director Thomas Arslan's similarly themed period Western, Gold (which premiered at the 2013 Berlin Film Festival), exploring a group of people digging for the elusive and ductile metal in the Yukon, which rather brilliantly and excitingly nails a meditative ambience and engaging narrative tone concerning a group of people with similar goals and unfolding to much better meditative effect. The major problem with Shoot the Sun Down isn't that it's saying something we've already heard, but that it's just not saying much at all.