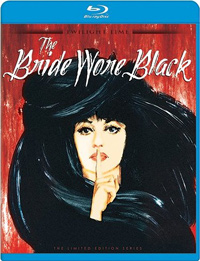 Nearly two decades into a career that has since spanned nearly seven, Jeanne Moreau had already worked under the direction of Godard, Malle, Welles, Antonioni, Demy, Ophüls, Frankenheimer and Buñuel, among others, by the time she collaborated again with François Truffaut, who had previously helped make her a star with Jules and Jim. Their third collaboration (the first being 400 Blows), The Bride Wore Black, a psycho-thriller inspired by the work of his hero Alfred Hitchcock again put her in the spotlight, this time as a vengeful seductress to which Quentin Tarantino and Uma Thurman's Bride of Kill Bill is much indebted to (though the homage crazed auteur claims to have never seen the film). With incredible bipolar turns, Moreau plays Julie Kohler, a widow on a mission to take revenge on the five men (including Claude Rich, Michel Bouquet, Michael Lonsdale, Daniel Boulanger and Charles Denner) responsible for the death of her husband.
Though Truffaut came to admit his displeasure with the film and his working relationship with Raoul Coutard, his regular collaborator behind the camera (Shoot the Piano Player, Jules and Jim, The Soft Skin), later in his career, the thriller does in fact glide with a wonderfully prolonged sense of suspense as Kohler, after having been stopped from committing suicide in the wake of her husband's senseless murder, decides to track down each of the men who were involved, seducing them like a black widow before their inevitable demise. None of the guilty parties know her by sight, but none-the-less Kohler concocts increasingly sophisticated schemes to get closer to her victims before taking them out, donning different hairstyles, outfits, and aliases.
Adding to the Hitchcockian vibe, Truffaut once again brought in Bernard Herrmann, the composer behind such masterpieces as North by Northwest, Psycho and Vertigo, whom he worked with previously on Fahrenheit 451. Orchestrally lush and mixed way out in the fore, Herrmann's score at turns enhances the tension of the often subtle on-screen action yet occasionally fights the generally humorless tone of the picture.
Kohler's killings are cold, calculated murders, executed with the intention of proving man's apparently inherent weakness for confident women who know what they want. What they don't know is that she wants them dead, and right quick like. But as the film rolls on, a quote from Kill Bill in Hattori Hanzo sums up Kohler's increased dawdling – "Revenge is never a straight line. It's a forest, And like a forest it's easy to lose your way… To get lost… To forget where you came in." Yet, that sense of conflicted reluctance does not come to fruition in the complex way one might hope.
Disc Review:
Twilight Time's new HD presentation of the film is a bit odd in that there are actually two versions on the disc – an original French language version in DTS-HD mono with non-optional yellow subtitles; and an English language version with optional white subtitles. Presented with plenty of grain and a generally natural color palette, the image looks relatively clean, though appears a bit soft on occasion. As always, there also an optional isolated music and effects audio track available as well.
Audio Commentary
Featuring discussion between film historians Julie Kirgo, Steven C. Smith, and Nick Redman, there is plenty of info to be gleaned from within.
Theatrical Trailer
"The Bride has five names, five men, to love, to lure, to kill."
Booklet
While Julie Kirgo doesn't always appear on the commentary of Twilight releases, her textual reflections are always welcome. This one is no different.
Conversation Piece: An Unvarnished Chat with Bernard Herrmann
Included on this bonus CD is, as stated, a conversation with composer Bernard Herrmann, in which he speaks at length about his career in movies.
Final Thoughts:
Regardless of the films occasional flaws, watching Moreau play her prey with the prowess of an assassin honing her skills is pure cinematic joy, but its easy to see why the film was overlooked by the more appreciated Stolen Kisses, which was released the same year and overshadowed the film by receiving a wealth of award nominations. Though second tier Truffaut, The Bride Wore Black remains an under-appreciated thriller that passes on Moreau's stellar performance and Coutard's roaming camera work.
Film: ★★★/☆☆☆☆☆
Disc: ★★★/☆☆☆☆☆